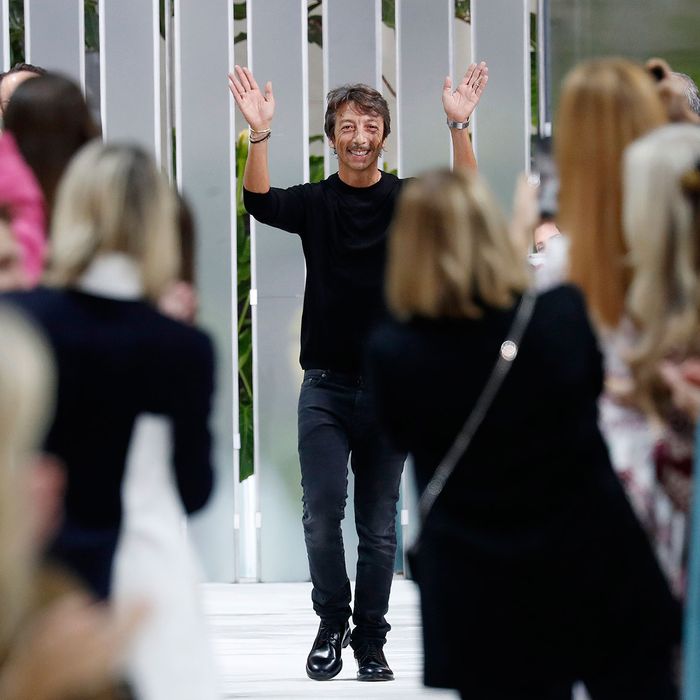 Pierpaolo Piccioli.
Photo: PATRICK KOVARIK/AFP/Getty Images
On Monday, Valentino creative director Pierpaolo Piccioli will be named Designer of the Year at this year's InStyle awards. This honor comes a little over a year after the designer went solo following the departure of his former partner, Maria Grazia Chiuri, for Dior.
"Since I met Pierpaolo, I've been struck not only by his undeniable talent, but his total enthusiasm for what he does," InStyle's editor-in-chief, Laura Brown, told the Cut. "When he was appointed solo creative director at Valentino after Maria Grazia [Chiuri] left, not only did he rise to the challenge, but he made Valentino his own beautifully, sensitively, and quickly."
The past few seasons, Piccioli has demonstrated his knack for both glamour and luxury basics — a combination that some are now calling "glamleisure." His resort 2018 collection, for example, was inspired by the New York City streets and made a strong case for tracksuits. The brand also recently released a capsule collection that includes yoga mats and high-fashion merch, like baseball caps, which abbreviate Valentino to #VLTN.
Not only is this aesthetic of the moment, it's also clearly what people want. Sales for Valentino have continued to climb in the past year, and Piccioli has proved himself to be savvy and forward-thinking, as well as a man who loves classic romance — two important traits for a "designer of the year." Below, he talks glamleisure and why hedonism is in for fall 2017.
Can you define, in your own words, the term "glamleisure," which has been used by some to describe your recent collection? What does "glamleisure" look like?
I started with the idea that sportswear has become the new daywear. Street and hip-hop culture contribute to making couture more lively and free from stereotypes. Yet elegance, and the legitimate desire to surprise with pure beauty, also assume an important role in this movement.
Who is the person who wears glamleisure?
I am thinking of a conscious person who experiments with the versatility of fashion in their everyday life, and who therefore feels the need to mix different languages and juxtapose formal and informal elements with complete freedom. One does not need to uproot their individual values, but to take full advantage of different opportunities.
How is glamleisure emblematic of our current culture?
Today, nothing is more real and nothing more interesting than contamination. Our necessity to overcome confinement, which has previously limited our actions and thoughts, allows us to open our minds to new and original forms of creative and interactive production — the fruit of contemporary society.
Your most recent collection was inspired by the space age. Why do you think fashion is looking to outer space and beyond right now?
My inspiration for the spring 2018 collection was the poetic imagery of the moon that Ariosto envisioned as place for 'otherness' and discovery, as well as images of Earth, seen from the moon, that were taken during the Apollo 8 space mission.
Fashion is a form of art and a way to represent reality through beauty. It is sometimes necessary to escape to another world in order to stop and think clearly … to observe oneself from afar and take in the splendor. This exercise often results in something very realistic, and offers a powerful representation of our times.
What are your favorite trends from the '80s that you'd like to see brought back?
I am passionate about many things from this era. The '80s were preceded by years of experimentation, and by the desire to question oneself; an attitude which today has become more and more urgent.
More than anything, I would like to point towards hedonism as the ultimate achievement of the '80s; the pleasure of feeling fabulous, the volition of self-celebration by wearing an outfit, the taste for fun, exhibitionism, the smile and the vice. It's a contagious form of optimism which would be worth bringing back to life.
What's your favorite color for fall and why?
I am deeply passionate about the research and study of colors and have always, apart from taking pleasure in this, felt respect for the heritage of the Maison and its iconic Rosso Valentino. But I also believe in the juxtaposition of red and pink, two complementary souls of today's Valentino — the punkish reinterpretation of our aesthetic heritage.
What does it mean to you to receive this award, especially having been the solo Creative Designer at Valentino for a full year now?
Receiving this award for this new and important phase of my professional career has strengthened a profound sense of pride and accomplishment. I am extremely grateful for this recognition, and I look forward to sharing it with my talented team who support me every day.
This interview has been edited and condensed for clarity.