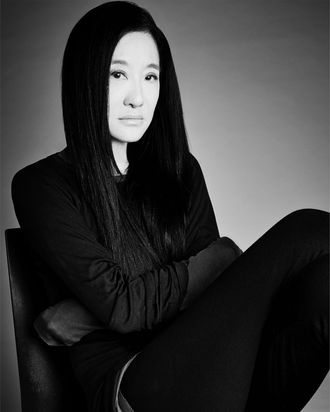 In an industry of busy people, Vera Wang might be one of the busiest. It's difficult to even fathom the number of lines she has, including her bridal collection, her David's Bridal collection, her ready- to-wear collection, her Kohl's collection, her stationery collection, her home line, and five (yes, five) others. "I wear many, many hats," she says.
Hats have been on Wang's mind lately. Her spring 2018 ready-to-wear collection was inspired by Margaret Atwood's The Handmaid's Tale and included view-restricting bonnets like the ones in the story. She says she'd started working on her fall her collection in May, but when she read the book over the summer, she was moved to change tacks.
"I would only let myself read half a chapter at a time because I didn't want it to go by too quickly, and then I started to watch the TV series," she says. "I only have been through four episodes but I'm a huge fan of Elisabeth Moss. I think she's one of the most brilliant actors."
The collection wound up incorporating not just bonnets but also lingerie styling and power suiting, making a statement about freedom and control. In Atwood's dystopian vision, women were "so restricted, and treated really without identity or any kind of rights," she says. "At some point you want to fight back."
By the time the Cut spoke with Wang, though, she was already on to her next project, shooting a bridal video campaign in Paris with renowned photographer Patrick Demarchelier. Wang says she likes video because it provides a more profound emotional experience for the viewers — and she has a penchant for movement in clothes. "As an ex-ballet dancer and figure skater, I always want to convey the body in movement," she says. "And clothing from 360 degrees, not just the front or the back — in fact most brides are viewed from the back far more than they are from the front."
She was also preparing to show her latest wedding collection at Bridal Fashion Week. With a vast wedding customer base internationally, Wang knows what brides want. "This season we went an almost hyper-conservative collection," she says. "I felt this from a lot of the brides that we see all over the world, so that influenced how I was thinking about this next collection. It's not Grace Kelly, but it harkens back to that kind of thing."
The designer spoke to the Cut about cars, color, and her extreme taste in footwear. Read on for the full interview.
How do you thank people for a gift?
I like to write people thank-you notes myself, handwritten. (I also have my own stationary line.) And always flowers.
Color or no color on your nails?
I didn't wear color for many years. As a sittings editor, you have to dress girls, so I needed my hands — they weren't decorative, they were to be used. And then for years I also sketched everything, and also worked very hard at crafting clothes. But I've not been doing that lately, so suddenly I can actually wear nail polish and experiment with color.
I love a French manicure more than anything. The polish can be Chanel; it can be lots of different things. I'm not even sure if they don't mix when they give me a manicure. I am not giving myself a manicure, that's for sure.
Mood lighting or natural light?
Mood lighting for sure. Although I love a beautiful sunset, I don't get home from work until pretty late. By the time I go to dinner and get home, mood lighting is a great alternative to make me feel better.
What's your favorite coffee-table book?
Right now it's the Dior exhibit in Paris. It's a staggering show; I strongly recommend it to you if you're in Paris. The lines go around the block. But I think what was most amazing to me was the respect that people have for the history and the craftsmanship and the fact that Dior as a brand has survived well in to the 21st century.
Heels or flats?
I love either flat shoes or very high heels — I am not an in-between girl. I love the silhouette of high heels for many things. I think women walk differently, and I think the clothes present themselves differently. On the other hand, I also like a legging and a sneaker, so it's two extremes. Right now my favorite sneaker is Rick Owens for Adidas.
What would you never wear?
I'm not a girl that wears a lot of color and a lot of big prints. I have nothing against them; it's just that I personally don't wear them.
What's your favorite song on your playlist right now?
"Will You Still Love Me Tomorrow?" All versions of that song: Amy Winehouse, the original, Carole King, Carole King and Willie Nelson as a duet, everyone.
If you were a car, what kind of car would you be?
My own car is a Mercedes G-Wagon — it's like a truck. That's probably the one I would be. It's boyish, but beautifully finished. There's a toughness to it, but it's also extremely sophisticated. It's a fun car to be in because it makes me feel tall when I drive around in it. And I feel safe. It's all black like my clothes. I waited about 25 years to be able buy one, so it's very special to me.
No-makeup makeup, or actually no makeup?
Very often no makeup at all. But lately I've been wearing sunblock and trying different products I never tried before. I read in an article that you shouldn't use the same thing all the time. I wear them more as protection than makeup — a bit of Clarins, Chanel, Dior. I've also worn Clé de Peau. Some of them are face creams, some are tinted moisturizers. They all have UV protection. I'm much more aware of that because I also was always such an athlete. I used to play tennis, and golf, and ski — all sports that involve tremendous amounts of skin protection, particularly on your face. I don't think I protected myself nearly enough, actually, in hindsight, but I wasn't going to give up on doing those sports so better now than never, right?
Who's your go-to hairstylist?
A young Japanese woman name Mayumi Nakashima who works with me in New York. She comes to my house and she is extremely delicate with my hair, which is a nice thing. I have very long hair, it has to be blown out, it's a pain in the ass, but she's so gentle to avoid hair loss and ripping my hair out of my head, so I'm very lucky to have her.
What's another decade you'd like to live in and why?
I would say I'm more excited about fashion right now then I have been in a very long time. I've lived through most of those decades; I think I've seen bell bottoms come back seven different times with different names. But now women can dress more freely than ever, and fashion has been so democratized. I've always felt that women should use fashion to express their own creativity, and for that reason now is one of the best times to be in fashion.
What's the secret to throwing a good party?
The food has to be great. There has to be a bar, because most people tend to congregate around the bar, I've noticed. And then the lighting has to be beautiful, so people feel relaxed and glamorous. I just think we all have such frantic schedules, particularly in New York, that if people can feel comfortable when they go out, it makes for a much better evening.
And what's your guilty pleasure?
Shopping. Shopping for anything. Not just clothes: art, food, books. I love reading. Right now I'm reading about Phil Knight and Nike. I find people fascinating. I want to know what made them who they are and what motivated them.
What are your favorite accounts to follow on Instagram?
Other than my daughters and some of my close friends, I would say fashion. I'm not a huge Instagram follower of people in general. But I'm always curious about the creativity of people in our industry, and how brave everybody is to put themselves out there, particularly in hard times. I'm a member of the CFDA, I'm on the board, and I want to do anything I can to try and help American fashion.
What's the last show you binge-watched?
Only The Handmaid's Tale, but I haven't finished it yet.
What's your favorite pair of jeans?
I'm a leggings girl because I need comfort, but I do love jeans. We make pretty cool jeans at Kohl's: cropped jeans, jeans that are detailed, jeggings. They're all very well cut.
T-shirt?
To be really honest, I often wear the ones that come in 3-packs from Fruit of the Loom. You can buy V-necks with short sleeves or ribbed tank tops. It's a great layer. I even sleep in them.
Pajamas?
The same T-shirts!
Flower?
Long stem roses, because they're romantic. And I find that roses have so many different scents. I absolutely adore flowers. I love peonies, I love lilacs, I love delphiniums, but there's a classicism to a rose that's just so beautiful.
Fragrance?
I have a lot of fragrances. I'm going to be really commercial here and say that I've worked very hard on all my fragrances for over two decades. I like many of the scents that we all love: tuberose, mandarin orange, coconut mixtures. Right now I love my Vera Wang Men's. I know it's a unisex world right now, but it's richer, it's heavier, it's darker. I seem to really feel for it heading into winter.
Linens?
I myself sleep in solid linens. I'm beginning to sound like a guy, aren't I? Solid sheets and ribbed tank tops. We do great linens for Kohl's, for Bloomingdale's, and for Bed, Bath, and Beyond.
Lip balm?
I actually don't use lip balm. Sometimes I will use a colorless lipstick that is almost nude, from Edward Bess. He's also a really good friend.
If you buy something through our links, New York may earn an affiliate commission.