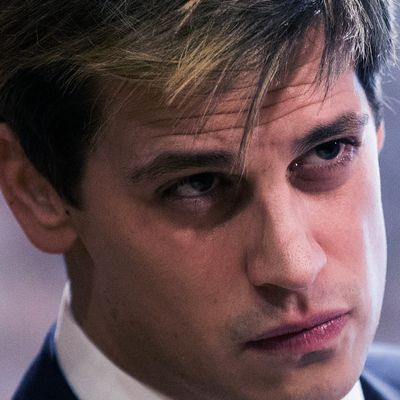 Former Breitbart editor Milo Yiannopoulos.
Photo: Drew Angerer/Getty Images
Vice reporter Mitchell Sunderland has come under fire after BuzzFeed News revealed he had emailed former Breitbart editor Milo Yiannopoulos with story ideas, and encouraged him to mock prominent feminists. Sunderland is a senior staff writer for Broadly, Vice's women's channel, which, according to its website, is "devoted to representing the multiplicity of women's experiences." Via BuzzFeed:
"Please mock this fat feminist," Sunderland wrote to Yiannopoulos in May 2016, along with a link to an article by the New York Times columnist Lindy West, who frequently writes about fat acceptance. And while Sunderland was Broadly's managing editor, he sent a Broadly video about the Satanic Temple and abortion rights to Tim Gionet with instructions to "do whatever with this on Breitbart. It's insane." The next day, Breitbart published an article titled "'Satanic Temple' Joins Planned Parenthood in Pro-Abortion Crusade."
BuzzFeed's article, "Here's How Breitbart and Milo Smuggled Nazi and White Nationalist Ideas Into the Mainstream," is based on a cache of emails from Breitbart that show how connected the far-right site has been to prominent figures in politics, tech, and media. Sunderland is one of multiple journalists alleged to have corresponded with Yiannopoulos, in addition to tech reporter Dan Lyons and former Slate technology writer David Auerbach.
Shortly after the story was published, people began calling on Vice to fire Sunderland.
"We are shocked and disappointed by this highly inappropriate and unprofessional conduct," a Vice spokesperson wrote in a statement to BuzzFeed. "We just learned about this and have begun a formal review into the matter."
Among the voices criticizing Sunderland was Lindy West, the feminist author and Times columnist he called on Yiannopoulos to mock.
West added in a comment: "This was for my private facebook but who fucking cares anymore."
As of Thursday night, neither Vice Media nor Sunderland had commented on whether Sunderland remains employed at Broadly.
Sunderland does, however, have one supporter. Sydney Leathers, the woman famous for sexting with former New York congressman Anthony Weiner, tweeted that Sunderland is "1 of my dearest friends & is far from a misogynist."
Update 10/6 at 3 p.m.: Mitchell Sunderland has been fired from Vice, Splinter reports. The former Broadly senior writer was reportedly spotted by a Vice staffer exiting the company's Los Angeles offices on Thursday night with a box of his belongings. A company spokesperson confirmed to Splinter on Friday that Sunderland had been terminated.