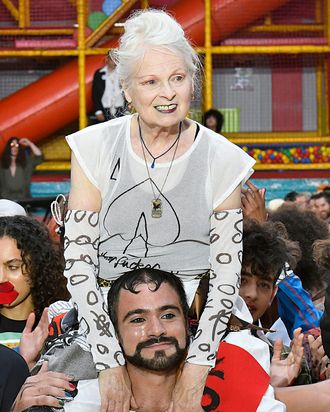 Vivienne Westwood.
Photo: Victor VIRGILE/Gamma-Rapho via Getty Images
Vivienne Westwood, the climate change–fighting dame of our time, dispensed some unexpected skin-care advice last weekend at Paris Fashion Week. "Don't wash too much," she told a group of reporters, according to the Guardian.
Her husband, Andreas Kronthaler, expounded on her tip: "She only takes a bath every week. That's why she looks so radiant." Kronthaler, on the other hand, prefers to wash on a monthly basis.
Environmental conservation runs central to Westwood's guiding tenets. In the past she's shaved her head to raise awareness of climate change, she attempted to deliver asbestos to then-British Prime Minister David Cameron to protest fracking last winter, and a year ago she wrote a rap about fracking. In 2014 she worked with PETA to draw awareness to water conservation, telling the organization: "Normally at home, I'm not used to the habit of a shower. I just wash my bits and rush out in the morning. I more often than not get in the bath after Andreas."
Westwood did not, however, comment on her stance toward deodorant.