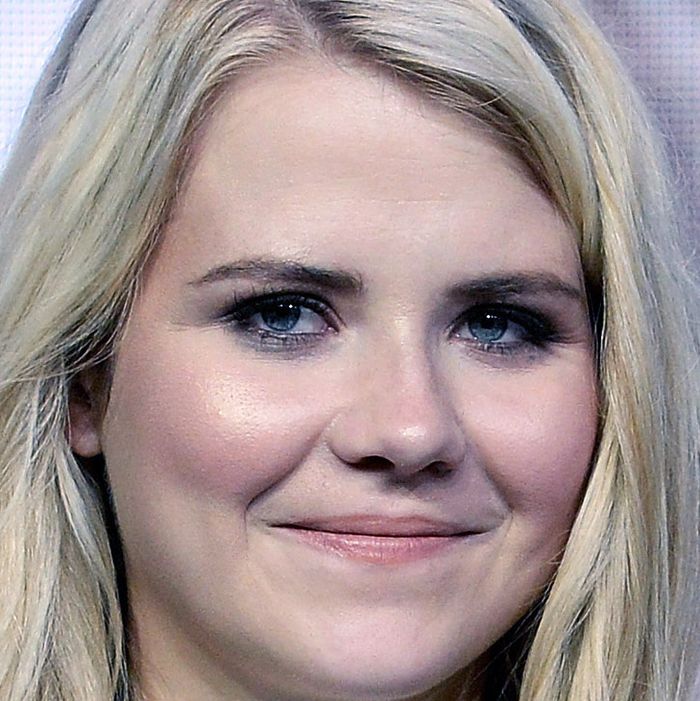 Elizabeth Smart.
Photo: Michael Kovac/Getty Images for Lifetime Televi
Fifteen years after Brian David Mitchell dragged her from her childhood home in Salt Lake City, Utah, Elizabeth Smart is working with Lifetime on a film that dramatizes her abduction and her nine months in captivity. The new trailer for I Am Elizabeth Smart, which was released by People on Thursday, re-creates in terrifying detail the events of June 5, 2002, when Smart was forced from her bed and led at knife-point into the woods.
"Get up and come with me or I will kill you and I will kill your family" we hear Mitchell (Skeet Ulrich) snarl and see his gloved hand covering a sleeping Elizabeth's (Alana Boden) face. "I have a knife at your neck. Get out of bed now, or I will kill your little sister." We see Smart and Mitchell creep out of her room, and her little sister peer over her shoulder, the brief glance that would eventually break the case.
During her nine months in captivity, Smart, who was 14 at the time, suffered tremendous physical and psychological abuse at the hands of Mitchell and his wife, Wanda Ileen Barzee, before finally being rescued in March 2003.
In the intervening years, Smart has become a vocal advocate for children and victims of abuse. In July, according to Deadline, she told reporters that while she had not initially planned to write books or make movies about her experience, she realized her story could help others. "I realized that I have a unique opportunity to share my story because there are so many other survivors who struggle every day," Smart said.
"I will say that it is the best worst movie I've ever seen. I mean, I think it's so well done. I think it was accurate," she said of I Am Elizabeth Smart. "I'm very proud of it, but at the same time, part of me thinks I'll be happy if I never have to watch it again."