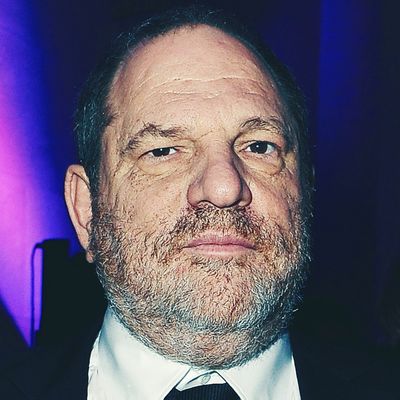 Harvey Weinstein at Paris Fashion Week.
Photo: Pascal Le Segretain/Getty Images
The steady stream of models passing through Harvey Weinstein's orbit may not have been a coincidence, according to a new report from the L.A. Times. 
Weinstein began developing his connections in fashion in the early 2000s. As he was securing his power in Hollywood, he got to know people in fashion who were increasingly interested in partnering with celebrities. Weinstein went on to serve as an executive producer on Project Runway, invested in the company Halston, and backed his wife Georgina Chapman's fashion line, Marchesa.
But in addition to using the fashion world, and magazines like Vogue, to increase the profile of the actresses he worked with, sources interviewed by the L.A. Times say that Weinstein also "used fashion as a pipeline to women. They said that models, oftentimes young and working overseas far from home, were particularly vulnerable."
At least ten former and current models, including Cara Delevingne and Angie Everhart, have accused Weinstein of various forms of sexual misconduct. One former model Zoë Brock told the L.A. Times she believes that men connected to Weinstein intentionally sat her next to him at a dinner party in Cannes in 1998.
"Someone put me there next to him — that was on purpose. I am pretty sure that there are a lot of people that would like to sit next to Harvey Weinstein," Brock told the L.A. Times. "So why was it me?"
Later that night, Brock alleges that Weinstein stood before her naked and asked for a massage. She said she locked herself in a bathroom to escape his advances.
Through his spokesperson, Sallie Hofmeister, Weinstein has "unequivocally denied" all allegations of "nonconsensual sex." Regarding the accounts of Brock and the other women who have accused Weinstein, Hofmeister said: "Their recollection of events differs from that of Mr. Weinstein." Read the full story here.