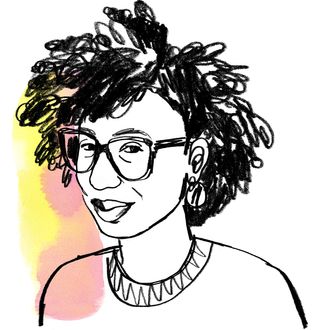 Illustration: Lauren Tamaki
Glory Edim is the founder of Well-Read Black Girl, a monthly book club and online platform that celebrates black women writers. She runs WRBG in addition to working full-time at Kickstarter and she just put on her first ever Well-Read Black Girl book festival this year. She reads 30 to 40 books a year and always carries two in her bag. Here's how she gets it all done.
On the importance of starting her day with a to do list:
I usually wake up between 7:30 and 8. I'm a big journaler. I take my journal out and do my notes for the day. It makes me feel really good to cross stuff off my list. I make a list of really easy things to do that I know I'm going to accomplish.
On how she balances her day job with running WRBG:
The first half-hour of my day is spent checking emails and checking social media. I'm constantly on social media for Well-Read Black Girl: our Instagram, Twitter, Facebook, making sure everything is clear and good. Then I go to my day job. My title at Kickstarter is "Publishing Outreach Specialist," which means I'm in a ton of meetings all day long talking to creative people. People reach out to me with inquiries on how to start the process of launching a Kickstarter and I basically serve as a strategist for their vision and how to best use it. My day at Kickstarter is 10 to 6 and then I go to events. I'll speak on panels sometimes or go out into the community where I can be public-facing and talk about what we're doing with WRBG. I stay up pretty late. I'm a nocturnal person. Luckily, I do have the support of my partner who is a night owl too. If I'm falling asleep, or looking too intently at my computer, he'll be like, "Okay, let's watch Game of Thrones, here's some gummy bears."
On optimizing her commute for reading:
I live in downtown Brooklyn and I work in Greenpoint. That's how I am able to read so many books. My commute is probably 20 to 30 minutes, and I carry two books with me wherever I go: the book I'm reading for the month and one that I'm trying to see if we'll want to use as our book for the following month. I always go for books that are less than 300 pages. I don't check my email on the train, so that gives me more time. Everyone else around me is doing it, but I know I'm going to be online and in front of a computer for the rest of the day, so my commute is my one time to connect and pay attention. I like to strike up conversations with strangers about what they're reading. I especially like to have conversations about books that I don't like, because I find people try to persuade me to like them. It's interesting to hear people's perspective on authors and what has resonated with them.
On how she and her team pick books to recommend:
When I first started WRBG, I was doing everything. Now I have a team. I have our books editor, she's the person who goes through all the galleys and we decide what books to pick for each month. She writes a majority of our book reviews. She'll share different posts with me and different ideas and how she wants to frame it online and I'll say yea or nay about tone. We go back and forth. Recently, we had a Twitter chat with Zinzi Clemmons, author of the book What We Lose; we were tweeting back and forth. It's a collective thing to manage the feed together. I can't be online all the time, she has a more flexible schedule. She can monitor the feed.
On how she's learning to delegate:
When it comes to the WRBG festival, I have completely thrown the word balance out the window. I stay up very late. I'm doing my best to send the newsletters biweekly at 7 a.m., but there are so many inquires, much more press, more people with questions. We're a small team. I constantly remind people that I'm a human, there may be typos, but you have my attention. It's a lot of production and technical things to work through, from the Wi-Fi to the livestream to the overflow room, the number of volunteers, the food order for the caterer. I'm trying to learn how to delegate more, so that's challenging. But I do have a full-time job on top of all this. My hope is that one day Well-Read Black Girl will be my full-time livelihood.
On the most rewarding part of running WRBG:
The most memorable moments are the ones in real life — people thanking me for creating this space. That's what sticks with me. I didn't realize the magnitude of Well-Read Black Girl. It's grown so rapidly. This has been an affirmation of what happens when you build a powerful community. When we look at photos of Toni Morrison and Audre Lorde, these were women who were pouring their passion into something and they were together in a community. I want to re-create that space to support and uplift. How can we do that on a consistent basis, especially when things feel very bleak? We have to fight.