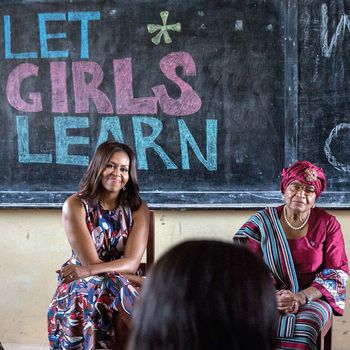 Michelle Obama at a high school in Liberia, 2016, by former White House photographer Amanda Lucidon.
Photo: Amanda Lucidon/Ten Speed Press
For four years, during Barack Obama's second term, Amanda Lucidon was the only woman of five photographers working in the White House. While chief White House photographer Pete Souza documented the president, she covered Michelle Obama. Lucidon followed the First Lady all over the world, from small hospital rooms in Tennessee to a traditional tea ceremony in Kyoto, Japan. "I feel like I'm still pinching myself that I actually worked there and got to have those experiences every day," Lucidon says. "I feel like it's my responsibility now to share with other people what I learned."
Her new book Chasing Light, released by Ten Speed Press on October 17, is the culmination of her time with Michelle Obama. Structured like a "visual diary," the collection details the stories behind 150 photographs shot in 20 different countries. Many of the images are published for the first time.
The Kennedy Center in Washington, D.C., recently named Lucidon a Turnaround artist for her work as a photographer and filmmaker. On her book tour – which started yesterday and will be documented on the book's Instagram – libraries and schools across the country will showcase a selection of her photos; Lucidon plans to speak about the importance of arts education during each visit.
She told the Cut she looked to White House photographers who came before her as mentors, including Samantha Appleton and Sonya Hebert  (who worked during Obama's first term) and Susan Biddle (who photographed President Ronald Reagan and President George H.W. Bush). As for the title Chasing Light, she says, "We've all had lights in our lives. Whether that's the inspiration of Mrs. Obama, or my mother, or other powerful women in my life … that [light is] pulling me forward."
In an interview, Lucidon discussed riding in the presidential motorcade ("Which black car in the motorcade do you get in? They all look the same!"), starting her career as a photojournalist, and lessons she learned from Michelle Obama.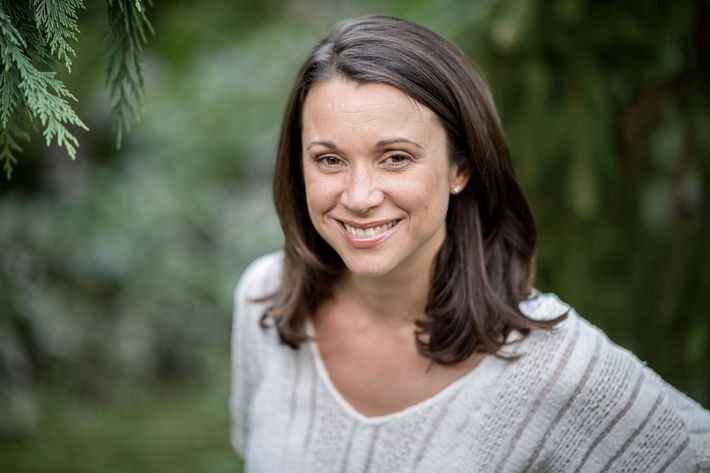 What was your first day like at the White House? 
It was probably not as interesting as it sounds, because you're spending all this time figuring out your paperwork and how to get your badge. 'How do I get in the gate? Which gate do I go in? Where's my office? And all these hallways are confusing!' There are a lot of details, like which black car in the motorcade do you get in? They all look the same! How do you know which one is yours? And how do you make sure you're on time and you don't get left behind? There was a lot of nervous energy at first. It was probably six months before that went away.
What is one quality about the Obamas that people might not realize, because they don't see them every day like you did? 
People are always like, 'What are they like, when the camera goes off?' And they're the same people. They're so grounded and compassionate and thoughtful. It's just amazing, because they're extraordinary people, and at the same time, they have a way of making everyone feel loved and comforted and special.
What motivated you on the job?
Being around the Obamas every day. Seeing everything that they are doing. She took on so many initiatives, and it was just the constant work, and when I started to feel like I was getting tired, I looked at them and said, 'Oh, you're still going, I have to keep going, too.' I talk a lot in the book about losing my father, and I think, even though it was the hardest time for me, it gave me good perspective. Our heart beats only so many times. What is your heart worth beating for? And that's how you should live every day. I have a beautiful daughter, who is 10 months old. When [there are] days that I take myself too seriously, I look into her eyes and say, 'Oh, I can be a role model the same way Mrs. Obama, [and] my mother, was a role model, to my daughter.'"
What was the traveling like?
The first time I went to China, it was my first trip, and I was going to be the only photographer traveling with Mrs. Obama. I was really nervous about that. I wanted to do a good job. There was trouble with internet.
As a photographer, you need to take pictures all day and send them back. It's [important to] constantly stay calm when you encounter a problem and need to troubleshoot. To push through these things, and have a moment where I get to be on the ground of the Great Wall of China with Mrs. Obama in that picture where she's hugging her daughters, and to think that I never thought I'd get to travel there and be in this very special place, is just an extraordinary kind of experience. I remember landing in Cambodia and stepping off the plane, and the air smelled like toasted wood. In the motorcade on the way to the hotel I remember looking out the window and thinking, 'Everything's so interesting, I just want to take pictures of everything — the people, the faces, the colors.' As a kid, I didn't think I'd get to travel to any of these places, so to get to do it with Mrs. Obama and her amazing team, is pretty incredible.
Do you have any advice for women who might be aspiring photojournalists, or trying to break into an industry? 
My advice would be to do the work that you're passionate about. Because that's what provided this opportunity at the White House. I was actually working in D.C. for a lot of projects that were my passion projects that weren't necessarily paying the bills, but trying to get myself as much time possible to work on the things I loved and cared about. It was that work that got me the attention that got me into the circles that opened up the doors to even be invited to apply to the White House.
I learned this from Mrs. Obama: failing is okay. It means you're actually pushing yourself. And if you're pushing yourself, it means you're going to reach new heights. This for me, stepping out in front of the camera, is very scary. I prefer to be in the background. I never knew that I would be able to write a book. I had never been an author before. I could've said no to this opportunity and I would've missed out on this chance to reach so many young kids who might be wondering how to be artists. For me as a kid, I never even thought it was possible to be a White House photographer. You can really do anything. I think most of the time, we're the ones that get in our head, and stop us from reaching our true potential.
This interview has been edited and condensed.
If you buy something through our links, New York may earn an affiliate commission.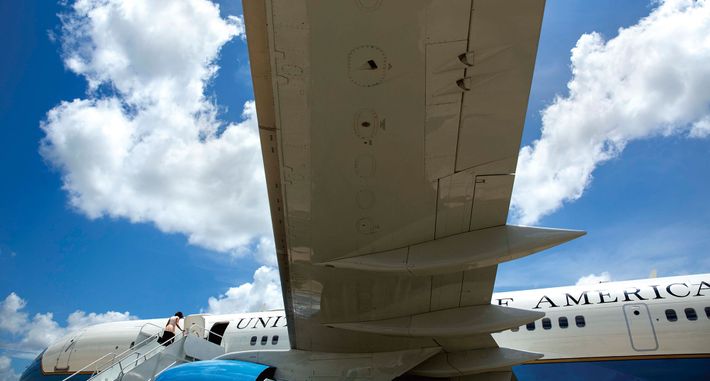 The First Lady boards Bright Star at Orlando International Airport, July 1, 2014.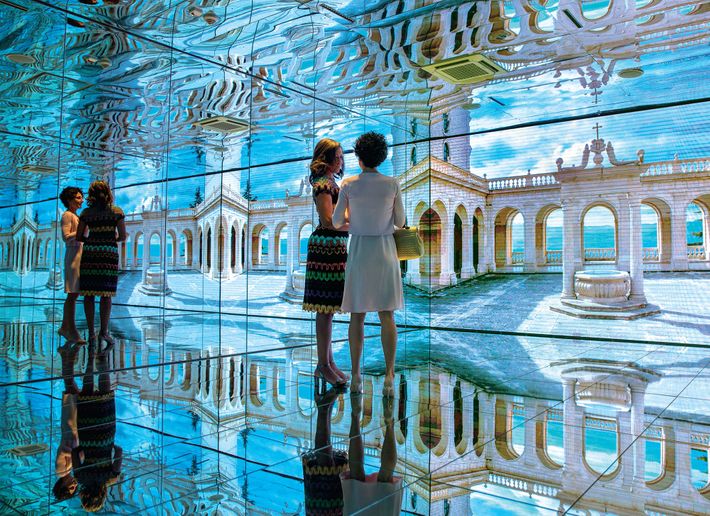 First Lady Michelle Obama tours the Mirror Room in the Italian Pavilion with Mrs. Agnese Landini at the Milan Expo 2015 in Milan, Italy, June 18, 2015. Mrs. Obama led the presidential delegation to the expo, "Feeding the Planet, Energy for Life."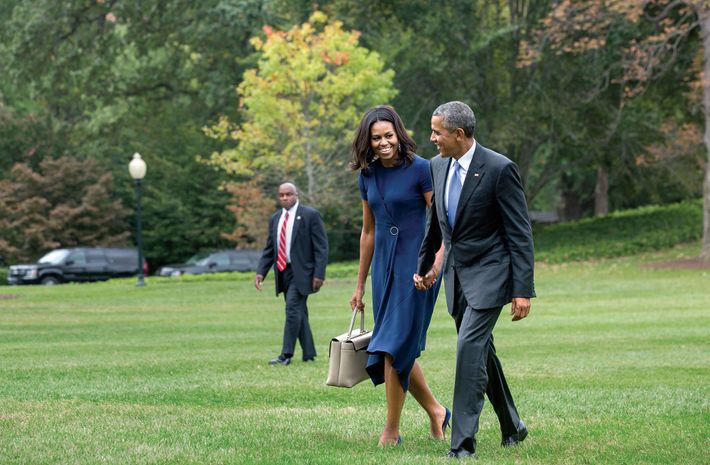 President Barack Obama and First Lady Michelle Obama walk from Marine One on the White House South Lawn, September 29, 2015.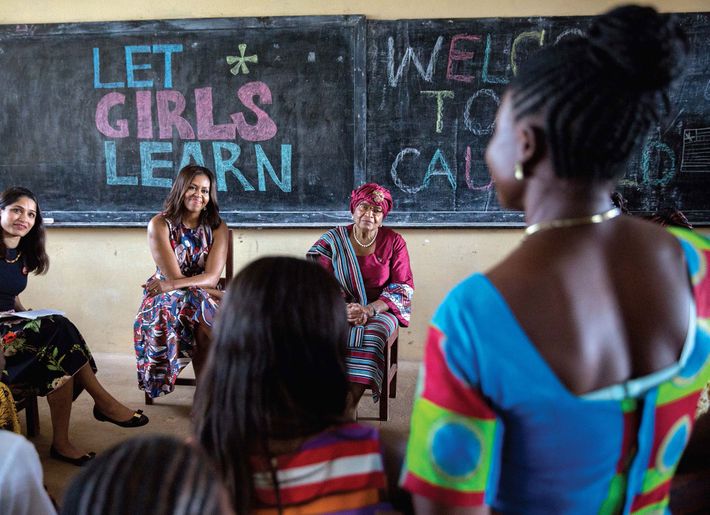 First Lady Michelle Obama participates in a discussion with President Ellen Johnson Sirleaf, Freida Pinto, and students at R. S. Caulfield Senior High School in Unification Town, Liberia, June 27, 2016.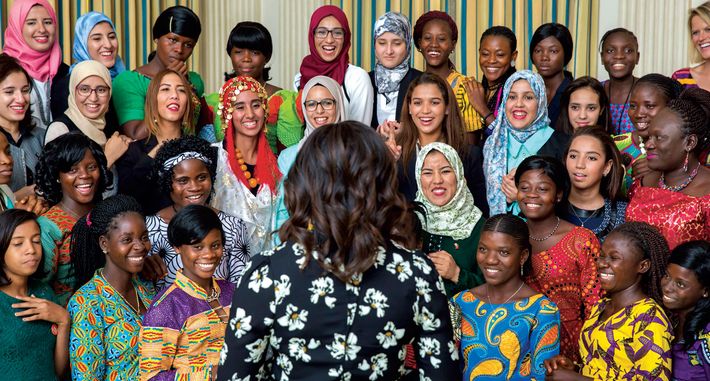 Mrs. Obama welcomes girls from Morocco and Liberia in the State Dining Room before a screening of We Will Rise: Michelle Obama's Mission to Educate Girls Around the World, October 11, 2016.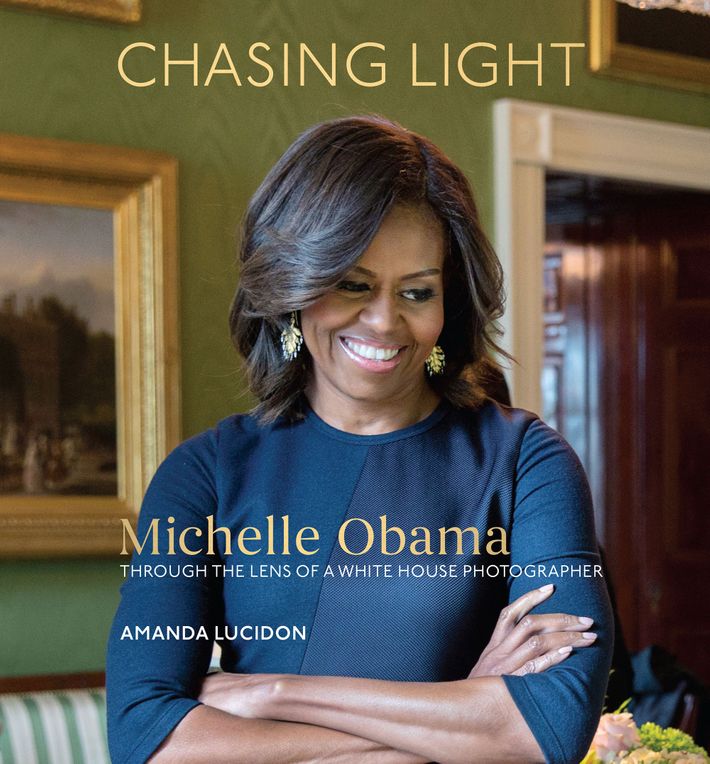 Chasing Light: Michelle Obama Through the Lens of a White House Photographer by Amanda Lucidon, published October 17 by Ten Speed Press.