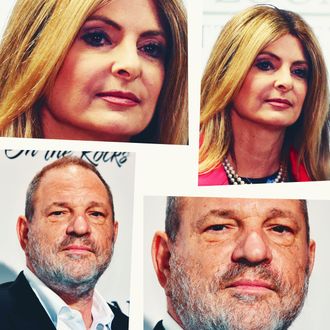 Harvey Weinstein and Lisa Bloom.
Variety and The Hollywood Reporter revealed yesterday that Harvey Weinstein has assembled an intimidating team of lawyers, publicists, and crisis managers to prepare for two "potentially explosive" stories about "improper workplace behavior" and "sexual allegations" against him. The New York Times and The New Yorker have apparently been working on the reports about his personal behavior for some time, and something could break as early as next week. Of course, there have been rumors about Weinstein and his interactions with women for years, but now he may finally have to reckon with them in a very public way.
Celebrity attorney Lisa Bloom is going to help him, she confirmed yesterday. After it was reported that she had taken Weinstein on as a client, she told Variety, "Harvey Weinstein is obviously excellent at assembling a legal team." Bloom is no stranger to high-profile cases, but it is odd that she is choosing to represent someone who may be accused of sexual impropriety and "improper workplace behavior." Bloom is famous for defending victims of sexual harassment and assault, most recently Blac Chyna, Mischa Barton, and multiple harassment victims of Bill O'Reilly. After Fox News finally fired O'Reilly in April, she tweeted, "When women speak our truth the old order shatters. We slayed the dragon."
So why would Bloom defend Weinstein? It's complicated, surely, but it's worth pointing out that he optioned her book about the Trayvon Martin case, Suspicion Nation, back in March. Variety reported at the time that it was a competitive auction and that several other studios were interested. Weinstein may not have known then that the Times and New Yorker were preparing stories about him, but Ronan Farrow, who is reporting for The New Yorker, has apparently been digging into the allegations for a year.
We have reached out to Bloom for comment and will update if we hear back.