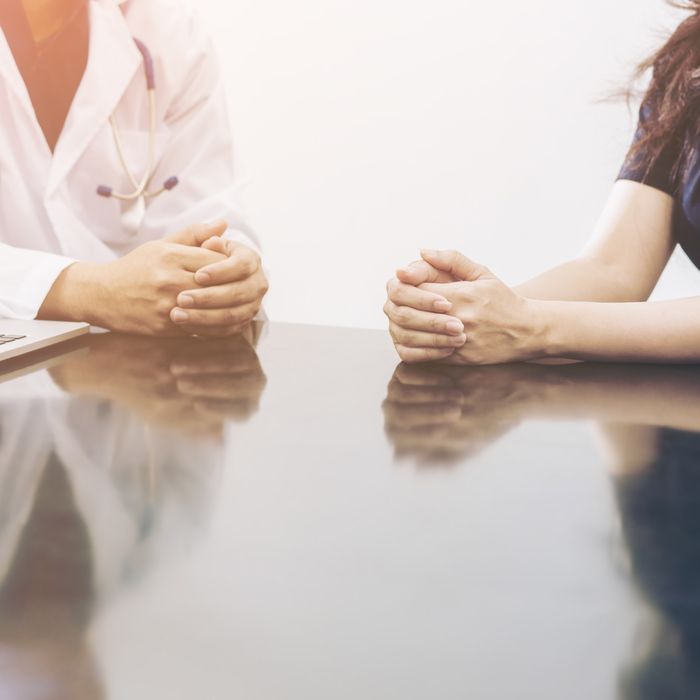 Photo: NanoStockk/Getty Images/iStockphoto
In addition to all the other issues that transgender people can face when it comes to health care — including discrimination, outright rejection, and the high cost of surgery — there's also the fact that many well-intentioned doctors just don't know how to serve them. In practice, that can translate into patients doing much of the legwork for their doctors before they can actually get care: In a survey about transgender discrimination put out by the National Center for Transgender Equality and the National Gay and Lesbian Task Force, both LBGTQ advocacy groups, 50 percent of respondents reported having to teach their doctors about transgender identity.
In large part, at least, that's a problem of medical education. Gender-confirmation surgeries are on the rise, but while doctors-to-be may want to learn about transgender care, it's a challenge for them to get the training they need. According to a 2011 paper in the Journal of the American Medical Association, only around a third of medical schools in the U.S. devote any space in their curricula to trans health-care issues. It's a glaring knowledge gap with roots that stretch back decades, and the field of medicine is just now starting to turn things around: The Mt. Sinai Center for Transgender Medicine recently launched fellowship programs in both surgery and psychiatry, and in the past couple of years, a handful of similar educational programs have sprung up around the country; in 2015, for example, the University of Louisville was announced as the home for the Association of American Medical Colleges' new pilot program on transgender health.
They've got a lot of lost time to make up for. After the first gender-confirmation surgeries in the U.S. were performed in the mid-1960s, the field of transgender medicine grew rapidly — but that began to change in 1975, when a man named Paul McHugh became the chief of psychiatry at Johns Hopkins Hospital. McHugh, who believed — and still believes — that being transgender was a form of mental illness, eventually shut down the hospital's gender-identity program a few years after taking up his post. The decision caused a domino effect at other universities, pushing transgender surgery out of training hospitals. For the next few decades, it was mostly the purview of private practitioners who held their techniques close to the vest.
"When I started, surgeries were largely proprietary," says gynecologist Marci Bowers, a pioneer of gender-confirmation surgery who has been in the field for over 14 years. Early in her career, she approached several surgeons hoping to learn their techniques, but all turned her away — transgender surgery, often a cash market, was not a field in which you shared your secrets. Lack of communication between doctors, combined with the lack of overall instruction in medical school, meant that transgender patients often had to rely on luck, persistence, and word of mouth to find the care they were looking for.
"We really had no one to train the next generation of transgender surgeons," says Jess Ting, director of surgery at the Center for Transgender Surgery and Medicine at Mount Sinai. The transition out of universities meant that doctors were busy, procedures proprietary, and the possibility for teaching and study practically nil.
But even with the necessary knowledge, doctors are still working within a system that wasn't built to support transgender patients. Take hospital computer systems, for example: Drop-down boxes for gender often just have two options, male and female. Some providers have been adding "undetermined," which means nothing, practically speaking, and can actually prevent a clinician from doing certain things in the system. For example, ordering a pap smear may require a "female" gender, which means trans men and non-binary or genderqueer patients can't receive the screenings they need without being mislabeled in the system. And when systems can't recognize a patient's identity, it's difficult for the doctor to.
"A lot of the systems just don't allow for additional identities," says Matthew Dominguez, the Sinai program's psychiatry fellow, who spends his days at Sinai's Center for Transgender Medicine in Chelsea. "It's a problem. All they have to do is add extra boxes and have a committee with people like us on it who can identify terms that would be helpful to put in those boxes. And yet it's still not getting done."
Even more frustrating, Dominguez says, is when he misgenders a patient because the wrong information is in the system due to insurance regulations, like when an insurance company won't allow a name to be modified from what's listed on the patient's card.
Dominguez and his colleagues have come up with workarounds, flags they put in with people's true pronouns and names, but mistakes still happen. "Unless you're out here learning all of these skills," Dominguez says, "most doctors have no way of knowing how to approach this population. Fellowships like this are trying to close those gaps."
Bowers agrees that returning transgender surgery and psychiatry to a university setting will help the field to grow more quickly. With demand for gender-confirmation surgeries up nearly 20 percent in 2016, and a 500-patient waiting list at Mt. Sinai's Center for Transgender Medicine, there's more of a need than ever for doctors who can work with trans patients knowledgeably and compassionately — and the only way to get them is train them.