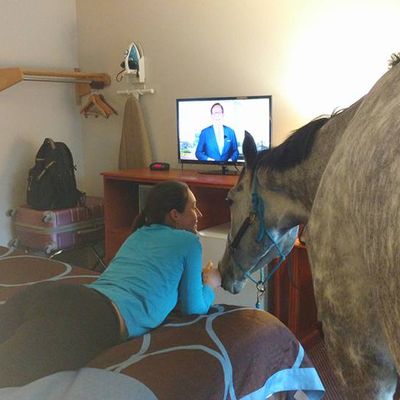 L: Lindsay Partridge, R: Horse.
Everybody seems to be obsessed with travel hacks these days: Roll your clothes instead of folding them. Spritz your face with a nice-smelling hydrating spray to stay calm and refreshed. Go ahead and bring a full-grown horse into your hotel if they allow pets.
The last one comes courtesy of Lindsay Partridge of Ontario, Canada. Partridge, the founder of Harmony Horsemanship, was traveling to Kentucky for a competition with a few horses in tow and stopped to check in at a Super 8. According to ABC News, she noticed that someone had a dog with them and joked at the front desk that she had some horses outside. "The receptionist said, 'Oh, I don't care. Sure, bring them in!'"
Patridge took up the offer with her 5-year-old thoroughbred Blizz, and documented the results on Facebook:
It's unclear what Blizz got up to, but it presumably included watching pay-per-view and complaining about how much the minibar snacks cost.