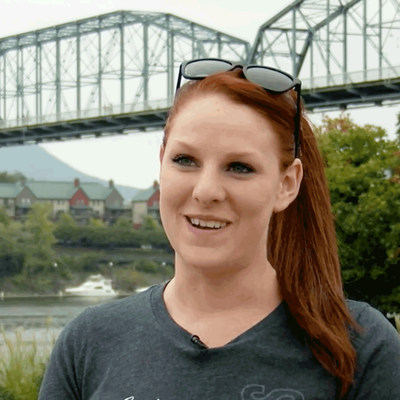 Irene Sewell.
Photo: Courtesy of ABC6 On Your Side
Because completing a marathon isn't difficult enough, people have come up with a variety of ways to make the 26.2 mile race even more uncomfortable: running while wearing a three-piece-suit, while free-bleeding, while dressed as a giant hot dog. The most recent stunt? Running a marathon while wearing heels.
Twenty-seven-year-old Irene Sewell ran the 7 Bridges Marathon in Chattanooga, Tennessee, on Sunday while wearing three-inch stilettos for the duration of the race. She broke a Guinness World Record that was attempted by another woman but never completed; they gave her a time limit of seven hours and 30 minutes, and she finished with two minutes to spare.
Congrats to Sewell on her world record, and also for being able to run approximately 26 miles longer than I can even walk in heels.