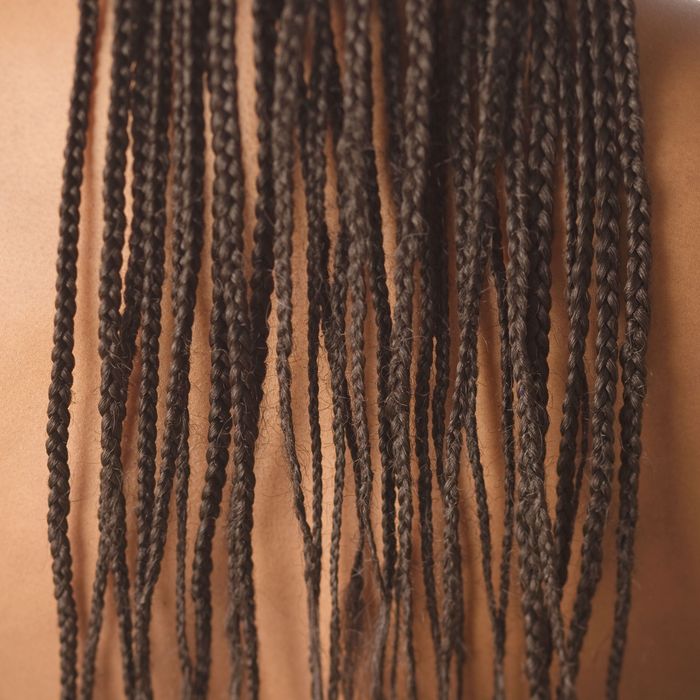 Photo: Terry Vine Photography/Getty Images/Blend Images
A young black woman is claiming that a Banana Republic store outside of New York City discriminated against her. In a now viral Facebook post, Destiny Tompkins wrote that while working at a Banana Republic inside the Westchester Mall on Wednesday, the store's manager told Tompkins that her braided hair was "too 'urban' and 'unkempt''' for the store's image. The manager, who Tompkins says is white, added that her braids were not "Banana Republic appropriate." Makes sense, since a Kardashian/Jenner has yet to co-opt box braids and make them socially permissible.
Tompkins says she tried to explain why her braids were important, citing that they were a "protective style" to shield her hair from damage and dryness, to which her manager replied that she should use shea butter instead. The Cut reached out to Sheikina Liverpool, Banana Republic's spokesperson, who did not respond when asked if braids violated the company's employee dress or grooming policy. She did, however, reply with the following statement:
"As a company, we have zero tolerance for discrimination. We take this matter very seriously and we are actively conducting an investigation. We are committed to upholding an inclusive environment where our customers and our employees feel respected."
The alleged incident falls in line with other instances throughout the country where black women and girls are routinely penalized for wearing their hair in natural, protective styles. Just last spring, young girls at a Massachusetts charter school were suspended, barred from extracurricular programs, and placed in detention after wearing braids. It's unclear why box braids — the hairstyle most commonly worn by black women — are considered unprofessional. One of life's many mysteries, as they say.