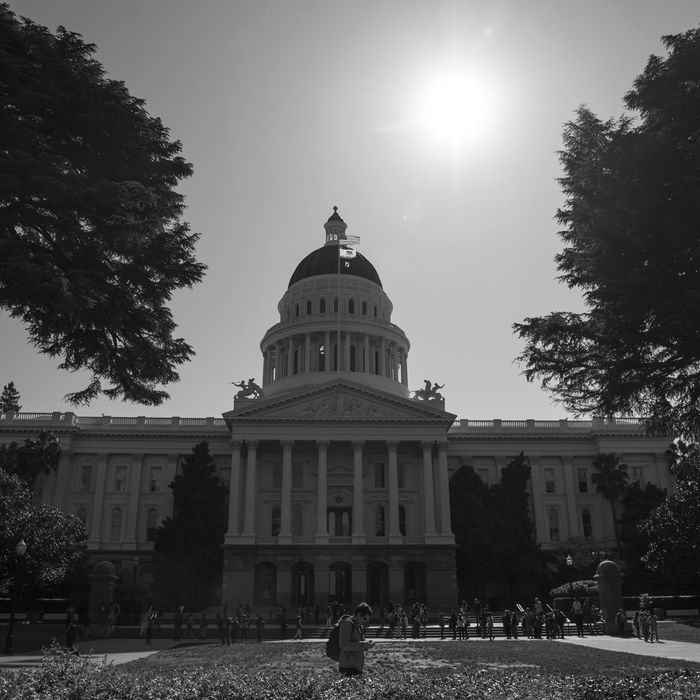 The California State Capitol building in Sacramento, California.
Photo: Bloomberg/Bloomberg via Getty Images
As allegations of sexual abuse continue to pile up against former Hollywood producer Harvey Weinstein, 140 women in California politics — including legislators, staff, aides, and lobbyists — have signed a public letter denouncing the "pervasive" culture of sexual harassment in the state capital. The letter, which was published by the L.A. Times on Tuesday morning, describes the kinds of abuse women in and around the legislature have faced, and why they have largely remained silent until now. Via the Times:
As women leaders in politics, in a state that postures itself as a leader in justice and equality, you might assume our experience has been different. It has not. Each of us has endured, or witnessed or worked with women who have experienced some form of dehumanizing behavior by men with power in our workplaces. Men have groped and touched us without our consent, made inappropriate comments about our bodies and our abilities. Insults and sexual innuendo, frequently disguised as jokes, have undermined our professional positions and capabilities. Men have made promises, or threats, about our jobs in exchange for our compliance, or our silence. They have leveraged their power and positions to treat us however they would like. 
"Why didn't we speak up?" it went on. "Sometimes out of fear. Sometimes out of shame. Often these men hold our professional fates in their hands. They are bosses, gatekeepers, and contacts. Our relationships with them are crucial to our personal success."
In addition to the letter, many women have come forward to share their specific experiences with harassment. State assemblywoman Cristina Garcia told the New York Times, "Multiple people have grabbed my butt and grabbed my breasts. We're talking about senior lobbyists and lawmakers." Pamela Lopez, a lobbyist in Sacramento, said a lawmaker once followed her into the restroom and exposed himself to her.
Some attribute this behavior in part to the culture of Sacramento, where most lawmakers are away from their homes and business is often conducted over late-night drinks.
"It's almost as if it's a different world in the state Capitol," Christine Pelosi, chair of the Women's Caucus of the California Democratic Party and daughter of House Minority Leader Nancy Pelosi told the L.A. Times. "They're not at home. This is not behavior by and large that they would engage in at home. They're almost at camp or something."
The letter goes on to encourage women who feel comfortable to share their own experiences with sexual harassment at wesaidenough.com.
"And when you see — or experience — inappropriate behavior, don't sweep it under the rug," it concludes. "Speak up, speak loud, and know there is a community of people who will support you."