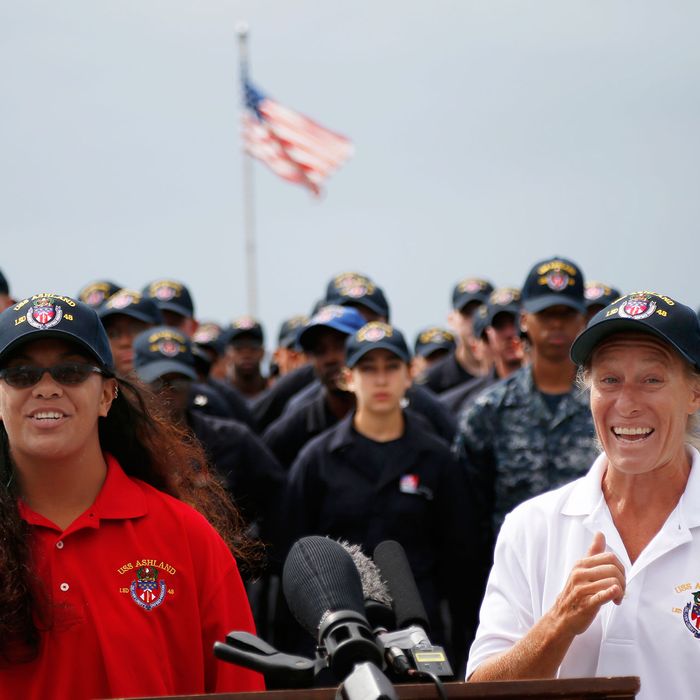 Tasha Fuiava and jennifer Appel, after their rescue.
Photo: Koji Ueda/AP
Last week, we brought you a rare feel-good story: two Hawaii women, Jennifer Appel and Tasha Fuiva, were rescued by the U.S. Navy after being stranded at sea for five months. They said they survived several difficulties, including a phone that went overboard during their first day of sailing, a storm that led to the loss of their engine, a broken mast, and unanswered distress calls — all with the help of two dogs onboard "keeping their spirits up." Amazing, right? Well … the Associated Press now reports that their story has some odd inconsistencies.
Appel and Fuiva took off from Honolulu for Tahiti on May 3; Appel said they ran into "a Force 11 storm, and it lasted for two nights and three days." But there's no evidence of any such storm. Per the AP, "the National Weather Service in Honolulu said no organized storm systems were in or near Hawaii on May 3 or in the days afterward. Archived NASA satellite images confirm there were no tropical storms around Hawaii that day."
They also reportedly came upon Christmas Island at one point but decided not to land, with Appel calling it "uninhabited." It does in fact have about 2,000 people living there.
Most curious, they never turned on their Emergency Position Indicating Radio Beacon, which would have theoretically gotten them the help they needed. "We asked why during this course of time did they not activate the EPIRB," a Coast Guard spokeswoman told the AP. "She had stated they never felt like they were truly in distress, like in a 24-hour period they were going to die."
Hmmmmmm.