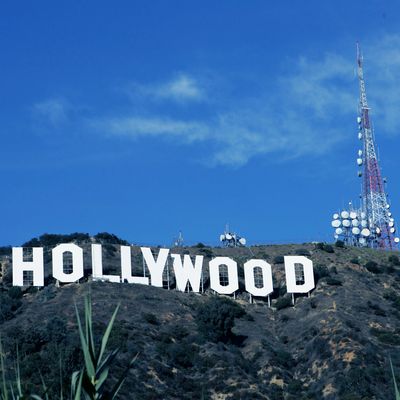 Hollywood sign.
Photo: David Livingston/Getty Images
As an extensive list of sexual-assault allegations continue to emerge against film producer and executive Harvey Weinstein, the women's-rights group UltraViolet chartered a plane to fly over the Hollywood sign on Tuesday with a banner that read: "Hollywood: Stop Enabling Abuse."
The move follows two lengthy reports by the New York Times and The New Yorker, which exposed decades of alleged sexual misconduct by the powerful producer. Weinstein's behavior was reportedly an open secret in Hollywood, but few people spoke out for fear of retaliation.
In a statement, UltraViolet — which, according to their website is a "community of people mobilized to fight sexism and create a more inclusive world that accurately represents all women, from politics and government to media and pop culture" — told Variety they wanted to call out Hollywood for its complicity in covering up allegations of Weinstein's abuse.
If we are going to tackle rape culture in this country, we need to address the entertainment industry and its willingness to cover up decades worth of sexual abuse on Harvey Weinstein's account. Not only has Hollywood normalized Weinstein's abhorrent treatment of women, they enabled it by doing and saying absolutely nothing.




It's no secret that Hollywood is egregiously sexist, from pay discrimination to sexual abuse and body image standards. But it is appalling that an industry would cover the tracks of a man who spent literally decades abusing his power by abusing women. Sure, the Weinstein Company's board fired Harvey Weinstein, but only after the New York Times investigation sparked enough outrage for people to speak up and say, 'enough is enough'.
So far, almost 30 women have come forward with allegations against Weinstein, including Ashley Judd, Gwyneth Paltrow, Angelina Jolie, and Rosanna Arquette.