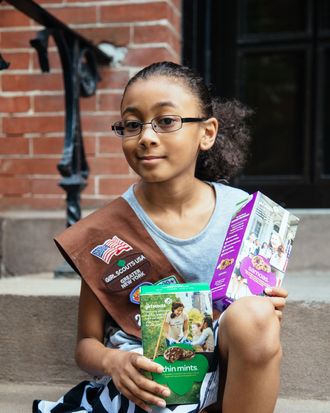 Amira Williams.
Photo: Naima Green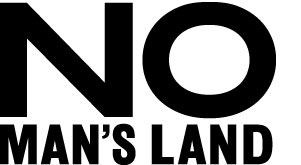 This week, women's social club The Wing launches No Man's Land, its first print magazine, with stories rolling out exclusively on the Cut.
Nothing surprised me less than discovering that my 8-year-old cousin, Amira Williams, Girl Scout extraordinaire and part-time coder, had been crowned the top cookie seller in all the land — Brooklyn, actually. Bright and always matter-of-fact about being a future world leader, Amira has a frank demeanor and an assured confidence I wish I could borrow for just a minute. Recently, when she was recognized in the Brooklyn Paper for her achievements in pushing cookies (1,514 boxes sold!), she proclaimed that selling boxes "taught [her] how to get better at advertising and counting money" — like a true entrepreneurial G.
Since Amira knows so much about how to get these coins, I figured I'd sit down with her and learn something for myself. Here are some of the key takeaways I was able to squeeze out of her, without giving away all the juice. She's trying to win next year, too.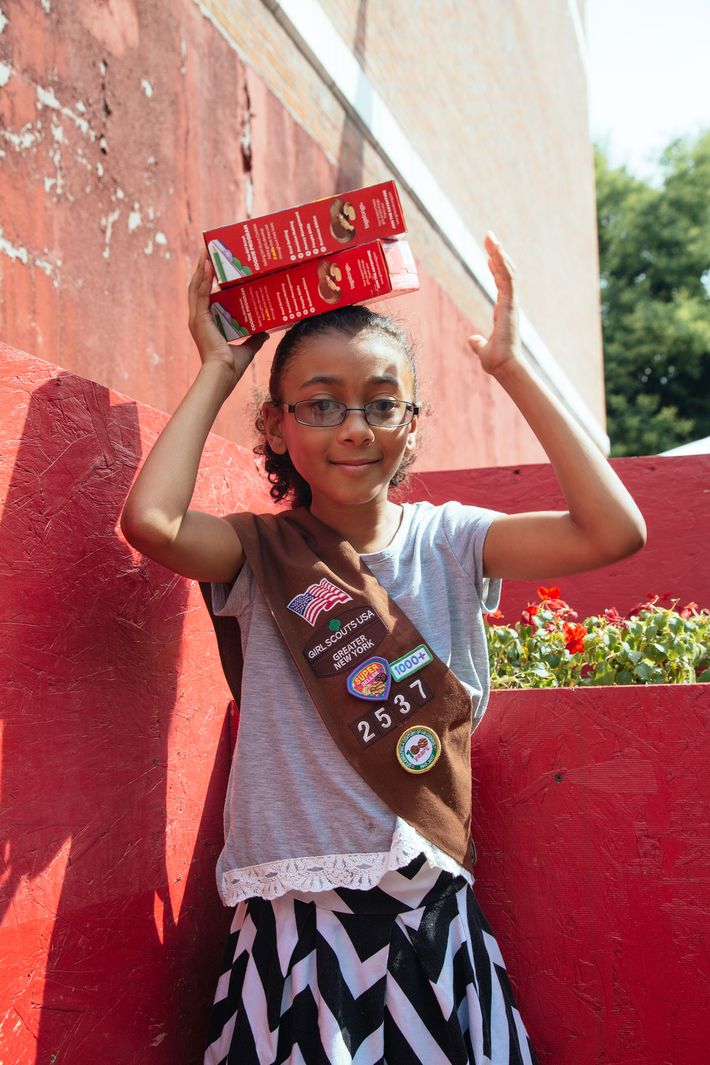 1. Keep Your Pitch Simple
With a product line as well-known and beloved as Girl Scout cookies, Amira knew that it was best to keep her pitch straight, to-the-point, and — most importantly — anchored by a persuasive call to action."I'd say, 'Good morning!' or, 'Good Day! Would you like to buy some Girl Scout cookies? They're only four or five dollars.'"
2. Follow the Foot Traffic
Just like the old real estate adage — "location, location, location" — Amira stressed the importance of setting up shop in high foot traffic areas, especially during the times of day when people are the hungriest. "I set up my table in crowded spaces like outside of churches on a Sunday," says Amira. "Also, nearby block parties, school parties, and the Greenlight Bookstore [in Fort Greene]."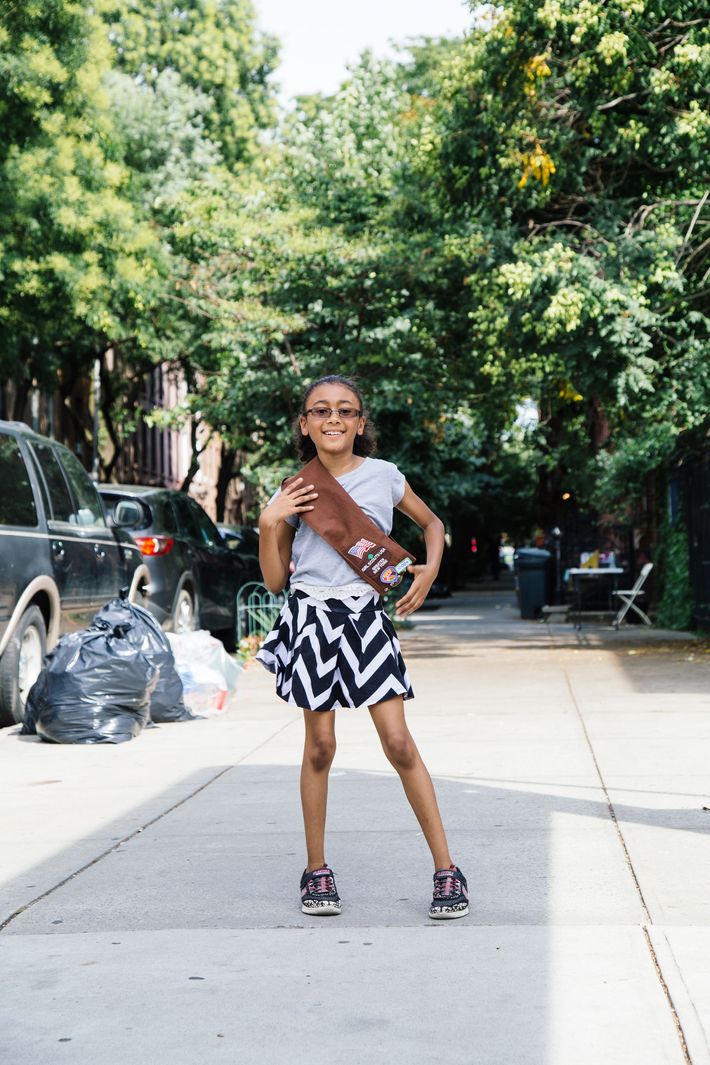 3. Keep Your Eyes on the Prize
Even though the earnings from the last fiscal year were solid, Amira upped her selling game by staying focused on her short-term goal: prizes. "This year I was trying to get to an iWatch [Apple Watch]," Amira shared. "'Cause, like, the more I wanted the prizes, the harder I worked, even though it was the summer. And it was really hard in the summer."
4. Embrace Innovation
Amira embraced innovation and digitized her sales by using Square's point-of-sale technology. Although some customers opted to use more classic forms of payment, having the credit and debit card option definitely helped seal a few of the deals. "Sometimes cash, sometimes Square — I don't know which one people used most. I think it was cash, but it's good that we have both."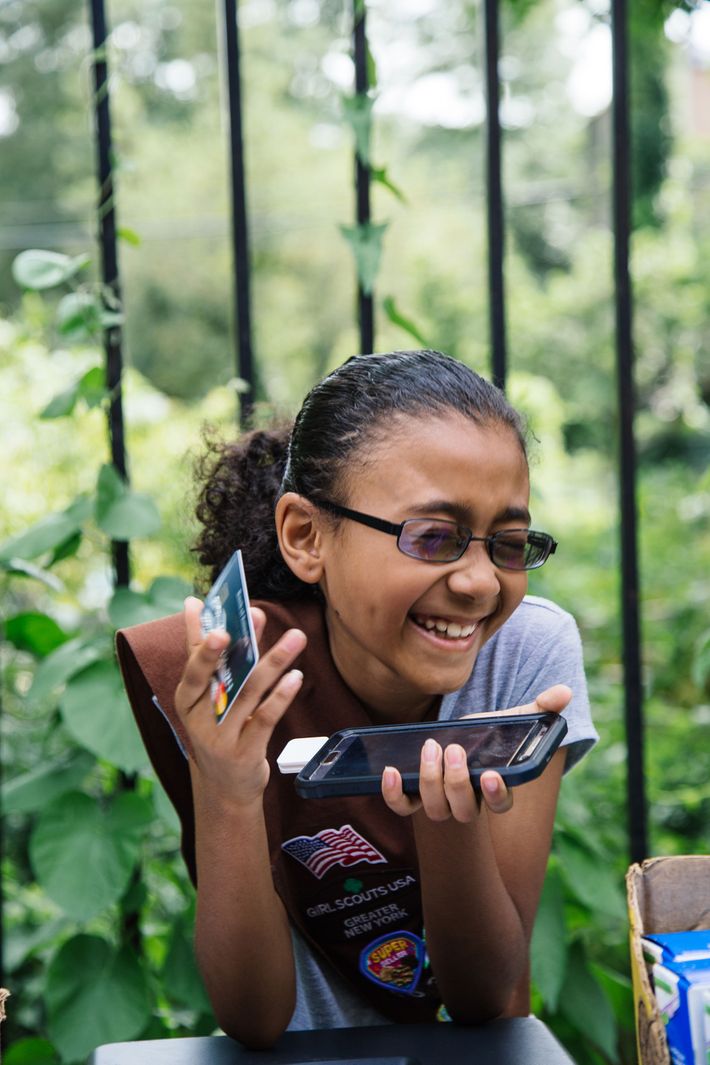 5. Merchandise It and They Will Come
In addition to the on-trend, millennial pink table that she used to display her tasty merchandise, Amira utilized an efficient color-coded system, enabling customers to easily spot their favorite flavor. "Well, I put them in rainbow order," Amira shared. "Tagalongs first, Do-Si-Dos next, Savanah Smiles, Thin Mints, Toffee Tastic, Trefoils, then Samoas and S'mores."
6. Advice to Aspiring Cookie Bosses
In closing, Amira left us with a few marketing gems for all the up-and-coming cookie bosses out there: "I would tell them to ummm … to use Square but mostly to go to crowded spots like churches or parties. Also ask your parents to go on Facebook, Twitter, or Snapchat, I don't know."