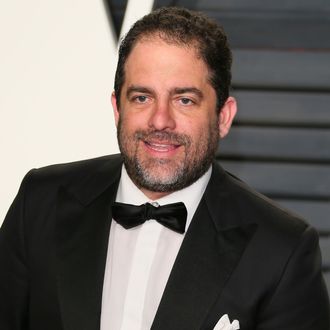 Photo: Jean Baptiste Lacroix /AFP/Getty Images
Director Brett Ratner, long known for his indelicate opinions, is the latest major Hollywood figure to be accused of sexual harassment and misconduct. The L.A. Times has collected the stories of six women, including actresses Olivia Munn and Natasha Henstridge, who accuse Ratner of aggressive, abusive, and unwanted sexual behavior at various points throughout his career. Ratner joins the list of Hollywood figures to come under scrutiny for similar activities in the wake of the Harvey Weinstein scandal, alongside director James Toback and Kevin Spacey.
In the Times story, Henstridge describes an incident with Ratner in the 1990s, when she was a 19-year-old fashion model and he was a music-video director. After waking up alone in a room with him after a party, Henstridge attempted to leave, but Ratner blocked the doorway, and forced her to perform oral sex. "He strong-armed me in a real way. He physically forced himself on me," she said. "At some point, I gave in and he did his thing."
Munn claims that, when she visited Ratner on the set of his 2004 film After the Sunset, he masturbated in front of her in his trailer while holding a shrimp cocktail. Munn also published this story in her 2010 memoir Suck It, Wonder Woman!: The Misadventures of a Hollywood Geek with Ratner's name left off. In 2011, he appeared on her former talk show, where it was revealed that he was the director in question, denied ever masturbating in front of her, and claimed that he had dated Munn. Munn denies ever having a relationship with Ratner and told the L.A. Times that he continued to harass her when she encountered him at other events, including one instance where he told her he had masturbated on top of copies of magazines with her face on them.
The L.A. Times also collected stories from four other women. Jaime Ray Newman, who sat next to Ratner on a plane in 2005, said he "began loudly describing sex acts he wanted to perform on her in explicit detail." Actress Katharine Towne, who met Ratner at a party in 2005, described him aggressively coming onto her "in a way that was so extreme," going into the bathroom with her and closing the door behind him. Eri Sasaki, who played an extra on Ratner's Rush Hour 2, claimed Ratner approached her on set, "ran his index finger down her bare stomach and asked if she wanted to go into a bathroom with him," and later asked her again while offering her a line of dialogue in the film. Jorina King, another background actress, said Ratner offered to discuss giving her a speaking part, and asked her to come to his trailer so he could see her breasts. The L.A. Times spoke with others working on the Rush Hour 2 set who alleged a similar environment.
Brett Ratner's attorney, Hollywood power lawyer Marty Singer, categorically denied all the claims against Ratner to the Times. "I have represented Mr. Ratner for two decades, and no woman has ever made a claim against him for sexual misconduct or sexual harassment," Singer said. "Furthermore, no woman has ever requested or received any financial settlement from my client."