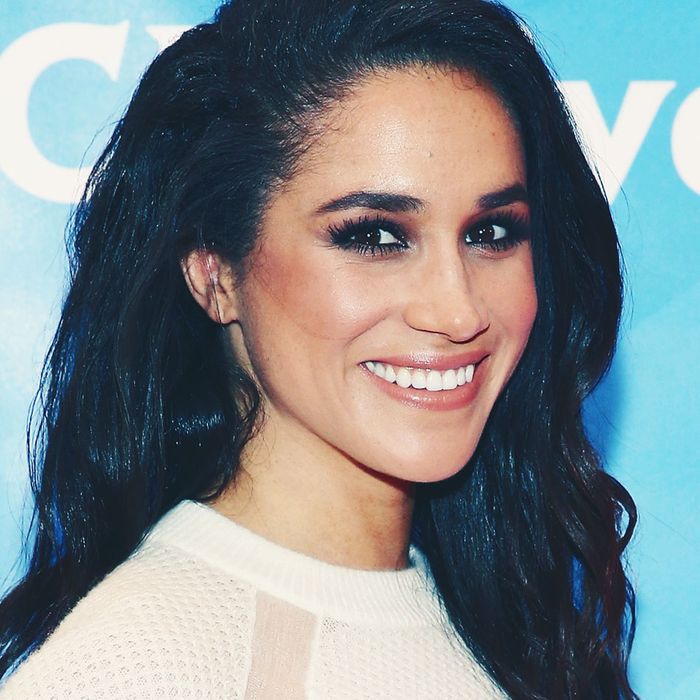 Meghan Markle.
Photo: Robin Marchant/Getty Images
On Monday morning, the people of Earth received a precious gift when Prince Harry and Meghan Markle, two extremely good-looking individuals, announced their engagement.
While much is known about Harry, who grew up in the spotlight (he's a prince; he's a ginger) less is known about the real star in this power coupling. Markle, 36 — who grew up in Hollywood, rose to fame playing Rachel Zane on the show Suits, and has dabbled in the fine art of lifestyle blogging — contains multitudes. Here are some things you may not know about the possible future Duchess of Sussex.
She was a suitcase model on Deal or No Deal
For one season, Markle was one of the 26 suitcase-toting models on the Howie Mandel-hosted game show Deal or No Deal. She told Esquire in 2013:
"I was the ill-fated number 26, which for some reason no one would ever choose. I would end up standing up there forever in these terribly uncomfortable and inexpensive five-inch heels just waiting for someone to pick my number so I could go and sit down."
And a lifestyle blogger
In 2014, Markle started a lifestyle blog called The Tig. Like any lifestyle blog worth its salt, The Tig featured pictures of idyllic beaches, avocado toasts, and carefully composed shots of coffee.
But for those of you looking for tips on how to become a royal and befriend Serena Williams, I have some bad news — Markle shut down The Tig in April 2017.
And a self-declared "foodie"
Normally, the word "foodie" is reserved for the most insufferable people who are constantly saying things like "This reminds me of an absolutely divine cassoulet I had in Provence last year," but Markle has repeatedly called herself a foodie, so maybe it's okay.
In June, Markle told Good Housekeeping that her signature dish is "a perfectly roasted chicken, and clearly she's pretty good at it, because in an interview with the BBC on Monday, Harry and Markle said that the prince proposed while the two were preparing a roasted chicken — reigniting the troublesome concept of Engagement Chicken.
And a calligrapher
Early in her career, Markle subsidized her acting with freelance calligraphy work, including writing the invitations for Robin Thicke and Paula Patton's wedding in 2005 (?!).
Watch this video of her showing off her penmanship to Larry King, and take time to reflect on how much more accomplished she is than you. Wonder if she ever just like, binges Netflix on the couch, or if she's always working on some beautiful project. Suspect the latter, and feel simultaneously inspired and depressed.
She loves an inspirational quote
In addition to heavily edited pictures of clouds and shout outs to rosé, Markle's delightfully basic Instagram is full of inspirational quotes.
In one post, she says "Shout out to all the plants growing through concrete," and in another she reminds us to "Be awesome today." After reading it I felt at least three percent more awesome.
She and Harry are distant cousins
Following in the incestuous footsteps of generations of royals before them, Prince Harry and Meghan Markle are technically related, though distantly. An investigation by the Daily Mail found that couple share a 15th century ancestor, the High Sheriff of County Durham Ralph Bowes, whose family seat was Streatlam Castle.
Scandalous!
She has a very sought-after nose
Last week, New York-based plastic surgeon Dr. Stephen T. Greenberg told E! News that Markle's nose is one of his top requests from patients, and that people are "gravitating toward the refined appearance of it, specifically the straight nasal profile and the refined nasal tip."
A Renaissance woman with a refined nasal tip and perfectly roasted chicken — what more could we want from a royal?