Newly married New York women (including two New York editors) share the navy, cobalt, and cornflower items they wore and carried.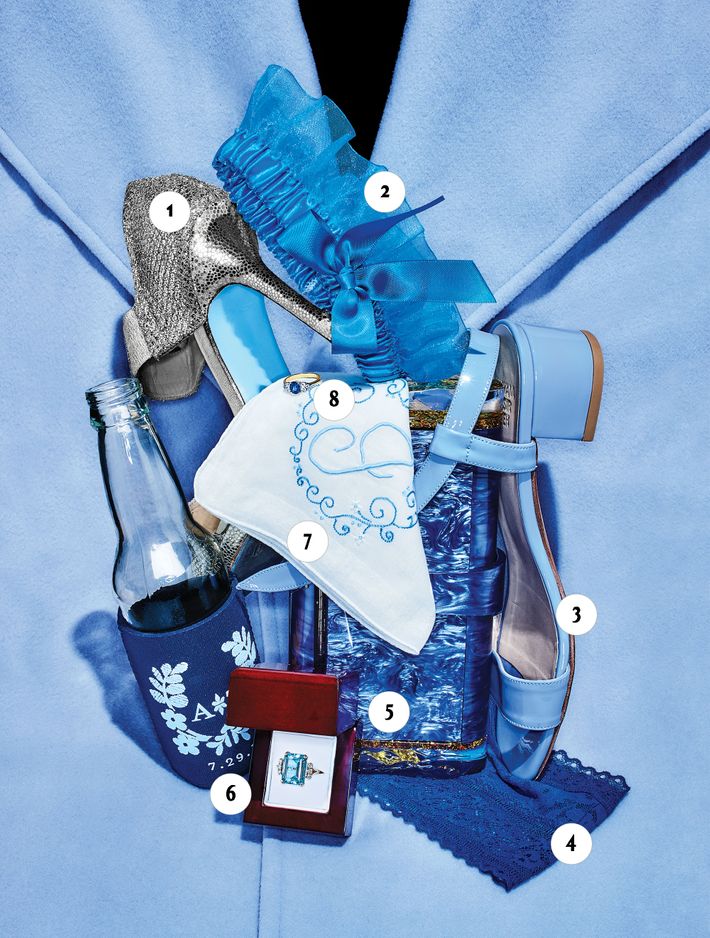 1. Sara Blum Sherman, 29
Married: June 2016
"I had been taking dance lessons and scuffed the bottom of my shoes, so painting the bottoms pale blue seemed like a great way to spruce them up for our wedding day and incorporate that tradition. I had it done at our local cobbler on 71st Street."
2. Lindsay Peoples Wagner, 27
Married: August 2017
"My mother and my older sister wore this garter on their wedding days. I remember it from when I was 8 or so — I took it out of a white linen drawstring bag on my mother's dresser and asked her what it was. She didn't give it to me until my actual wedding day, though."
3. Sofia de Guzman, 28
Married: May 2017
"I hated the idea of buying something I'd never wear again, so I basically treated the ceremony as an excuse to buy a new outfit I'd wear again and again. For a fresh pair of sandals, I knew immediately it would be these periwinkle ones from Maryam Nassir Zadeh."
4. Arielle Goren, 34
Married: June 2012
"I planned to wear blue nail polish for my something blue, but then I realized I should wear blue underwear so it would be hidden. But then at the party, I ended up jumping into the pool in my dress. So it's very possible many people saw them."
5. Morgan Williams Sanford, 27
Married: May 2017
"My mom gifted me with the Edie Parker clutch a few months before the wedding, in the throes of planning. I wore it at my bridal lunch, my rehearsal dinner, and my wedding reception at the Harvard Club."
6. Ashley Ma, 35
Married: July 2017
"The aquamarine ring was my grandmother's — my grandfather gave it to her — and I wore it as a cocktail ring at my wedding. And the koozie was the wedding swag that my now-husband was by far the most excited about."
7. Alexis McEvoy, 31
Married: June 2015
"The handkerchief was my grandmother's — the I is for Isabelle, and there are even lipstick stains of hers from the 1950s. We had a pocket sewn inside my wedding dress, and I kept it in there."
8. Lauren Bruker, 30
Married: September 2016
"My mom gave me her sapphire engagement ring when I turned 21. She and my dad bought it together in Thailand, and I wear it often on my right hand."
Kelly Berry, 29
Married: October 2016
"We had the whole wedding party walk from City Hall to Freemans. It was October, on the cooler side, and I needed another layer over my off-the-shoulder dress. One of my winter coats (pictured in background) just happened to be blue."
*This article appears in the winter 2018 issue of New York Weddings.