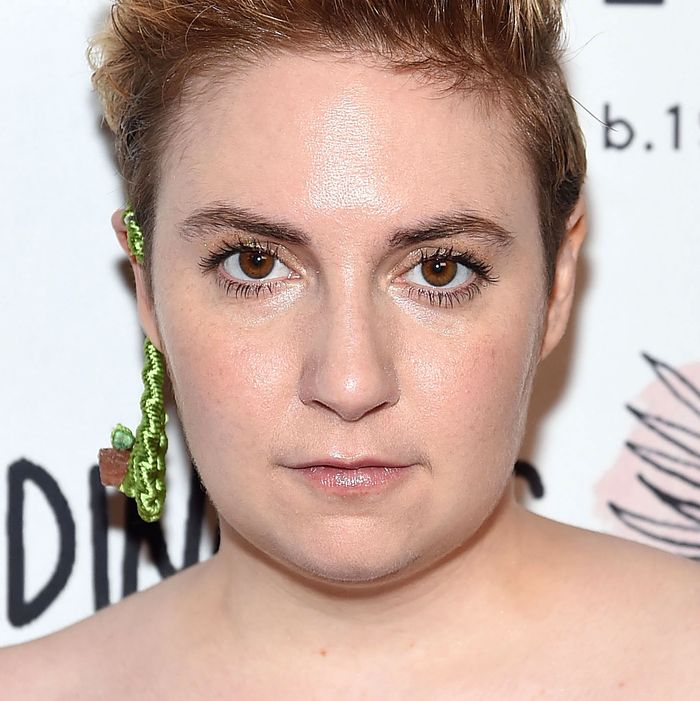 Photo: Jamie McCarthy/Getty Images
No one can issue an apology like Lena Dunham — a skill that comes from years of practice. While her preferred platform for apologizing has been Instagram, she took to Twitter last night to say that she is "so sorry" for defending Murray Miller, the Girls writer whom actress Aurora Perrineau accused of raping her when she was 17.
In May 2016, Dunham wrote a personal essay for LinkedIn — she's an official LinkedIn influencer! — titled "Sorry, Not Sorry: My Apology Addiction," acknowledging that "sorry" is an oft-used word in her vocabulary. While women's tendency to overapologize is nothing to trivialize, Dunham frequently says bafflingly ignorant things for which she should feel deeply remorseful. Here are some of her greatest hits.
When she said she was sad about never having had an abortion.
On her podcast, Women of the Hour, Dunham wanted to have a meaningful conversation about the stigma surrounding abortion. To prove that she is totally okay with the procedure, she said, "I still haven't had an abortion, but I wish I had." She later apologized, blaming this dumbfounding statement on the "delusional girl persona [she] often [inhabits]," and donated money to abortion funds.
When she got pissed that Odell Beckham Jr. didn't want to have sex with her.
In her feminist newsletter Lenny, Lena Dunham published an interview with comedian Amy Schumer, in which she expressed that she was deeply offended that Odell Beckham Jr. did not seem DTF at the Met Gala.
"I was sitting next to Odell Beckham Jr., and it was so amazing because it was like he looked at me and he determined I was not the shape of a woman by his standards," Dunham said. She later took to Instagram to say, "The fact is I don't know about his state of mind (I don't know a lot of things) and I shouldn't have acted like I did."
When she compared Gawker to an abusive husband.
In a podcast interview between Kara Swisher and Dunham from September 2015, Dunham confirmed that she was done reading Twitter and media outlets that were mean to her. She touched specifically on Gawker (R.I.P.), about which she said, "It's literally if I read it, it's like going back to a husband who beat me in the face. It just doesn't make any sense." She later explained via a now-deleted Instagram post that she does not think domestic violence is a joke.
When she compared Bill Cosby's criminal behavior to the Holocaust.
In January 2015, Dunham landed on the perfect analogy for Bill Cosby's alleged sex crimes: the Holocaust. Discussing movie director Judd Apatow's obsession with Cosby with Time Out New York, Dunham said, "It's sort of like saying someone's obsessed with the Holocaust." She later acknowledged that "comparing Bill Cosby to the Holocaust wasn't [her] best analogy."