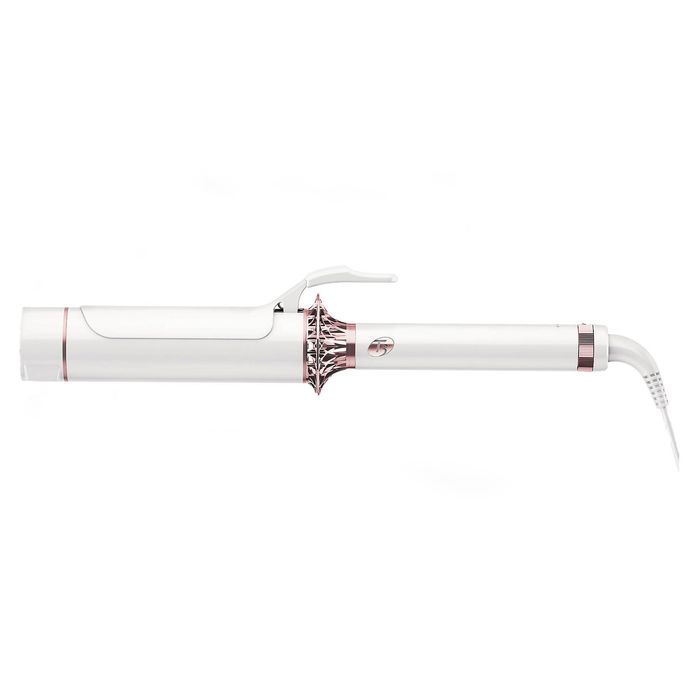 Remember when you styled your hair at home and it looked as good as a salon job? Yeah, me neither. Even the most adroit DIY-ers struggle with mimicking the bounce and volume of salon-styled hair.
After I blow-dry and straighten my curly hair with a flat iron, it always looks smooth but limp. I've tried hot rollers as a remedy, but the volume they create is always short-lived. Wands produce curls that are too small, and my old gold-plated curling iron dries out my hair. Nothing I used at home really worked, but then a clunky gizmo from T3 entered my life.
T3's BodyWaver is enormous, like one vibrating Rabbit stacked atop another, but it's not heavy. I use the barrel to get big hair in one of two ways. For all-around volume, I hold the BodyWaver horizontally and roll a two-inch section of my hair upwards in a counterclockwise direction, starting at my ends. I continue that practice all throughout my hair, and then sweep a paddle brush misted with holding spray over my work so that the style looks voluminous, but not piece-y.
Or, for big, loose waves, I grab another two-inch section of hair, only this time I hold the curling rod vertically as I roll the barrel away from my face. When I've curled all of my hair, I brush the pieces together with a paddle brush. The result is big, bouncy hair that looks manufactured in a salon.
Coated in heat-conducting metal, the curling irons of yore tend to fry healthy hair. T3's BodyWaver is made with ceramic material, which is pricier than gold-plated options, but gentler to hair — especially thin, fussy hair like mine. Get one, and everyone will assume you have your hairdresser on speed dial.
If you buy something through our links, New York may earn an affiliate commission.