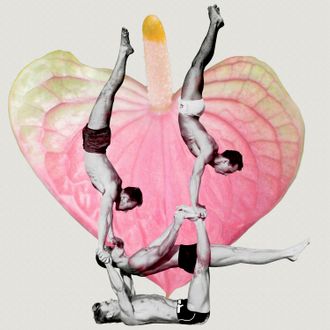 Photo-Illustration: Photos: Getty Images
In 2013, Hunger Games actor Josh Hutcherson told an interviewer for Out magazine that he was, in his own words, "mostly straight." "Maybe I could say right now I'm 100 percent straight. But who knows? In a fucking year, I could meet a guy and be like, 'Whoa, I'm attracted to this person' … I've met guys all the time that I'm like, 'Damn, that's a good-looking guy,' you know? I've never been, like, 'Oh, I want to kiss that guy.' I really love women. But I think defining yourself as 100% anything is kind of near-sighted and close-minded."
At the time, the actor's comments attracted considerable attention from the media, and the interview caught my eye, too. Hutcherson typifies the young men (he's 25 years old) I've interviewed over the years in my work as a research psychologist: those who embrace sexual ambiguity over neat and simple identity boxes. I even borrowed his words as the title for my new book, Mostly Straight: Sexual Fluidity Among Men. In it, I draw from the experiences of young men to make the case that an increasing number say they're straight, but feel a slight but enduring sexual or romantic desire for men.
When I tell people about my work, they often assume these men are joking, or that they are really closeted gays. They're not. Perhaps if a young woman were to make the same claims as these men, we wouldn't be surprised: Women, not men, are supposedly fluid in their sexual and romantic lives. The 40 young men I interviewed for my book would disagree. Here's a small sampling of what they've told me.
"I'm not completely heterosexual. I like to think of myself as fluid. I have man crushes when a male is so cool … I like the idea of male fluidity." — Leo, age 21




"If I were to meet a man who I was attracted to, I would not be afraid to be attracted to them." — Demetri, age 19




"He opened my eyes that it is not wrong for a straight guy to have attractions or crushes on other guys." — Brady, age 18




"I wrestled with this guy, my drill partner, and we got very close. We never kissed, but emotionally we kissed." — Kevin, age 19




"I've had bromances, I guess you could say. And man crushes … I would say I'm 99 percent straight with my 1 percent being those moments where noticing or thinking what would it be like to have sex with a guy." — Ben, age 22
These men challenge existing assumptions that a man is necessarily straight, gay, or, perhaps, bisexual, and that his sexual arousals and romantic desires are stable, categorical, and, therefore, predictable. But what if he doesn't fit into existing sexual categories or acknowledges that sometimes he desires sex or romance with his "nonpreferred" sex (men)? Is he simply fooling himself — or might he be illustrating a hidden and poorly understood dimension of male sexuality?
The short answer is that we simply don't know, because research on male sexuality frequently combines him with straight or bisexual men, or deletes him altogether because researchers aren't sure what to make of him. But so far, the difference seems to be this: Mostly straight men are more attracted to women and less attracted to men than are bisexual men, suggesting that they are neither exclusively straight, nor are they bisexual.
We like male sexuality to be simplistic and straightforward, but this can only be achieved by ignoring complexity. In so doing, however, we discount insights uncovered 70 years ago, when Kinsey demonstrated that sexuality is a continuum for both sexes. And, perhaps more critically, we negate young men who proclaim that their sexual and romantic desires and attachments are on a spectrum, not forever fixed in time or permanently housed in gay or straight identity boxes. We fail to recognize that they are "something else" — not exclusively straight, not bisexual, but mostly straight.
During the past decade, researchers in my sex and gender lab have reviewed the scientific literature about these young men — including youth who in a previous generation had described themselves as "straight but not narrow," "heteroflexible," or "bicurious." We also surveyed and interviewed hundreds of young men about their sexual and romantic histories and measured their pupil and genital responses while they watched videos of naked men and women. In brief, here's what we've found.
More men than you think identify as mostly straight. When given the option to identify as mostly straight, approximately 5 to 10 percent of men do so. This is especially true among millennials, who tend to possess greater sexual knowledge, freedom, curiosity, and exploration than earlier generations. This percentage is, by the way, higher than the percentage of men who self-identify as gay or bisexual combined. And yet these numbers are likely conservative, underrepresenting the true proportion of men who are mostly straight.
Perhaps this is because these men believe they don't have the similar leeway to choose alternative sexualities. Or, perhaps, they fail to recognize that their bromances, "bud sex" activities, and man crushes imply something important about their sexual or romantic orientation. Also suppressing the number of men willing to identify as mostly straight is the widespread belief in previous generations that any amount of same-sex attractions or crushes makes one at least bisexual and, likely, gay.
"Mostly straight" doesn't mean "secretly gay." Our research has found that a mostly straight identity remains moderately stable over time. If a mostly straight individual drifts, the movement is usually between a straight and a mostly straight identity — almost never toward a bisexual or gay identity. This finding challenges the widespread belief that a mostly straight man is in reality someone who is gay but is afraid to emerge from his closet. (Indeed, mostly straight men tend to be exceptionally pro-gay.)
Guy sex and man crushes should be considered an addition, not a subtraction. A mostly straight man exhibits patterns of sexual and romantic attraction, fantasy, and infatuation that are distinctly unique from other men, though, to be clear, he leans closer to the straight. He has about as many female sex partners and romances as a straight man but, as you might expect, he is also more likely to have sex with another guy. His sexual behavior tends to involve genital touching, mutual masturbation, or receptive oral sex, but not anal sex. Although he might develop an intense man crush and cuddle with a best friend, he is considerably less likely to fall passionately in love or want to date this friend. However, he might also agree with interviewee Dillon, age 20: "If the guy is attractive enough … You just never know." Guy sex and man crushes can be thought of as an addition, not a subtraction, to his heterosexuality.
There is even (some) physiological evidence to support this theory. My lab has found that physiological measures of sexual orientation which are relatively free of conscious control confirm the existence of mostly straight men. These individuals had arousal patterns — penis enlargement and pupil dilation — to pornographic videos of women masturbating that were identical to those of straight men. In contrast to straight men (who had almost zero arousal), they were also slightly aroused by men masturbating, though less so than were bisexual men. Thus, we observed that whereas a mostly straight man didn't differ from a straight man in his physiological responses to women, he did in his heightened arousal to men. This suggests that he wasn't lying about his self-reported mostly straightness.
Historically, the social ramifications for owning any degree of homoeroticism prompted many men to minimize or disown their same-sex desires. However, increased tolerance for diverse sexual and gender expression among millennials has given permission to this formerly unrecognized group to embrace the breadth of their sexual and emotional lives. Some we've interviewed have maintained this identity and orientation for many years, perhaps even a lifetime, even as they live traditional heterosexual lives.They're not closeted gays who over time gravitate toward same-sex encounters. They're mostly straight.