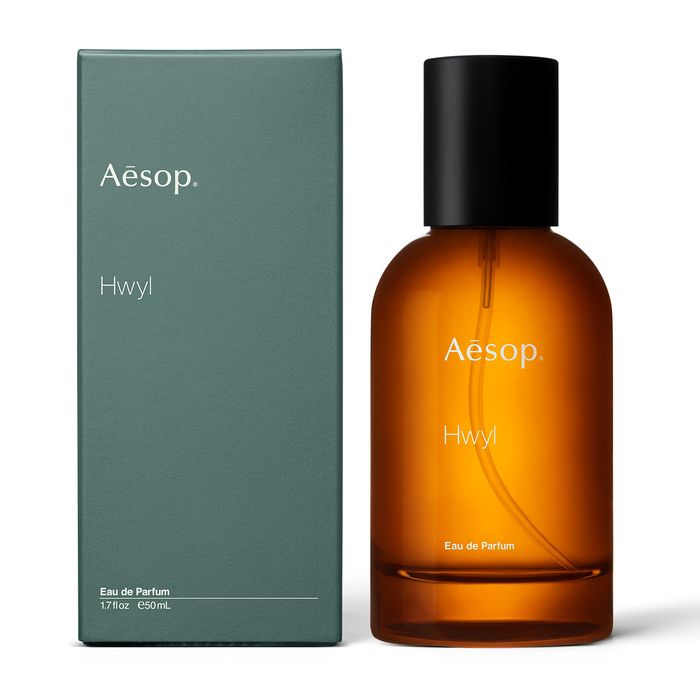 The air is cold and brisk. Icy white mist moves slowly and steadily in puffs over the rocks. Your boots push into the spongy seaweed-colored moss. The Hiba cypress trees around you are hundreds of meters tall and 300 years old. Everything is still, other than the running water you hear streaming under the rocks. You definitely don't get reception here, and you're alone, but not afraid.
You breathe in and smell a mix of smoke, cedar, pine, and the fresh feel of cold wood. You're smelling Hwyl, Aesop's newest perfume, inspired by the stillness of an ancient Japanese forest. In Welsh, Hwyl (pronounced hwill) means "stoic" or "unemotional." Plenty of perfumes aim to capture youth, action (particularly of the sexual sort), or strong emotions. But Hwyl isn't about frenetic motion or strong feelings — it's about staying put and not experiencing much beyond the wonder of nature. Perfumer Barnabé Fillion explains, "It's meant to recapture the stillness and feeling when you are alone in nature, considering it as a refuge." It took him 150 tries, but he succeeded.
The scent is completely floral-free. Vetiver gives it a smoky airiness, cypress adds woodiness, frankincense contributes earthiness, and sandalwood imparts smoothness and sensuality. Unlike many other woodsy or smoky perfumes, this one has dimensions. The perfume smells like the ethereal feeling of smoke, combined with the earthy cool underside of a tree, mixed with a smooth stone.
At the press event for Hwyl, Fillion described "selfish scents" as being "full of heavy molecules, with the goal to arrive and take over a place." Hwyl is quiet but not meek, elegant, distinguished. As Fillion said, "It's to create a veil and shelter on your skin, and not impose it on others."
If you buy something through our links, New York may earn an affiliate commission.