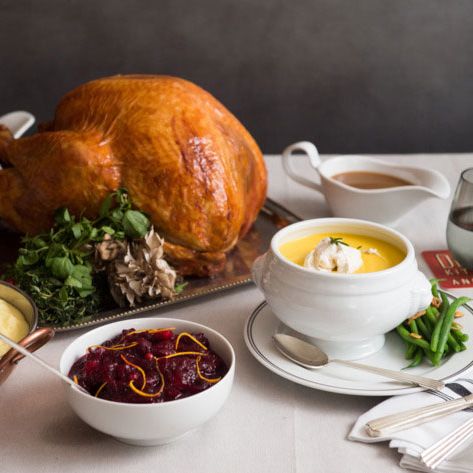 Hosting dinner for the holidays can be a daunting task — and an expensive one. Even if you already have the basics like plates and silverware, you'll still need serving items and decorations to make it all come together, at least if you're an aspiring Ina Garten like me. This year, I'm cooking Thanksgiving for about a dozen people in my Bushwick apartment. Here are the 15 hosting essentials I bought for the occasion, all on Amazon and all under $50.
A Deceptively Expensive-Looking Tablecloth
This will make my Ikea table look fancy, and since it's $7, I won't care if it gets messed up.
Because what is Thanksgiving without gravy?
Dessert Plates That Look Like Real China
These are heavy duty, and since there are 50 of them, you can use them for dessert and for snacking a few hours after dinner when another wave of hunger hits.
Since I'll be cooking for what will feel like a decade, I'm going to serve the food buffet-style rather than plating it. These tongs will make the presentation feel a little more special.
Vases to Spruce Up Your Place
I once saw a designer on HGTV transform a bland room by demanding her assistant get three vases instead of one. I'll be putting these on my table, coffee table, and side table to pull the room together.
Plastic Glasses That Don't Break
I actually bought these for my rehearsal dinner toast a couple months back and was impressed with the quality. They're perfect whether you're serving tap water or champagne.
Serving Boards for Snacks
Put cheese and fruit on them before dinner.
I refuse to wash more cutlery for dessert, so this gold flatware will do the trick.
If You Want Real Wineglasses
They work for red and white wine and are slim enough that they won't take up much storage space.
Don't make the mistake of giving people paper napkins. You can wash these and reuse them every time you host.
For Making the Napkins Look Luxe
Even if you get the cloth napkins in white instead of a color, these napkin rings add an upscale touch without much effort.
Simple Candles to Add Ambiance
Don't tell anyone, but I tape the top down and soak these in water for 20 minutes so that the label comes off. Yankee Candle Company? What are you talking about? This is a chic French brand you've never heard of.
They're real porcelain, so they're hefty enough to hold any sides I'm serving.
The set comes with three different sizes so you can use them for different courses. The biggest can fit a whole turkey.
For Pouring Wine The Fancy Way
Of course you could just pour from the bottle, but what's the fun in that?
If you buy something through our links, New York may earn an affiliate commission.