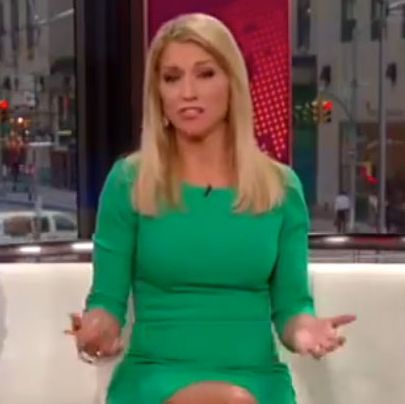 Ainsley Earhardt (center).
Photo: Fox News
On Sunday morning, a man named Devin P. Kelley opened fire inside the First Baptist Church in Sutherland Springs, Texas, killing 26 people. His victims range in age from 18 months to 77 years old, and this horrific incident comes just over a month after a mass shooting in Las Vegas claimed the lives of 59 people.
So what's the Fox News take on this? Well, they're just trying to look on the bright side of all the rampant gun violence that plagues our country. During Monday morning's Fox & Friends, host Ainsley Earhardt spoke to Texas governor Greg Abbott, pointing out that — as far as dying in a mass shooting goes — at least it happened in a church.
"We've been reporting, this shouldn't happen in a church. But I was downstairs talking with some people that work here, we all talk about our faith and we share the same beliefs, we were saying there's no other place we would wanna go other than church because I'm there asking for forgiveness, I feel very close to Christ when I'm there," Earhardt said. "So I'm trying to look at some positives and know that those people are with the Lord now and experiencing eternity, no more suffering, no more sadness anymore."
Looking at "some positives" in a mass shooting: the new thoughts and prayers.
Update, November 7, 2017, at 9:24 a.m.: Fox News provided the Cut with the following statement from Earhardt:
"As any Christian would understand, I feel church is sacred. For me, it is the place I worship, where I learn about God and feel closest to Him each week. I meant no disrespect, as I have continuously said, the Texas families are in my thoughts and prayers. And, anyone who truly knows my heart, knows that about me. But, I do believe there can be positives in death. Christians believe death is when they enter into the afterlife — a place without pain, suffering and away from the evil that takes place on earth like we saw this past weekend. I know one day I will take my last breath and if I am in His "house" when that happens, I pray my family can find a bit of solace and peace knowing that is where I saw Jesus for the first time. I pray for those families and the parents, children and loved ones who will be changed forever. I hope they cling to God during such a difficult time."