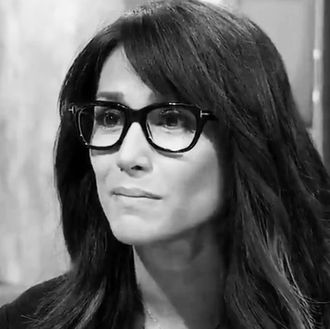 Leeann Tweeden on
Good Morning America
.
Photo: Courtesy of GMA
On Thursday, journalist Leeann Tweeden accused Senator Al Franken of groping and kissing her without consent during a 2006 USO trip to the Middle East. And on Friday, the TV and radio host appeared on Good Morning America to talk about the allegations and explain that her intention with going public wasn't to drive Franken out of office.
Tweeden told host Robin Roberts that she was inspired to share her story after seeing women come forward with sexual-harassment and assault allegations against Harvey Weinstein and other powerful men in recent weeks. Her goal, she explained, was to empower other assault victims to share their own stories.
When asked whether she thought Franken should resign, Tweeden said, "I didn't do this to have him step down. I think Al Franken does a lot of good things in the Senate. You know, I think that's for the people of Minnesota to decide. I'm not calling for him to step down. That was never my intention."
She continued, "I just wanted him to understand what he did was wrong and how he treated me and how abusers do that under the guise that it's funny, or that 'Oh, I can get away with it because I'm a comedian.' That's never funny. When you shine a light on it, that's the culture of it — that's the chance we need to make."
In addition to the forced kissing and groping, Tweeden went into further detail with Roberts about the harassment she endured during the two-week trip with Franken. "There were little jabs, there were comments. I separated myself as much as I could that tour from him — I was never alone with him again," she said.