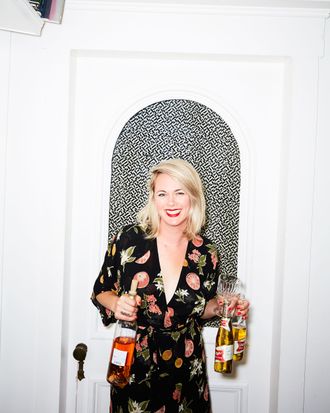 Alison Roman.
Photo: Nikole Herriott
Alison Roman is on a mission to help us all become better cooks. On Instagram, she regularly shares gorgeous food photos with her 73,900 followers. Her buzzy new cookbook, Dining In, comes with the tagline "highly cookable recipes," and Vogue recently declared that she's "here to solve all your home cooking problems."
Roman got her start as a pastry chef at Momofuku Milk Bar in New York and Quince in San Francisco but found that she wanted more of a connection with her customers. "Your experience with the guest ends when they walk out of the restaurant," she says. "They don't learn anything from eating your food; they don't become a better cook from it. My favorite part of the job was when I would have new cooks come in, and I would get to teach them."
So after seven years in the kitchen, Roman left her job at Milk Bar and picked up a part-time gig making biscuits at Brooklyn fried-chicken joint Pies 'n' Thighs while trying to figure out her next move. Hunter Lewis, then food editor at Bon Appétit, suggested she work as a recipe tester at the magazine, but to get the job, she had to pass a cooking challenge — as fate would have it, baking biscuits. Over the next four years, Roman rose through the magazine's ranks, eventually becoming senior food editor, where she spent most of her time developing recipes for readers to recreate at home.
But once again, Roman found herself thirsting for a change. And again, change found her. "I was approached by Doris Cooper, the vice president at Clarkson Potter, who became my editor," Roman says. "She asked me out for pizza and told that she loved all of my recipes. I was really flattered and surprised," Roman recalls. "I always knew that I wanted to write a book, but didn't really know when that was going to be."
The result is Dining In, a artful 125-recipe compendium of some of Roman's greatest hits. It includes everything from fennel-rubbed pork chops to split pea salad, featured alongside Roman's personal anecdotes and culinary tips.
Below, Roman speaks to the Cut about milk chocolate, not keeping up with the Kardashians, and why food should never be considered a guilty pleasure. Read on for the full Q&A.
How do you thank people for a gift?
I'm a big fan of thank-you notes. I like to generally do an email and then send something in the mail. I don't have personalized stationery, but I did get some nice paper from McNally Jackson with matching envelopes, and it makes me feel really classy.
Color or no color on your nails?
It's either red nail polish or nothing. I've tried the greens and the grays and the mauves and the purples, and my hands look completely foreign to me when I wear a color that's not red. I wear a lot of Essie—I love Clambake and Geranium, which are pretty similar. When it gets cooler and more into fall, I go for Big Apple Red.
Mood lighting or natural light?
I like mood lighting at night, and then as much natural light as possible in the day. My apartment gets amazing light in my bedroom and absolutely zero light in my living room, so my living room always has moody lighting 'cause it's better than that sad sliver of natural light that comes in. I'm a big fan of candles everywhere. I like Diptyque Patchouli; the fragrance is strong, but it's not overpowering.
What are some coffee-table books you'd be proud to display?
My best friend got me one called To Live and Dine in LA. It's a really great collection from the L.A. Public Library of advertisements and menus and things like that from very classic institutions with stories behind each. I like it for the history as much as for the graphic-design inspiration. I rotate colorful cookbooks, too. I don't have a ton of colorful stuff — that's not really my aesthetic — but I do like to have pops of color. The Hartwood Cookbook, which is one of my favorites, is this gorgeous teal shade.
Heels or flats?
I prefer flats because I'm already tall, but I end up wearing heels often because I like the way that I look in them — like a clog heel. I love my Swedish Hasbeens clogs.
What would you never wear?
I hate those kitten-heel mules. Every time I go to a store, people try to push them on me. They're like, "These are very in right now." I'm like, "They're hideous on me forever and always." They just don't look good on me at all.
What's a trend that you like right now?
Societally, I'm into the trend of women speaking up for themselves. Hopefully one day it won't be a trend; it'll just be the way that it is. As far as fashion, I love the clog thing. I've worn clogs forever in the kitchen, and now I can wear them out and not feel as embarrassed.
What's your favorite song on your playlist right now?
I try to make playlists for each season, but I'm also really into the Spotify weekly discovery one. I find a lot of good music that way. I really love the Courtney Barnett/Kurt Vile album.
If you were a car, what kind of car would you be?
I really want a Volkswagen Golf. I guess if I'd be a car, I'd be that. It's practical, but also cute.
No makeup-makeup, or actually no makeup?
I'm a no makeup-makeup person. I wear a very thin layer of Bare Minerals BB cream, and then depending on what I'm doing, I'll use the NARS shimmery stick thing or the Glossier Moon Stick, Boy Brow, and mascara. That's it. I used to wear a lot of eyeliner in my early 20's and just one day stopped and I was like, "I look way better without this."
What's the secret to throwing a good party?
Lots of wine and a good playlist. Even if the food doesn't turn out how you want it to, if there's something to drink and good music, people are gonna have a good time.
What's one way that your taste has changed since you were a teenager and one way that it stayed the same?
I still listen to a lot of the same music that I liked when I was a teenager: a lot of Fleetwood Mac. What's changed is my work ethic. I really hated high school — I didn't do poorly, it was just not for me, and I didn't work very hard at it. Now I work so crazy hard at everything, and care so much about what I do and the kind of work that I'm doing.
What's your guilty pleasure?
I don't watch TV — I can't unplug or unwind there — but I relax at the end of the day by looking at Streeteasy for apartments or Zillow for homes upstate. I don't think food should be thought of as a guilty pleasure because as soon as you start feeling guilty for eating something, things get weird. If there's a negative connotation with anything that you're eating, that can spiral out of control very quickly.
What are your favorite accounts to follow on Instagram?
Chill Wildlife because it's amazing and hilarious. My favorite Instagram accounts are things that have nothing to do with what I do and nothing to do with politics. I really like the Overheard LA and the Overheard New York, mostly because I have friends in L.A. and I'm from there and obviously I have friends in New York. They're so spot-on.
What's the last show you binge-watched?
I have a Roku so I can't turn on the TV and just binge five hours of the Kardashians, but I definitely watch Netflix and HBO shows. I'm watching The Deuce right now, which I love, and also Ozark. I just love those dark sort of murdery-type shows.
What's your favorite pair of jeans?
Old Levi's from Reformation. They do a good job of taking vintage jeans and altering them to make them slightly more modern or just better-fitting. They're the perfect high waist. They're not precious, so I can cook in them, but I can also dress them up and it's cute. But as of late I've only been wearing my Jesse Kamm pants. They're not denim, but they're great pants. Once you break them in, they're fantastic.
T-shirt?
I have two. They're both vintage cotton. One is this awesome salmony-pink color; I got it at A Current Affair, that vintage pop-up. It's well worn, very soft, perfectly thin but not too. The other one's basically a heather gray version of that that I got in Pittsburgh, which had excellent vintage shopping.
Pajamas?
I don't wear pajamas. I'm a naked sleeper, and when I'm at home, if I'm just hanging out, I'm wearing my yoga pants or something like that. I did have a pair of really cozy Uniqlo sweatpants that I got two years ago that I regret not buying in more colors 'cause they're very, very comfortable.
Flower?
Dahlias. When they're in season, I cannot resist buying them — I love the fiery orange ones. They just come in the dopest colors and they're not precious or willowy or wispy; they're really bold and graphic.
Chocolate?
Milk chocolate is my favorite, which is a really trashy answer and no professional would ever say that. If I'm baking, I like Guittard, and if I'm eating just out of hand, which I almost never do, I like Valrhona, but it's hard to find. Mast Brothers is pretty good, too.
Fragrance?
I don't really wear perfume, but I have a Palo Santo essential oil from Olo that I got it at this store in Austin. And I go to Enchantments in the East Village for their essential oil blends. I wear one called Rebirth.
Linens?
I'm a huge fan of the flax linen sheets from West Elm. I have white everything — sheets and linen and duvet — and because they tend to get dirtier faster, I have a few sets that I change pretty frequently.
Lip balm?
I eat and drink more than the average person — not quantity, but frequency — so it's really important to me to have something that sticks around for a long time. M.A.C's red lip stain is amazing.
If you buy something through our links, New York may earn an affiliate commission.