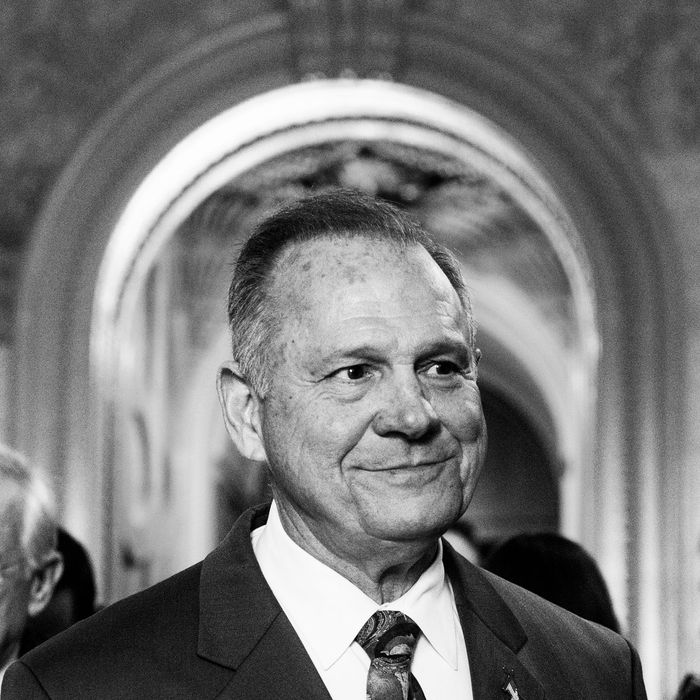 Roy Moore is facing eight allegations of sexual harassment and abuse.
Photo: Tom Williams/CQ-Roll Call,Inc.
Mere hours after a sixth woman publicly accused Republican Senate candidate Roy Moore of sexual assault yesterday evening, two more women's allegations were published in the Washington Post — the same paper that ran the first exposé of Moore's alleged sexual harassment and abuse of four teenagers and young women in the late '70s and early '80s. The list of accusers keeps growing. Here are the eight women who have come forward as of now, ordered chronologically by the date of their alleged incidents.
Beverly Young Nelson, 1977
Nelson came forward earlier this week in a press conference with famed women's rights lawyer Gloria Allred, making her Moore's fifth accuser. Nelson, who was 16 at the time, said 30-year-old Moore would flirt with her at the Old Hickory House, the restaurant where she worked. She says that one day, he asked to sign her yearbook — Allred presented the book during the conference — and soon after, Moore showed up to the restaurant when she was closing. She said he offered her a ride home, which is when he allegedly began groping her breasts and pushing her head toward his crotch.
"I was terrified … I thought he was going to rape me. I was twisting and struggling and begging for him to stop. I had tears running down my face," Nelson said. "At some point he gave up and he then looked at me and told me 'You're just a child. I am the district attorney of Etowah County and if you tell anyone about this, no one will ever believe you.'"
Becky Gray, 1977
Gray is one of the two newest accusers whose stories were published in the Washington Post Wednesday night. Gray said she was harassed by Moore at the mall when she was 22 years old and working in the men's department of Pizitz, a department store in the Gadsden Mall. She says that Moore repeatedly asked her on dates and lingered around her, making her so uncomfortable that she told the Pizitz manager about him. Gray alleged that the manager said her report was "not the first time he had a complaint about [Moore] hanging out at the mall."
Gena Richardson, 1977
Richardson was a high-school senior working in the men's department of Sears, where she said Moore asked for her number. After telling him no, he allegedly called her high school to ask her on a date. A few days later, Moore told the Washington Post that he asked her out again at the mall, which she finally accepted. They saw a movie together, and afterward, Moore offered to drive her back to her car. Richardson alleges that when he parked by her car, he kissed her in a way that scared her.
"It was a man kiss — like really deep tongue. Like very forceful tongue. It was a surprise. I'd never been kissed like that," she told the Post. "And the minute that happened, I got scared then. I really did."
Gloria Thacker Deason, 1979
Deason was an 18-year-old cheerleader working at the jewelry counter of Pizitz when she met Moore. Moore was 32, and Deason said the two dated on and off for a few months. She told the Washington Post that their relationship "did not go further than kissing and hugging," but that he would buy her drinks on dates; she was not of legal drinking age.
Wendy Miller, 1979
Moore allegedly first approached Miller when she was 14 years old, working as a Santa's helper at the Gadsden Mall. She told the Washington Post that two years later, he started asking her on dates — sometimes, in front of her mother, who turned him away.
"I'd say, 'You're too old for her … let's not rob the cradle,'" Martha Brackett, her mother, told the Post.
Leigh Corfman, 1979
Fourteen-year-old Corfman was sitting outside a courtroom in Alabama when 32-year-old Moore allegedly approached her and her mother. Corfman said he offered to watch her while her mother went inside for a child-custody hearing, during which time he asked for the teenager's number. A few days later, he picked her up, drove her to his house in the woods, and kissed her, Corfman told the Washington Post. At a later date, she said Moore drove her again to his home, where he allegedly touched her over her underwear, and then guided her hand toward his crotch.
"I wanted it over with — I wanted out," she told the Washington Post. "Please just get this over with. Whatever this is, just get it over."
Debbie Wesson Gibson, 1981
Gibson told the Washington Post that she was 17 when Moore spoke to her Etowah High School civics class and reportedly started to ask her on dates. She told the Post that when she told her mother that the then-assistant district attorney had asked her out, her mother responded, "I'd say you were the luckiest girl in the world." They reportedly dated for two to three months, during which time he read her poetry, played her guitar, and kissed her twice. "Looking back, I'm glad nothing bad happened," Gibson told the Post.
Tina Johnson, 1991
Johnson met then-attorney Roy Moore when she was 28, which she told to AL.com. She was unemployed, soon to be divorced, and meeting Moore to sign over custody of her 12-year-old son to her mother. She said his behavior made her uncomfortable as soon as she walked into his office, alleging that at one point, he got so close that she could smell his breath. Once she and her mother had signed the custody paperwork, she said that as she followed her mother out of Moore's office, he came up from behind and grabbed her ass. "He didn't pinch it; he grabbed it," she told AL.com.