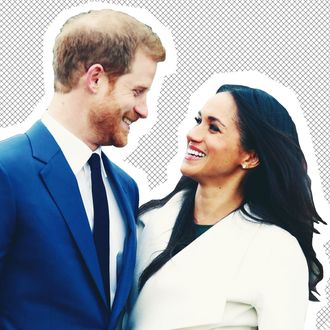 Prince Harry and Meghan Markle!!!
Photo: Getty Images
Welcome to You Know What I Heard, the Cut's weekly celebrity gossip column about the peregrinations of the rich and famous. Have gossip? Email me at allie.jones@nymag.com, send me a message on Twitter, or contact me on Signal (ask for the number).
God Almighty answered my personal prayers on Monday: Prince Harry and Meghan Markle are officially engaged. Prince Harry designed the ring himself, with diamonds from Botswana and Princess Diana's personal collection. The band is yellow gold, "Meghan's favorite." The wedding will be in the spring. To quote a Bravo reality star's tattoo quoting an overrated Cameron Crowe movie: It's all happening!
So how is the Meghan Markle engagement parade going so far? On Monday, we heard from Prince Harry and Markle together for the first time: They posed for photos together outside Kensington Palace and sat for a short interview with the BBC's Mishal Husain. Mostly, they talked about the proposal (Prince Harry said he did it earlier this month at home in London, over roast chicken) and how the Queen's corgis love Markle. Oh, and they held hands the whole time. And then they adorably joked around once their mics were off. (Prince William and Kate Middleton did not make quite the same presentation during their engagement interview seven years ago.)
This morning, Kensington Palace announced that the wedding will take place in May at St. George's Chapel in Windsor. Royal watchers speculated Monday that Prince Harry and Markle might pick this location, as it's more private and removed from London. And a May wedding means they are waiting to get married after Middleton has her third baby in April.
Middleton, by the way, is so, so rigidly happy for her future sister-in-law. This morning, she made an appearance at the Foundling Museum in London, where she answered one question about the engagement news.
"William and I are absolutely thrilled," she said, politely. "It's such exciting news. It's a really happy time for any couple and we wish them all the best and hope they enjoy this happy moment."
In their BBC interview Monday, Prince Harry and Markle said Middleton has been "wonderful" and "amazing" to Markle, and that the couples get along well. Perhaps that is the case now, but was it always? And will it continue to be? The tabloids will make endless comparisons between Markle and Middleton over the next six months, and that could, naturally, create some problems. I keep going back to this blind item that Lainey Gossip published earlier this year, when Prince Harry and Markle had been dating for about six months. This is all going to be so fun!
It's not quite as earth-shattering, but: Gywneth Paltrow is also engaged. Entertainment Tonight reported last week that her producer boyfriend Brad Falchuk actually proposed a year ago, and they have been keeping it a secret until now. A source told Us Weekly that the couple has recently taken "engagement photos," and that Paltrow plans to post them soon on her website Goop. So, get excited for that.
Paltrow must be reading all of these reports, because this past weekend, she posted a photo of Falchuk and her ex-husband Chris Martin having brunch together on Instagram with the hashtag #modernfamily. They're all consciously copacetic and happy, happy, happy.
Martin, meanwhile, is dating 28-year-old Dakota Johnson. They were spotted having dinner together in Israel last week. Johnson was also recently linked to Jon Hamm and Elon Musk, but it looks like things with Martin are more solid this month.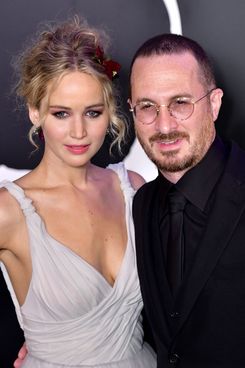 Jennifer Lawrence, who dated Chris Martin back in 2015, is single again. People reported last week that she broke up with her 47-year-old director boyfriend Darren Aronofsky after a year of dating. So far, none of the tabloids have any good theories as to why the breakup happened. But earlier this month, J.Law explained how they got together on The Hollywood Reporter's "Awards Chatter" podcast, which may offer some clues.
"[I] had a crush on him when he pitched [the film mother!] to me," she said, "and that was like a year before we started rehearsing, but he was a professional, which only made it worse for me. So we just kind of formed a friendship. He knew how I felt, he never told me how he felt — I mean, I assumed — but we just formed a friendship, and then the friendship turned into a partnership for the movie once we started working, and then, when the movie was done, I was like, 'All right, you're my boyfriend!' And he was like, 'All right, I'm your boyfriend.'"
And then a year later she was like, "All right, you're not my boyfriend." Maybe! Personally, I am glad I don't have to find out what mother! is about. Take a moment to look back on Lawrence and Aronofsky's matching newsboy caps and let the relief wash over you.
One small blessing from this week:
Ashley Olsen hung out with a "mystery man" in Los Angeles. To me, he looks a lot like Pressed Juicery founder Hayden Slater, whom she briefly dated last year. I love his cool outfit!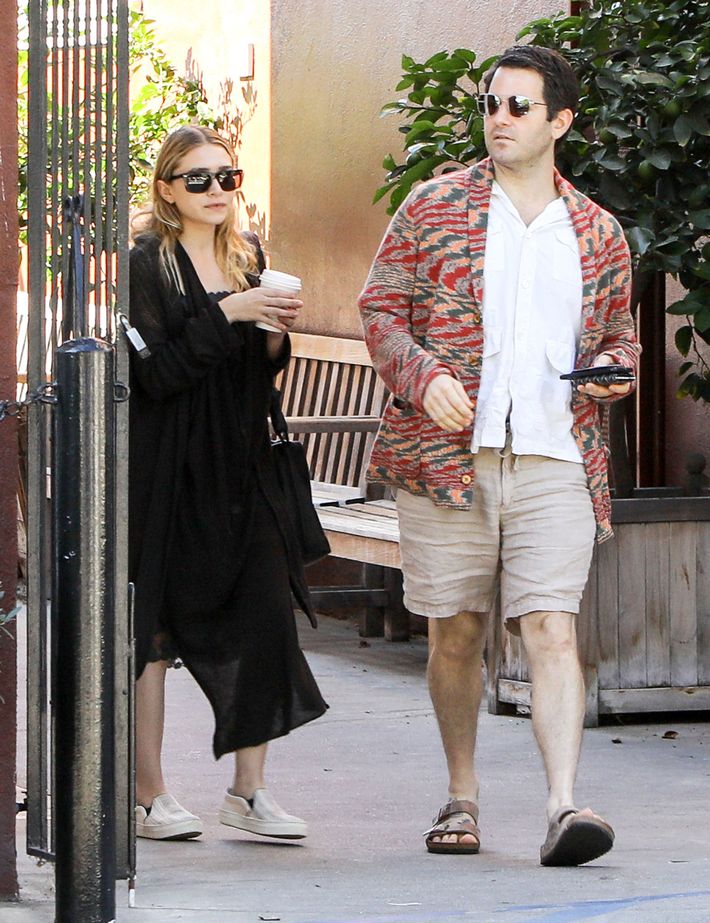 Finally, I'll leave you with this photo of Reese Witherspoon's 18-year-old daughter Ava Phillippe taking her shoes off at her very fancy debutante ball in Paris this past weekend. (It's "le Bal des Débutantes," one of the most famous deb balls that children of celebrities often choose to attend.) Witherspoon and her power-agent husband Jim Toth accompanied Phillippe to the ball, while Phillippe's dad Ryan Phillippe stayed home.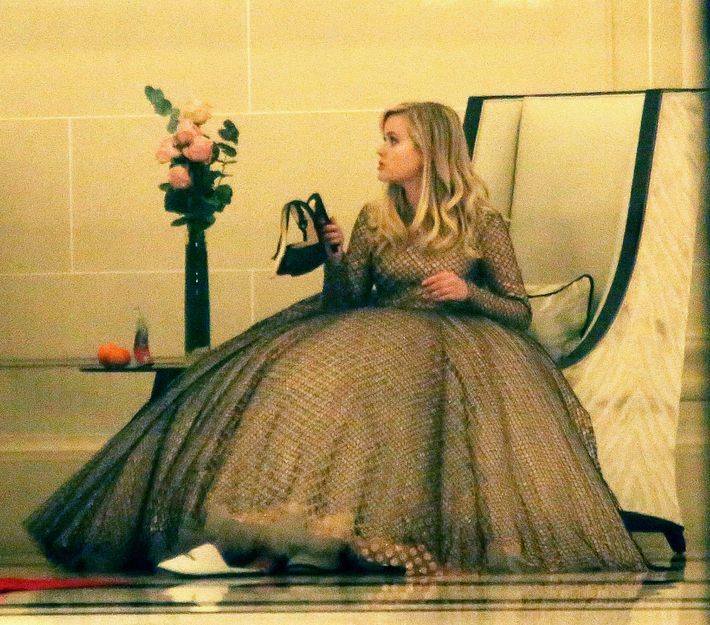 According to People, Phillippe was escorted by Maharaja Padmanabh Singh of Jaipur, and the two did their first waltz to a song from La La Land. Witherspoon said this summer that her daughter was looking at colleges for next year, but it sounds like she's ready to go straight to Hollywood.
Thank you all for gossiping this week, and don't forget to email me at allie.jones@nymag.com, send me a message on Twitter, or contact me on Signal if you'd like to chat.