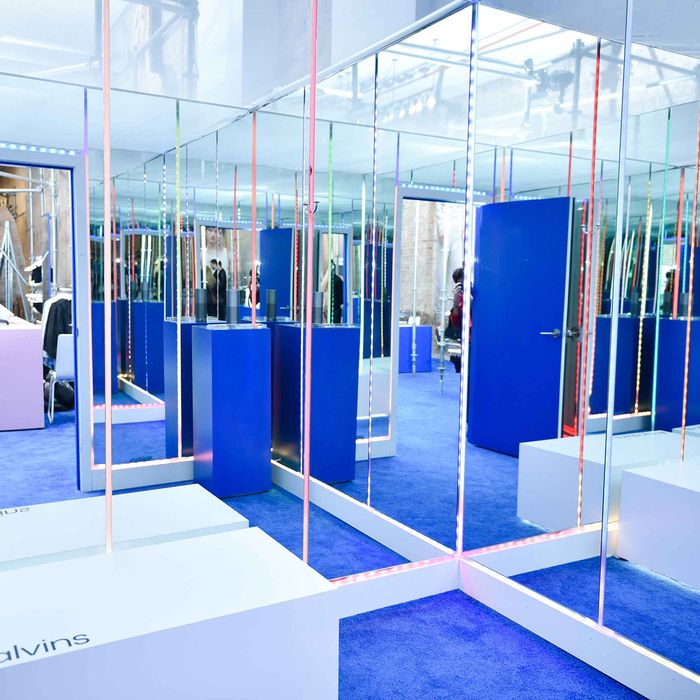 Yes, they want you to take selfies in here.
Photo: Griffin Lipson/BFA.com
Amazon has slowly increased its fashion presence in the past few years. Back in 2012, the company sponsored the Met Gala, while earlier this year it came out with the Echo Look, an AI assistant designed to give you outfit feedback. And now, just in time for your holiday shopping needs, it's launching a retail experience — alongside Calvin Klein.
The brand, a top seller among Amazon's devoted customers, gets the tech treatment in pop-up shops in New York and L.A. The stores, which are dedicated to Calvin Klein underwear, offer an immersive digital experience that's completely free of price tags. Instead, each item sits above a little placard with a code that you scan into your Amazon app. Costs are calculated in real time: If that bra in size medium costs $30 on the website, it'll be the same at the store. The integration extends all the way to the cashier, where you can pay with your Amazon account in addition to credit cards or cash.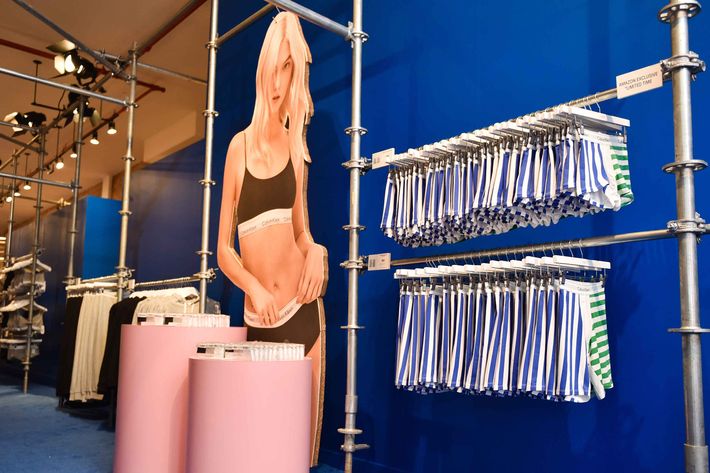 Calvin Klein and Amazon also made the space highly Instagram-friendly. Along with gigantic model cutouts (including a larger-than-life Karlie Kloss), there are millennial-pink benches with charging ports built into the design. The dressing rooms are mirrored and feature an Alexa so you can play whatever song gets you into the shopping mood. The lighting also can be adjusted — a "holiday" theme features flashing lights to rival any club.
To give shoppers extra incentive, they'll be holding in-store events with Kloss and YouTube star Lilly Singh. Plus, each store has embroidery stations where you can get your phrase of choice stitched onto your bra, sweatshirt, or pajama pants. Even if you're nowhere near the pop-ups (or just hate shopping in person), the entire store is also available to shop online. Scroll ahead to check out some of the pieces.
CALVIN KLEIN X Amazon Fashion Pop-Up. New York: 545 Broadway. Los Angeles: 444 Third Street Promenade, Santa Monica. Open daily until 12/31.
If you buy something through our links, New York may earn an affiliate commission.