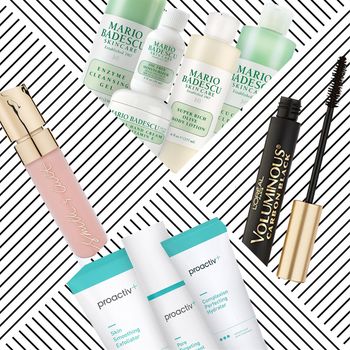 Did you miss all the shopping? It's not too late. Black Friday may have passed, but there's still Cyber Monday. Amazon continues its streak of great beauty deals with a new slew of bargains. Read on for all the good things to scoop up now, including a mascara approved by mermaids, a Japanese drugstore eye mask favorite, and a skin-care kit that will banish acne forever.
A Kit That's an Excellent Value
This kit contains full-sized versions of some of the brand's hero products, including the best-selling daily face wash and the oil-free moisturizer, which makeup artists like Bob Scott love for being creamy, nourishing, and not shiny.
Original Price: $66
The classic anti-acne treatment is now on sale.
Original Price: $50
The Body Lotion With 5-Star Reviews
In the old days, you had to get this Israeli lotion from friends who'd gone on Birthright. But now, thankfully, Ahava is easier to obtain, and almost 400 reviewers rate this gargatuan-sized body lotion with 5-stars because it's rich without being greasy.
Original Price: $45
The Starter Kit for Men Who Want Better Skin
Buy this for the man who needs to get his own beauty products and stop stealing yours.
Original Price: $50
The Affordable French Cleanser
Stateside, French drugstore brand La Roche-Posay is known for making great sunscreen, but in France, it's known for lots of other high-quality skin-care products like this cleanser. Intended for oily skin, it contains no oil, soap, alcohol, or parabens. Use it to balance your skin without stripping out the moisture.
Original Price: $15
The legendary brush that's super-gentle on wet hair is still on sale. Using this will minimize split ends and make brushing your hair super easy.
Original Price: $16
The Mermaid-Approved Mascara
Even professional mermaids who spend all day wearing makeup in the water agree that this mascara is the best. They choose the waterproof formula, but the non-waterproof one is also great. If you like Lancome's Hypnose, this feels very similar.
Original Price: $18
A pretty, balm-y feeling lip gloss that adds a little bit of shine and doesn't feel sticky.
Original Price: $22
The French Drugstore Favorite
The Japanese Drugstore Favorite
These are an American version of the heated eye masks I get from Japanese drugstores. Meant for single use, they're lavender-scented eye compresses that gently warm up upon opening. They're great on planes because they block out light and annoying seatmates, and there are hooks to go over your ears so they don't slide.
Original Price: $11
If you buy something through our links, New York may earn an affiliate commission.