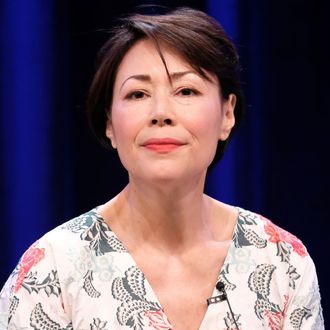 Ann Curry.
Photo: Frederick M. Brown/Getty Images
Ann Curry has a long, unfriendly history with Matt Lauer, who was fired from his job on the Today show due to "inappropriate sexual behavior in the workplace." Curry was once Lauer's co-host on the program, but was fired from the role after just one year, and it's been heavily speculated that he played an active role in her removal from the show. (The New York Times reported that Curry "told friends that her final months were a form of professional torture" and that the "boys' club atmosphere behind the scenes at Today undermined her from the start.")
In a new interview with People, Curry addressed today's news: "The women's movement got us into the workplace, but it didn't make us safe once we got there." The interview had already been planned to promote her new PBS show, We'll Meet Again. "The battle lines are now clear. We need to move this revolution forward and make our workplaces safe. Corporate America is quite clearly failing to do so, and unless it does something to change that, we need to keep doing more ourselves," she said. Curry did not speak specifically about her relationship with Lauer or their experience on Today, instead saying she was "still really processing" the news.