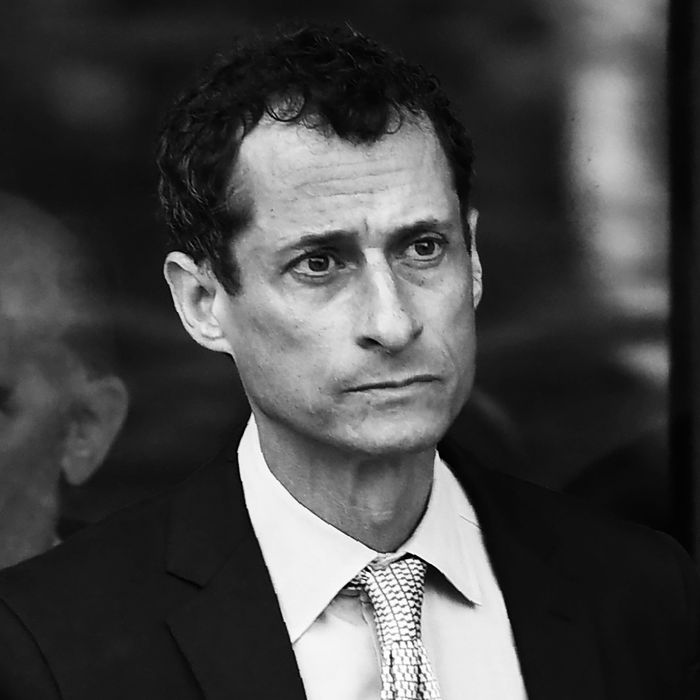 Anthony Weiner.
Photo: TIMOTHY A. CLARY/AFP/Getty Images
Disgraced former congressman Anthony Weiner is heading to prison on Monday to begin serving a 21-month sentence for transferring obscene material to an underage girl. This is the endpoint to Weiner's long journey through multiple sexting scandals, which cost him both his political career and his marriage to Huma Abedin.
Weiner first accidentally tweeted out an explicit photo in 2011; he resigned from his congressional seat shortly afterward. In 2013, he attempted to run for mayor of New York City and seemed to have regained his clout until it was revealed that he had been sexting with a woman while using the name "Carlos Danger."
It was the most recent incident that led to legal punishment: Weiner pleaded guilty to engaging illicit communications with a 15-year-old girl, reportedly asking "her to engage in sexually explicit conduct via Skype and Snapchat, where her body was on display, and where she was asked to sexually perform for him." (The seizure of Weiner's electronic devices in that investigation is also what led James Comey to reopen the FBI's probe into Clinton's private email server weeks before the 2016 election.)
Weiner is to report to the Federal Medical Center in Devens, Massachusetts, by 2 p.m.