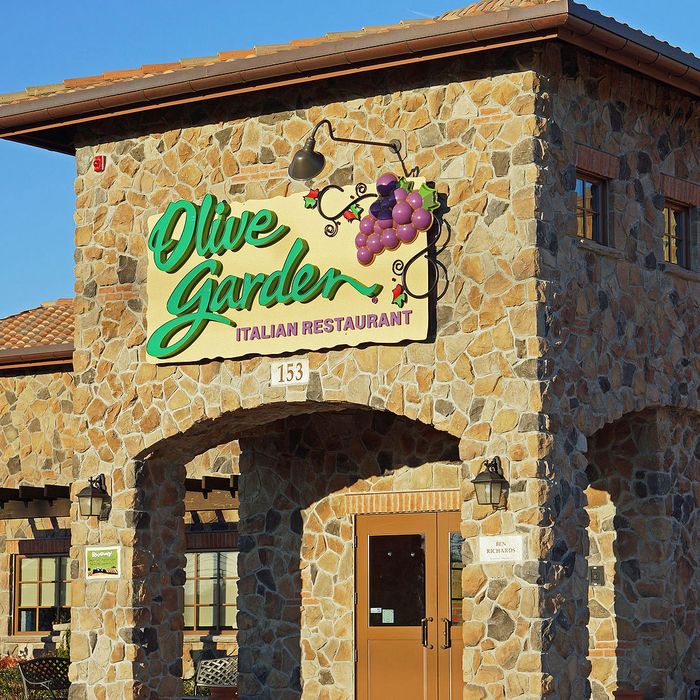 The inspiration.
Photo: Anthony/Wikimedia Commons
No one loves the Home of Unlimited Soup, Salad, and Breadsticks as much as one Arkansas couple who has decided to name their daughter after Olive Garden. When Justin and Jordan Garton found out that they would be having their first child in December 2017, they knew they wanted to give her a name with "Italian origins," ABC News reports. After considering and then rejecting the name Olive Garton, they landed on the much more subtle Olivia Garton.
Soon after marrying in 2015, the Gartons bought Olive Garden's famous "never-ending pasta pass" for $100, allowing them to eat unlimited amounts of pasta and guzzle countless soft drinks at their local restaurant for a set period of time. For six to seven weeks, the couple ate there every single day.
Because of Justin's Italian roots and their love of the eatery, when the couple found out they were expecting, they knew they wanted to give their first child an Italian name. For a while, they considered naming her Olive but ultimately decided it would be too much — they feared kids would bully their daughter named after the Italian eatery. When they landed on Olivia, though, they both knew "immediately" that it was the one. In their minds, that's a less mockable pun.
"We were able to make the joke, but a little more subtle, and it's still a pretty name," Jordan told ABC. "It was definitely an easy decision."
A week ago, the excited daddy-to-be tweeted a photo of a custom-made baby onesie with "Olivia Garton" on it, written in a script typeface that resembles an Olive Garden sign. The photo caught the attention of the chain restaurant, and a spokesperson told ABC that Olive Garden could not be "more thrilled" about little Olivia.
"We always love hearing the unique ways our guests have been able to connect with Olive Garden, and we can't wait to meet baby Olivia," the spokesperson told ABC.
The couple also landed on a middle name, Michelle. Her initials will be OMG.