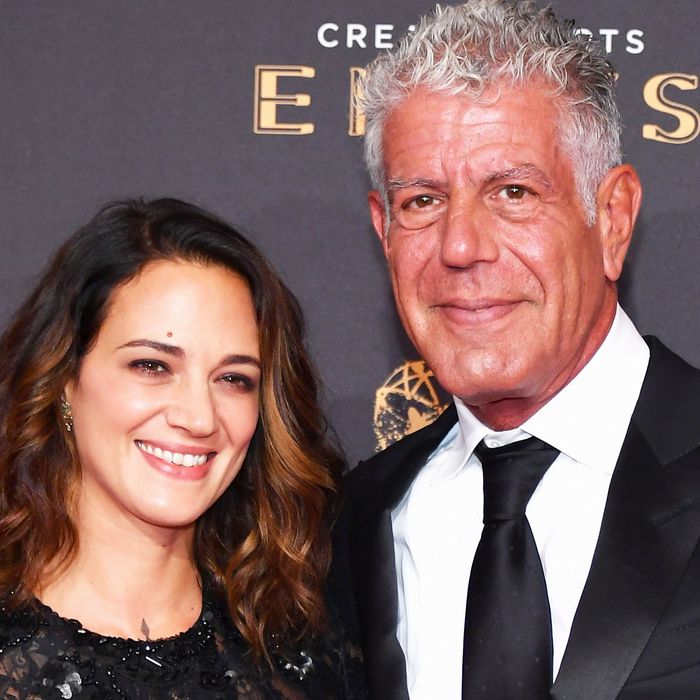 Asia Argento and Anthony Bourdain.
Photo: Neilson Barnard/Getty Images
There was a "meeting of the minds" Friday afternoon when Asia Argento, Rose McGowan, and Annabella Sciorra shared a meal, cooked by none other than Argento's chef boyfriend Anthony Bourdain. The three women, all of whom have accused Harvey Weinstein of rape, and Bourdain have been especially vocal about Weinstein since the New York Times and The New Yorker published the first exposés about his sexual harassment and assault in early October.
News of the meal started circulating after McGowan Instagrammed and Bourdain tweeted a photo of the three women, New York Daily News reports. McGowan captioned the Instagram post "magical moments" and tagged journalist Ronan Farrow along with the women present. Bourdain tweeted that he was honored to have cooked for them.
Argento also shared the picture after making it black-and-white and captioning it with lyrics from Antony and the Johnsons' song "You Are My Sister."
While it has not yet been revealed what food was prepared, Argento did respond to one inquisitive person on Twitter, saying Bourdain prepared "food filled with love and strength."