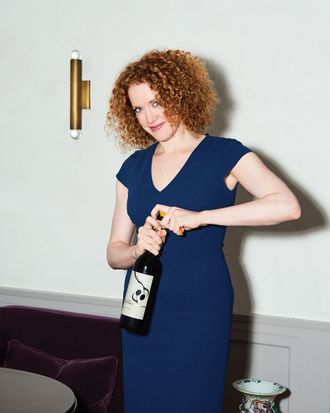 Kristen Lee Sergeant, president of KLS Wine Consulting
Photo: Kyle Dorosz
In our Ask the Experts series, New York Weddings gets tips and advice from professionals in disciplines from dress design to elopement planning.
Kristen Lee Sergeant
President of KLS Wine Consulting
Why should couples work with a wine consultant?
Choosing wine for your wedding is nothing like picking a bottle you like for dinner. My job is to navigate that (from $500). Venue plays a big role in what options you have, and you might not have great wines to choose from. I recently had a wine-savvy couple getting married in a high-end hotel, and they were not thrilled with the available bottles. I found out which distributors the hotel works with and ordered some other wines from their portfolio. It's not the client's job to speak the industry language the way I do. I'll also help guide couples to crowd-pleasers an entire wedding party would enjoy. Not everyone is wine-studied, not everyone loves tannins. Sometimes you need a Pinot Grigio for Mom.
If a couple wants to prioritize wine, where should they book
Event spaces have a lot of flexibility, because you can hire your own staff to make sure wine is decanted and served at the right temperature. You can also tell a lot about a place by the glassware — if it's this big, thick, clunky stuff, it doesn't matter what you put in it, and it's indicative of the overall quality of what you're going to be dealing with.
What's your ideal wine menu for a New York winter wedding?
In a perfect world, you'd have a brioche-y, buttery Pinot Noir–based Champagne. Something white that's a little more weighty, but still drinkable throughout the evening, would be a Chenin, a Viognier, or a white Burgundy, always. For red, a richer classic like a Bordeaux or a Northern Rhône. For something more affordable, there are so many great big red wines coming out of Portugal right now. The temptation during winter is to go for the bolder red, but I try to impart picking a lighter red as well, like
a Gamay or Pinot Noir, to see guests through the evening. People think they want a full-bodied red wine, but it's not sustainablefor a four-hour celebration.
What about for cocktail hour?
People put a lot of energy into a signature opening cocktail, but I would rather see a more offbeat wine selection. A dry Lambrusco, a slightly sweet Brachetto, or some gorgeous pear ciders would be great for winter and very dramatic in the glass. Or a nigori sake would be stunning for a winter wedding. People often abandon the opening cocktail anyway, so there's not a lot of commitment there — you get to ­experiment.
And what about the Champagne toast?
With a little imagination, you can spend less and get something great. A Franciacorta is made with a Champagne technique in a similar climate and soil, but in Lombardy, Italy. There are also crémant wines from the Loire Valley — that can be a nice choice. You don't need to resort to Prosecco to save money. There are some great sparklers out there, and nobody will be asking if it's actually Champagne.
646-924-8482 klswineconsulting.com
"Keep some Wine Away on hand. It's a spray designed to get wine out of clothing. People are going to hug you, and someone is going to spill red wine."
*This article appears in the winter 2018 issue of New York Weddings.