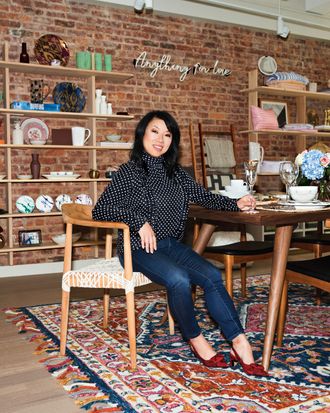 Shan-Lyn Ma, CEO and founder of Zola.
Photo: Kyle Dorosz
In our Ask the Experts series, New York Weddings gets tips and advice from professionals in disciplines from dress design to elopement planning
Shan-Lyn Ma
CEO and founder of Zola
Zola started as an online registry, but you added some new services this year. Why the expansion?
We noticed people were using six to eight different apps for wedding-planning tasks; we wanted to put them all in one place so you just need one service. We created over 30 wedding website templates that couples can choose from, a guest-list management tool where you can keep track of RSVPs and people's addresses, and a customizable to-do checklist where you answer a few questions about yourself and then we generate a list of what you need to get done and when.
And there's still the registry, of course. After four years of running it, what tips do you have for couples?
Based on the data we've collected — from hundreds of thousands of registries — if you're having around 200 guests, our algorithm recommends having 100 gifts at $50 or less, 110 gifts between $50 and $150, and then around 30 for over $150. After the wedding, I also suggest that couples send guests a quick text or email right away, just to acknowledge that you received their gift. In this age of instant gratification, people really appreciate it if you quickly say, "I got your gift. Thank you so much. Thank-you note to come." Not having your friends wait months and months for a formal note takes the stress off both the giver and the couple.
What about advice for guests? What do you do when there's only a Bundt pan and one wineglass left?
Get them both. Bundt cake is a highly underestimated cake. Even if it's something you don't personally like, it's something the couple picked because they want it. But if there's not much left and you want to get something off the registry, stick with the store where they registered, because there will be an easy return policy — I've heard horror stories where couples went to return something and the gift giver got a notification that her credit card was refunded. People need to be able to return things discreetly.
What are the most popular gifts these days?
The KitchenAid standing mixer is still the No. 1 thing on everyone's registry — as a kitchen gadget, it's a good upgrade, especially for couples who already live together and already have stuff. You also might not think to gift food containers, but they're something people really want. The most popular set is the Pyrex 18-piece storage set. And couples love waffles more than we could have imagined. The Cuisinart round classic waffle-maker always ranks in the top five kitchen gifts on registries. I'm also seeing
a lot of people registering for nice camping stuff, like tents and sleeping bags from Backcountry. We have a camp stove from BioLite that's really popular.
Since you can register for anything on Zola, what are some oddball things you've seen?
Puppy funds are very popular. People want to get new puppies, and they'll register for that. There are now IVF funds, too. My personal favorite was someone who registered for a lifetime supply of avocados.
That was a creative registry item — unlimited avocado toast.
150 Broadway, 19th fl.; 408-657-9652; by appointment only; zola.com
"If you add too little to your registry, you end up with gifts you don't want. A good rule of thumb is to take the number of people you're inviting and add around 30 percent on top of that."
*This article appears in the winter 2018 issue of New York Weddings.