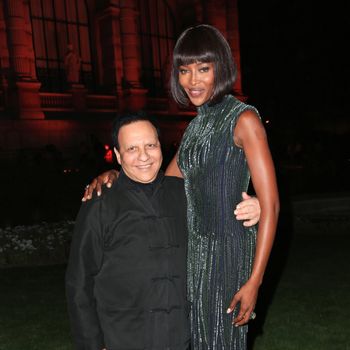 Tunisian-born couturier and fashion designer Azzedine Alaïa has died in Paris at the age of 77 of heart failure, confirms WWD. Nicknamed the "king of cling" for the exacting fit of his signature micro-knit lycra dresses and sculpted leathers, Alaïa rose to prominence in the '80s.
Alaïa was a favorite of Lady Gaga (who wore the designer to the 2015 Oscars), Michelle Obama (to a 2014 State of the Union), Tina Turner, and Madonna. He was close friends with supermodels such as Stephanie Seymour, Carla Bruni-Sarkozy, and Naomi Campbell, who called him "papa," and used to live with him when she was a teenager. He reportedly turned down John Galliano's job at Dior.
The son of wheat farmers, Alaïa was beloved for his talent and outspokenness. He never advertised and didn't believe in trends. He ran his business independently. He refused to conform to the Fashion Week calendar and made clothes according to his own timetable. He was also unafraid of Anna Wintour and Vogue. After feeling like Wintour had a hand in excluding his work from the 2009 "Model As Muse" costume exhibit, he publicly criticized her, and he and Campbell refused to attend that year's Met Gala. He also banned the whole team from his show.
The designer's last couture show was in July 2017, which took place after a six-year hiatus, with Campbell opening and closing the show. The world will mourn the loss of this legendary talent.