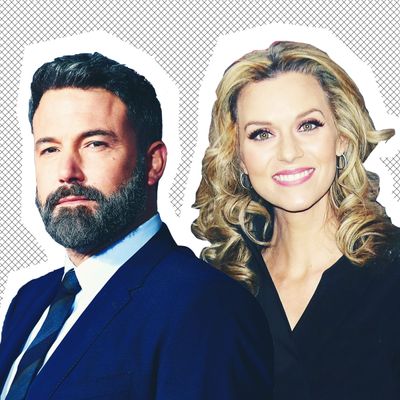 Ben Affleck and Hilarie Burton.
Photo: Getty Images
Ben Affleck has been doing a surprising amount of press for the critically panned Justice League, which premieres today. Last night, he sat for an extended interview with Stephen Colbert and, this morning, he talked to Savannah Guthrie on the Today show. Both hosts asked him about Harvey Weinstein and the culture of sexual harassment in Hollywood. Affleck's answers were, at best, disappointing, and, at worst, infuriating.
Affleck repeated the same lines in both interviews: He feels his early work with Weinstein has been "tainted," he's donating his residuals from those films to charity (not his idea, by the way), and he's looking at how he can improve his own behavior. He struggled, however, to answer direct questions about his failings.
When Colbert pointedly asked Affleck about the groping accusations against him (noting that Affleck has only apologized for "some" of them), Affleck went on the defensive. "What I was accused of by a woman was, uh, touching her breast while I gave her a hug. I don't remember it, but I absolutely apologized for it. I certainly don't think she's lying or making it up."
This does not come close to accurately describing the accusation. The actress Hilarie Burton has said that during a TRL interview in the mid-2000s, Affleck came up to her, reached his arm around her, and "tweaked" her breast. If Affleck doesn't remember this, there's video of it.
And despite Colbert's note that Affleck has only apologized for "some" of the claims against him, Affleck still declined to acknowledge makeup artist Annamarie Tendler, who has accused Affleck of groping her at a Golden Globes party in 2014. "He walked by me, cupped my butt and pressed his finger into my crack," she tweeted last month.
Guthrie did not ask Affleck directly about the groping claims this morning, but she did ask about Rose McGowan's assertion that Affleck knew about Weinstein's criminal behavior back in the '90s. Affleck declined to comment. "I don't really want to get into other people's individual stories because I feel like those are their stories and they are entitled to tell as much or as little of those as they want," he said. "I believe Rose, I support her, I really like and admire her tenacity and wish her the best."
It seems that Affleck is attempting to use this press tour to get uncomfortable questions out of the way, so he can move on and never have to talk about sexual harassment again. Eh, a very similar strategy worked for his brother last year.