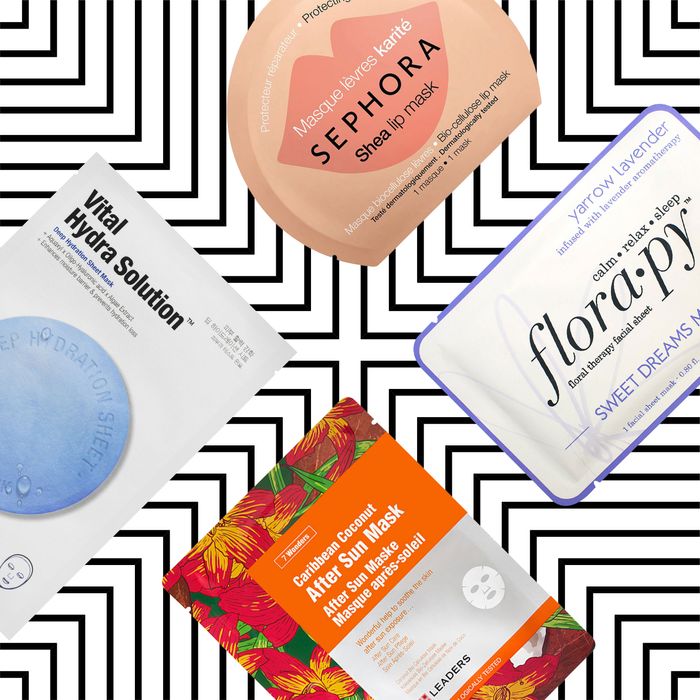 You survived Thanksgiving and shopped Black Friday sales from the comfort of your home. Congratulations! Now it's time to relax. There are endless ways to approach chilling, but vegetating on a couch with a sheet mask might be the prettiest (and cheapest) one. Which sheet masks to choose? Scroll down for a handy guide.
The One That Undoes Damage
Between the starchy sides, sugary pies, and festive wines, Thanksgiving is tough on your skin. The sugary feast in particular is very dehydrating. Recalibrate your face's moisture factor with a Korean-beauty hydrating mask.
The One That Feels Like a Zen Facial
After a cooking and eating marathon, you deserve a break. Let this mask, which is designed to soothe irritated skin, take the wheel. It's made by the world's most popular sheet mask makers and is rich in calming chamomile and coconut. Slap this on your face and you'll let out a reflexive aaaah.
The One You'll Post to Instagram
Everyone's lips are chapped around this time of year. Instead of a reaching for lip balm, why not try something with longer-lasting results? Behold: a mask for your lips. The occlusive paper traps moisture, so your lips stay softer longer, and you have to admit that wearing a humongous mask is pretty great Instagram bait.
The One That Will Make You Happiest
Wrap your hands in these softening gloves for two very important reasons. One: shea butter, jojoba oil, and Japanese camellia oil intensely moisturize dry hands. Two: For 20 joyful minutes you won't be able to lift a finger. If someone asks for something, wave your hands wildly to express how you simply can't help!
The One You'll Take to Bed
End a day of vigorous relaxation with something to knock you out. Florapy's "Sweet Dreams" mask is made with calming lavender, chamomile, and grapeseed oil. It soothes skin and calms the senses. You'll slip into a sweet slumber in no time at all.
If you buy something through our links, New York may earn an affiliate commission.