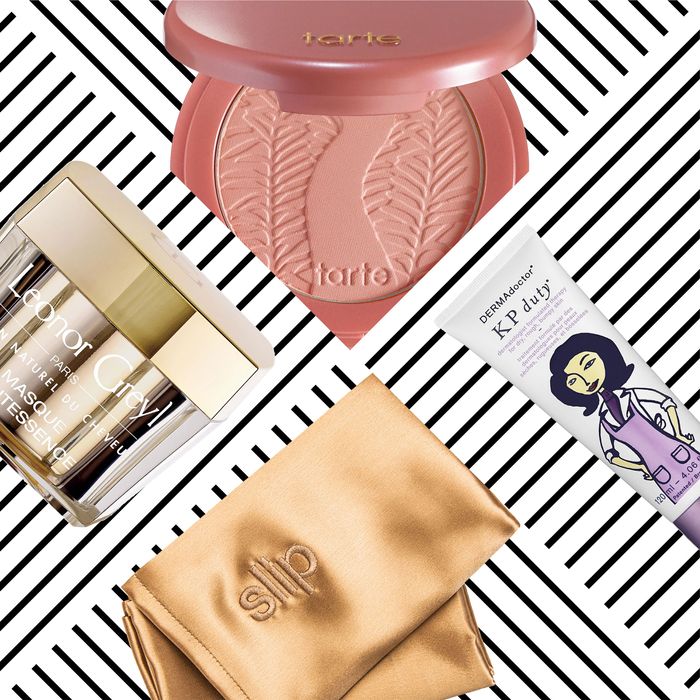 It's true: Dermstore loves a good sale, and another one is under way. For today only, save up to 25 percent on most brands by using the code MONDAY at checkout. Deciding which items to buy from the internet's mega beauty mall can get overwhelming. Here's an edit of the 11 products that you absolutely must try.
The Ultimate Pimple-Popper
Most acne treatments are made with 2 percent salicylic acid, but for a mammoth zit you might need something stronger, like this incredible 9 percent salicylic-acid treatment. It's seriously heavy duty, but it won't dry out your skin.
Original Price: $43
A Mask That Works Like FaceTune
Here's a mask that tops every list in beauty, year after year. Why? Lactic and glycolic acids gently smooth the texture of your face. It's like FaceTune, but real.
Original Price: $55
If You Want Legs As Smooth As a Seal's
Those tiny, tiny bumps on your elbows, thighs, or knees aren't pimples, but a condition known as keratosis pilaris. Most people have them, and this lotion gets rid of them in a few weeks. Even if you don't have keratosis pilaris, buy this lotion for smooth baby-seal skin.
Original Price: $38
The Full-Coverage Foundation That Looks Like Your Skin
My friend who used to complain how foundations always irritated her skin turned to Cover FX one day and never looked back. The coverage is phenomenal — it masked all of her old acne scars — but it doesn't look heavy or fake. Wear this and people will think your skin is naturally amazing.
Original Price: $42
A Mascara That Never Smudges
There are three, maybe four really good mascaras around, and this one tops my personal list. Why? Besides adding volume and length to your lashes, the formula never (seriously, never!) smudges. That because it's considered a "tube" mascara, where the formula coats each lash like a rubber jacket and quickly dries. Taking it off is easy, too: just splash lashes with water and the tiny "tubes" will fall down the drain.
Original Price: $28
The Sunscreen That Everyone Loves
Even if you hate sunscreen, you still need to wear it if you're trying not to age like a raisin (or get skin cancer). Here's one that's so liquid and so light that it doesn't feel like sunscreen at all. It's a sunscreen hater's delight.
Original Price: $30
The Serum That Regrows Brows
If you are a victim of the great sperm eyebrow epidemic of the '90s, here's something to aid your recovery.
Original Price: $110
A Fancy Pillowcase That Fights Frizz
The beauty of these pillowcases serves a utilitarian end. The soft, silk fibers stop frizz and hair breakage. All you have to do is go to sleep.
Original Price: $79
The Last Blush You'll Buy
If this isn't already your go-to blush, then it will be soon. Densely pigmented and available in pretty, flattering shades, each compact lasts forever.
Original Price: $29
The Lipstick That Lasts Through a Meal
One of the longest-lasting lipsticks around is on sale! Choose from eight colors for an easygoing or bold lip. The formula is matte, but not drying, and it will last way longer than the puny hors d'oeuvres at the office party.
Original Price: $22
The Luxury Mask That's Rarely on Sale
The Cut has raved about this embarrassingly expensive hair mask before, and now it's finally on sale. Labeled "the ultimate weapon for desperate hair," this mask bathes hair in reparative and softening oils. You know how hair always looks absurdly shiny in the movies and in magazines? Yeah, this does that.
Original Price: $145
If you buy something through our links, New York may earn an affiliate commission.