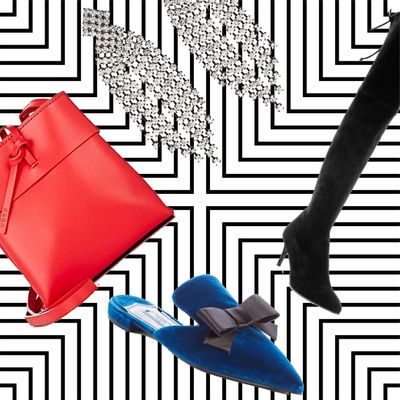 As a person who really loves expensive clothes but has a modest budget at best, sale shopping is my favorite sport. I embrace the madness — like, say, waking up at 5 a.m. to fight the crowds for designer shoes. But as much as I enjoy the thrill of beating the crowds and slipping past the woman reaching for the exact same pair of Prada pumps in my size, it's so much easier to reap the benefits of a good markdown from the comforts of my own bed.
So yes, I got up just as early today and scoured my favorite sites to find the best deals on fancy clothes. From $30 earrings that look like they could be Céline to a genuine leather jacket for $300 to, yes, discounted Prada heels, these picks offer the best bang for your buck if you love designer brands.
You really can't find a better deal on a brand that's a cult favorite among fashion editors. [Editor's note: Can't find your size? Try their black suede jacket, also marked down significantly.]
Original Price: $979
A cute little red bag that's around $100 makes for a nice gift.
Original Price: $350
This pretty dark floral dress is good for your holiday parties and all of next year's weddings.
Original Price: $398
Come spring, you'll be happy to have this breezy blouse.
Original Price: $255
Here's a good basic to buy. Layer this dress with a soft cashmere sweater for a pretty but warm holiday-party outfit.
Original Price: $295 (60 percent off)
There's no shortage of great jeans under $100, but I instantly fell in love with these jeans after seeing them at a press preview. The high waist acts like a flattering corset while the shiny black button is a nice finishing touch.
Original Price: $340
A sexy red dress made for New Year's Eve, a fancy date, or your next night out. Your size not available? This flouncy floral slip is just as cute.
Original Price: $465
From the brains behind our favorite raincoat comes a weatherproof trench that won't look dated in a few years.
Original Price: $459
Thick, warm, and much snazzier than your basic black turtleneck.
Original Price: $480
Instagram's favorite over-the-knee boot is marked down significantly, so don't sleep on this deal.
Original Price: $798
This classic camel coat reverses to an equally distinguished plaid style, making it two for the price of one.
Original Price: $745
For the woman who wants special, festive shoes that aren't a pair of sky-high heels.
Original Price: $675
Sweater-dresses are the closest you'll come to wearing your favorite blanket outside the house.
Original Price: $495
Conventional advice says to invest in a classic item during sale season, but I love breaking that rule for a really fun pair of shoes, like these pink wallpaper-printed pumps.
Original Price: $875
As worn by one of the women in our She Seems Cool feature, it's simply a cool top that'll come in handy during the holidays.
Original Price: $495
Yes, these shoes are still incredibly expensive on sale, but if you have room in your budget, they're the kind of striking shoes that our corporate-lawyer friend loves.
Original Price: $1,195
A deliciously thick cashmere sweater is the definition of cozy.
If you buy something through our links, New York may earn an affiliate commission.