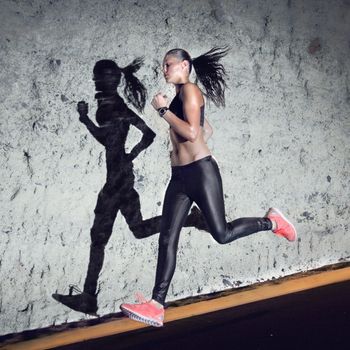 Photo: Stanislaw Pytel/Getty Images
It's hard not to get swept up by the energy of the New York City Marathon. This weekend, the cheering crowds and determined runners were electric enough to make even the biggest couch potato want to get moving. If you find yourself inspired but your workout gear lacking, let us help. We've already tested the best sports bras according to both sport and chest size, but what about leggings?
Allow me, a fitness obsessive who isn't afraid of any workout, to help you out. I've tried countless pairs of leggings as I've made my way through sports both conventional (running, spinning, yoga) and less orthodox (rock climbing, snowboarding, hiking). These are the six pairs that have held up through years of repeated washings and still haven't turned see-through. Scroll down to check them out.
Fabletics can be hit-and-miss, so skip the membership and spend a little extra for the one item that's worth the price — these leggings. They're nice and tight around your waist (without cutting off circulation!), they lift your butt, and they come in shorter inseams for petite girls.
The Most Comfortable Pair
These are the softest, lightest pants for holding a downward dog — or taking a long-distance flight. The fabric holds its shape on your body without squishing any internal organs. They're so ridiculously comfortable that I also wear them to sleep.
Whenever I'm doing anything strenuous like running or spinning, I reach for these leggings. Yes, they're expensive but they're worth every penny. The fabric is thick and the compression is strong enough to give you an instant butt lift. If you like staging thirst-trap photos at the gym, buy these.
These are the leggings to buy if you care about the Instagram presence of your workout pants. Outdoor Voices has great branding, and they also know how to make your butt look good while you're suffering through a class (though their compression isn't as good as the Lululemon style). The only downside is the rougher fabric, which some might find uncomfortable.
The Best for Super Sweaty Workouts
You might not think you need mesh on the backs and sides of your knees, but wear these tights to a hot yoga class and you'll notice the difference. The ventilation will keep you comfortable no matter how sweaty the room might be.
Fleece-lined tights are a miracle for people like me who love sports that involve being in sub-zero temperatures for hours at a time. I wore these under my snowboarding pants when it was -25 degrees Fahrenheit in Canada and they kept me cozy. They'll do the same if you're an outdoor winter runner.
The Ones You Can Wear All Day
Back in 2016, these leggings spawned a 2,000-person wait list, and for good reason. With their high waist and pockets for all of your stuff (keys, credit card), they're the ones you can wear to a workout and then keep on all day.
 If you buy something through our links, New York may earn an affiliate commission.