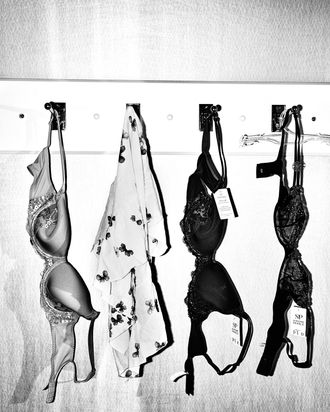 Linda Becker of Linda's Bra Salon in Murray Hill runs two bra salons, in Manhattan and in Cherry Hill, New Jersey. "In 30 years, I've seen more breasts than Hugh Hefner," she jokes. "But I'm focused on the problems that really big-breasted women face."
Photo: Amy Lombard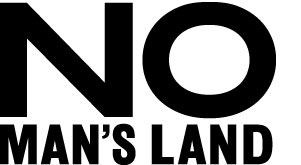 This week, women's social club The Wing launches No Man's Land, its first print magazine, with stories rolling out exclusively on the Cut.
It's hard to keep a straight face and complain about being too skinny for your big boobs — try it around any gathering of girlfriends, you'll see — but this is an oddly common problem. I found myself facing this strange dilemma when my once-flat chest, which had begun to swell rapidly during college, wouldn't stop growing.
There was a problem with every bra I tried on: Either the band was loose enough that any sudden movement sent everything swinging, or the cup size was so small that I felt my cleavage spill out like a medieval-looking beer wench's. What's more: My chest was out of proportion with the rest of my body — I was still small everywhere else, so the disproportionate weight up top felt uneven and excessive.
In the past few decades, boobs have started to get much bigger, and the bra industry has been slow to catch up. Even though Victoria's Secret still has the largest share of the lingerie market, the biggest size the company offers is a DDD (and, still, only in select styles).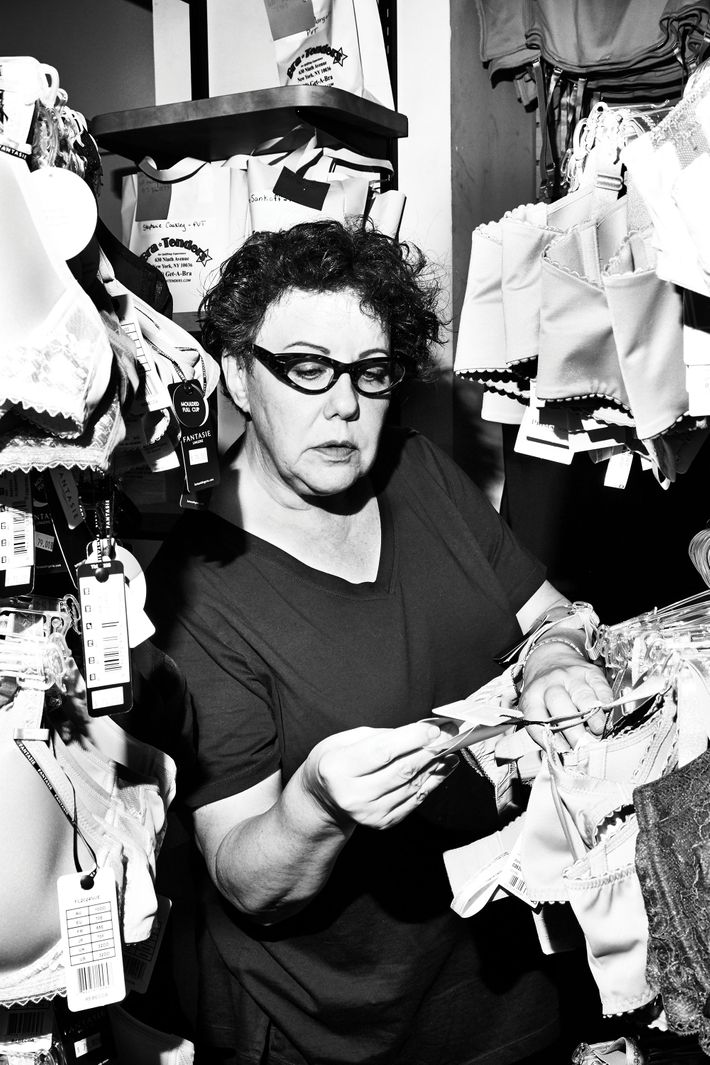 There is plenty of scientific debate over the reasons for a steady increase in breast size, but it likely boils down to environmental factors and food additives. Florence Williams, who wrote a book on the subject called Breasts: A Natural and Unnatural History, puts it succinctly: "Our breasts soak up pollution like a pair of soft sponges."
At the time, I wasn't thinking about market trends or environmental factors. All I knew was that I needed some sort of straitjacket to keep everything in place. After some frantic Googling, I found Bra Tenders, a veritable oasis for the ungainly-breasted. The shop is situated on the sixth floor of an Art Deco building in midtown Manhattan and stuffed floor to ceiling with racks of bras that range in size from AA to L cups. Its walls are decorated with white negligees signed by grateful celebrities, and Phineas, an orange tabby cat, roams in and out of dressing rooms. The owner, Lori Kaplan, got her start catering to the costume designers of Broadway, who constantly need to equip their actors with bras that fit well, match the costume, and still withstand the liveliest of dance numbers. "We're beneath the behind the scenes," Kaplan said.
Kaplan's store is one of several under-celebrated bra boutiques in New York City. Linda's Bra Salon in Murray Hill, Town Shop on the Upper West Side, Bra Smyth on the Upper East and West Sides, and Iris Lingerie in Brooklyn's Boerum Hill, all carry a wide range of sizes. The "bra ladies" source their retail from all over the world, as the American-made market has yet to evolve to many women's needs, and they offer just as much emotional support to clients as they do physical.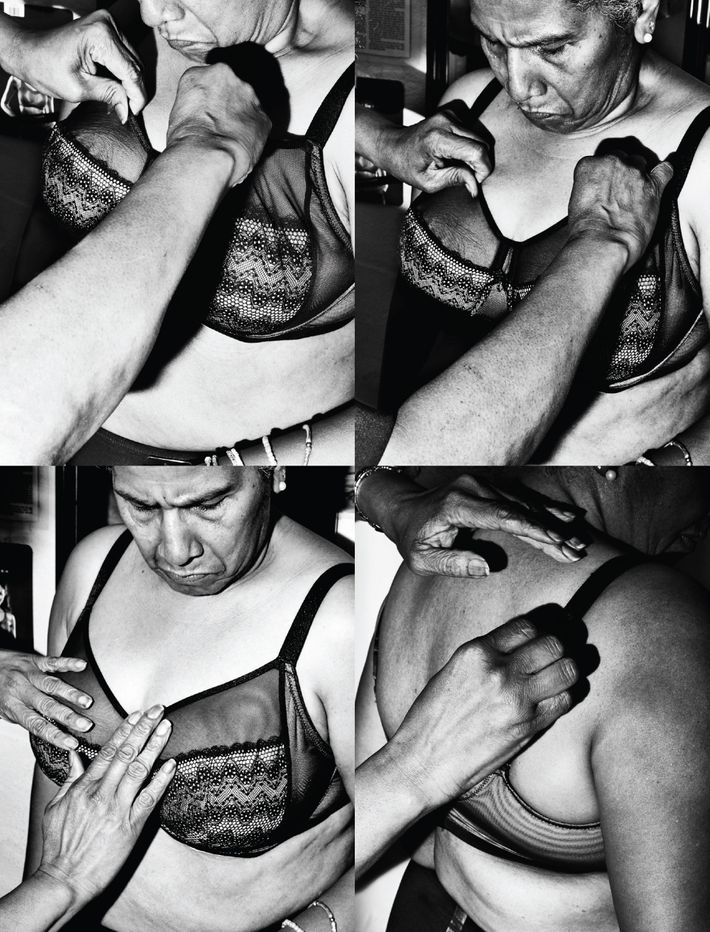 Linda Becker of Linda's Bra Salon says that too many women just believe that "bras are supposed to hurt." After a fitting, "I have customers hugging me and kissing me," she said. "They come in with an aching back, with sores on their breasts and shoulders — all from ill-fitting bras. I'm always amazed at what women put up with."
At Kaplan's store, clients are seen by hourly appointment only, and it is typical for a new customer to spend that full time slot with a bra-fitting expert. Kaplan says that everyone has a "Goldilocks bra" — that one that fits just right—but there isn't much standardization in sizes between even the best brands, so there is some trial and error involved.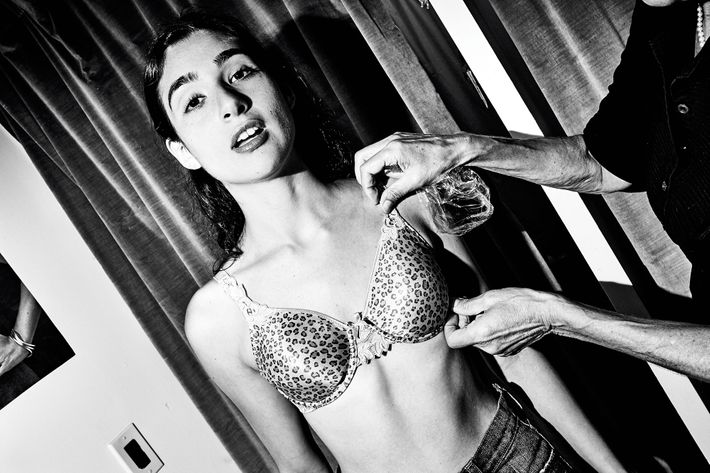 It was after one of these marathon appointments that I began a love affair with a Goldilocks bra of my own: the Wacoal La Femme in 32DDD. It's perfect. The bra has a molded cup with a nice plunge — just enough for a little cleavage — and a design that brings the breasts toward the center, avoiding what Kaplan calls "the east-west spreading issue." The straps are sturdy, but they aren't massive. I'm supported but not locked in as if by armor. Under a T-shirt, the bra basically disappears.
Initially, I was pretty shocked to hear I am a 32DDD, but Kaplan told me that most women don't wear the right fit. "Someone will come in here and say, 'I'm a 34B,' and I'll think, 'Oh no you're not. That's a 32D,'" she said.
With the right bra size, all of my personal awkwardness about my chest evaporated. These days, I don't hide myself by hunching my shoulders, or by moving slowly, or wearing two bras. In fact, I barely think about my boobs at all.