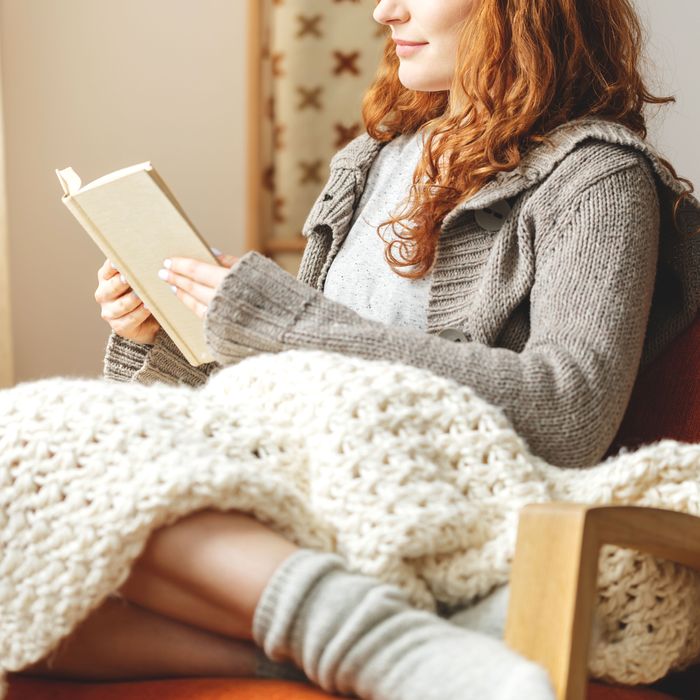 This could be you all winter long.
Photo: Photographee.eu/Getty Images/iStockphoto
Get It Together is your weekly guide to organizing your entire life.
It's dark by 5 p.m. and you're shivering the moment you take a step outside your door. Don't fight the instinct to run back to your couch and hide. Give in and hibernate. Real clothes? Pffft, those terrible things are for work only. What you really want to wear is a fluffy robe and some soft pajamas while binge-watching Netflix. Of course, you'll need some snacks — preferably served out of nice-looking plates and bowls, because you can't let yourself become completely slovenly. And who needs actual sunlight when you can stick a lamp next to the couch?
Scroll ahead to shop our favorite ways to make hibernation season especially cozy.
The Most Comfortable Robe
Nearly 1,500 enthusiastic reviewers say this is the warmest, softest robe they've ever worn.
They'll match your robe perfectly.
All you need is a crackling fireplace.
Happy reviewers are obsessed with the thickness and softness of this faux-fur blanket.
For when the coffee table is just too far. Added bonus: this makes for a great laptop desk.
Better Yet, a Snack Table for Your Bed
Rather binge without getting out from under the covers? Get this clear breakfast-in-bed style table instead.
Even Better: One for Your Tub
Wine and your iPad loaded with whatever your watching? Bliss.
There's nothing more decadent than wrapping a big robe or blanket over something silky.
Presentable enough for when you host a viewing party at your place.
Original Price: $88
The kernel sifter on the bottom means no more crunchy surprises.
Rosé to complement your rosé (or whatever else you feel like drinking).
Because You Want Hot Chocolate
Because Doritos look extra indulgent in a proper bowl.
In case you want to expand your spread to more than just chips.
Delightfully Schlumpy Pajamas
Because you don't need to impress anyone.
If you buy something through our links, New York may earn an affiliate commission.