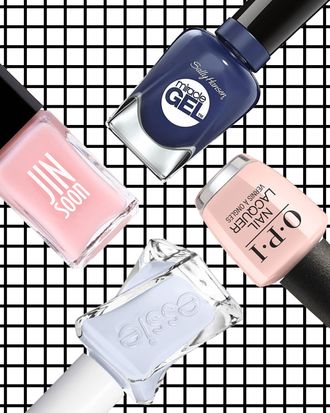 Confession: The last time I can recall having bare nails was when I was a 5-year-old. When I was 6, my mom painted my tiny nails before a ballet recital, and they haven't been bare since. The shade was Essie's Ballet Slippers (great choice, Mom).
I am a nail-polish obsessive and if you do the math, I've been obsessed for almost two decades. I've had more drunken nail-polish-shopping binges than I care to admit. At home, I wear rubber gloves for more than just washing dishes for fear of ruining my mani. Last week, my manicurist staged an actual intervention: She told me I needed a breather and sent me home with naked nails.
So you can trust me when I say that I've tried every polish on the market. and these are the ones I know won't let me down. Read on for my list, broken down by how long each polish lasts.
Two coats of this polish will last you up to two weeks while maintaining a great shine. You don't need a base coat, but it's important that you use the brand's Gel Couture top coat for the best results. There are over 50 shades to choose from in the Gel Couture line, and I can say with confidence that any bottle is a reliable investment.
This polish gives gel results without the UV light or the foil removal process. Do three coats, and it can last up to ten days without a chip. While it does take little while to dry, the wait is worth it. Note: You can use it with any base and top coat.
Butter London claims their new formula has ingredients that promote healthier, stronger, and brighter nails, and I believe them. This has lasted me up to ten days with no signs of chipping and lots of shine. Some polishes leave my nails stained or yellowed, but not this one.
Although this polish doesn't claim to be gel-like, it can last up to seven days with two to three coats. It also dries fairly quickly. Pixie is a perfect light-pink gloss that doesn't crack after a few days of wear. What's great about Jin Soon polishes is that they're free of harsh chemicals, have UV filter protection, and are not tested on animals.
Chips in dark polish stand out much more than in light colors or nudes. This one normally remains chipless for around seven to ten days if you apply two coats plus a layer of the brand's top coat. Miracle Gel polishes were one of the first in the market of UV-free, long-lasting polishes, and they've continued to be an affordable drugstore favorite. (The Cut and the Strategist both love them.)
This brand, developed by Hard Candy founder Dineh Mohajer, has recently won my love and trust. I got a free sample manicure at a department store and was skeptical at first, but after seven days, my nails were still perfect. Since then, Lovers Creep has been my go-to deep-red polish. Not only is the branding brilliant (I love the quirky color names and the unique hammered metal bottle tops), but the formula is free of harsh chemicals. Eighteen dollars is a lot, but it's worth it.
M.A.C is better known for its makeup, but don't sleep on its nail polishes. They glide on smoothly without any bumps or bubbles and wipe away easily with polish remover. I can normally go six days before the first chip appears. Sunset Sky is the most beautiful warm burgundy with a subtle pearl finish that helps it keep its shine for days.
Photo: Hudson Cuneo
I can always count on OPI's Bubble Bath to stay intact for days. This is the color I use when traveling, because I won't have to worry about having to touch it up. Just two thin layers will give your nails a nice natural sheen without bubbles or cracks. Some darker OPI polishes chip at the two day mark, but the lighter, sheer shades tend to have longer lifespans.
If you buy something through our links, New York may earn an affiliate commission.