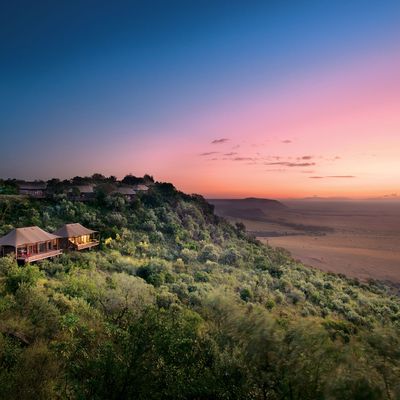 Kenya's Angama Mara safari lodge.
Photo: Courtesy of Angama Mara/DOOKPHOTO
For newlyweds looking to spend their post-wedding wind-down in the great outdoors, consider one of these unforgettable destinations around the world. There's backcountry snowboarding in Japan for winter-sports addicts, a safari lodge on the Serengeti for adventure-seekers, and much more ahead.
Hokkaido, Japan: Backcountry snowboarding and open-air onsens.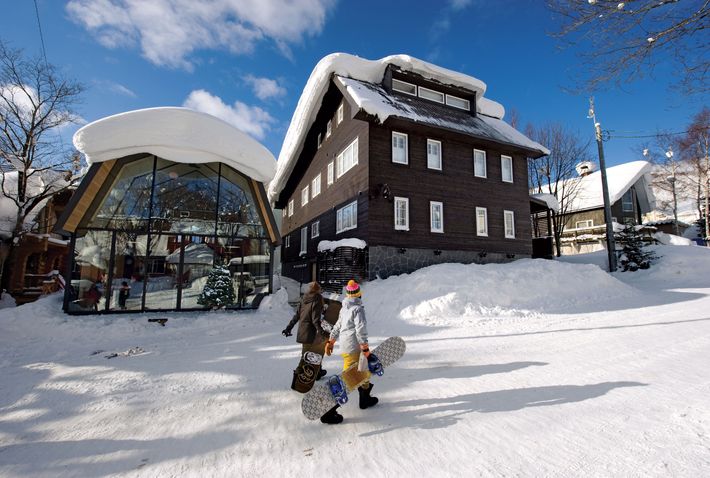 Hokkaido, Japan's northernmost island, is a winter haven for powder skiing and snowboarding. (In spring and summer, when the famous Furano flower fields bloom with tulips, then poppies, then lavender, it's a hiking paradise.) Kimamaya Boutique Hotel (from $155; kimamaya.com) feels like a Nordic ski chalet — think timber floors, fireplace nooks, and deep soaking tubs — and, crucially, sits near the town of Niseko, home to four ski resorts. Purchase a Niseko all-mountain ski pass or hire a Powder Company guide (powcom.net) for a backcountry snowboard ride. Two hours south, in the town of Noboribetsu, take a dip in the hot springs and explore the volcanic geysers of Hell Valley. To get further off the grid, drive to the Shiretoko Peninsula (the Ainu name translates to "end of the earth"), Hokkaido's northeasternmost point and a unesco World Heritage Site. Check in at the Shiretoko Grand Hotel Kitakobushi (from $115; shiretoko.co.jp) and ask for a room with an open-air onsen (hot spring) bath to soak in private while gazing at the Okhotsk Sea. The 95,000-acre Shiretoko National Park abuts the hotel and is home to a long list of rare species, such as Steller's sea eagles and sika deer.
Central Guatemala: Volcano hikes and jungle journeys.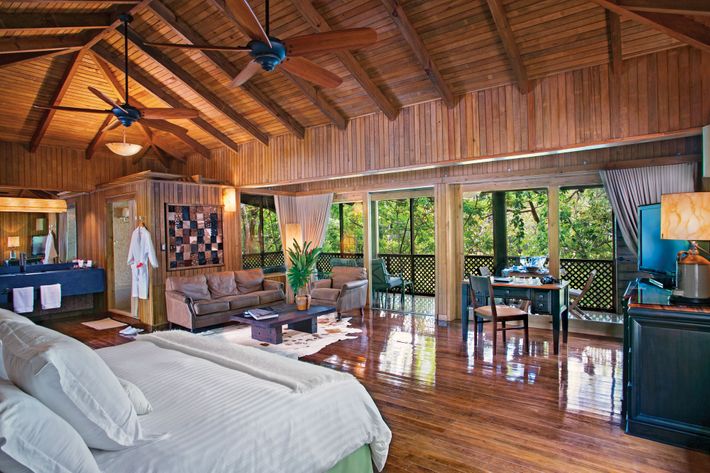 Antigua, with its pastel buildings and cobblestone streets, draws plenty of tourists, but drive three hours northwest and the crowds give way to mountain views. A dozen villages skirt serene Lake Atitlán (at 1,000 feet down, it's Central America's deepest), as do three volcanoes. Gaze at them from a private terrace at Casa Palopó (from $184; casapalopo.com), a home turned nine-suite boutique hotel with wooden-beam ceilings and brightly painted walls. For aerial views of the surrounding western highlands, the hotel can arrange a hike or horseback ride to the 10,000-foot San Pedro Volcano or a paragliding adventure around the lake. For jungles and archaeological wonders, head to Petén (take a helicopter or car to Guatemala City, followed by a one-hour flight to Flores), home to an impressive roster of Maya ruins: Tikal, Uaxactún, El Mirador, and Yaxhá. The staff at Las Lagunas Boutique Hotel (from $300; laslagunashotel.com), a sprawling 300-acre property inside the rainforest, can organize private tours of each, ATV trips through the jungle, and boat rides to Monkey Island, named for its spider monkeys. After the excursions, float around in the hotel's infinity pool, get a massage at the newly opened spa, and then retire to one of the 19 vaulted-ceiling bungalows, each featuring a private deck with Jacuzzi overlooking the Quexil Lagoon.
The Scottish Highlands: Free-roaming reindeer and fresh-caught fish.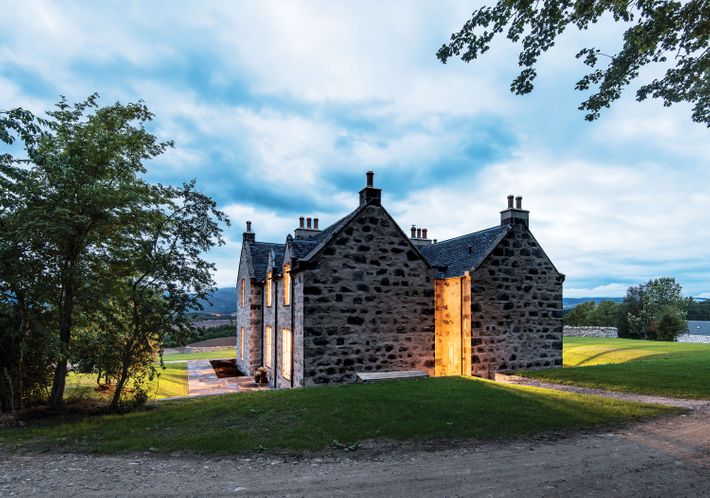 Killiehuntly Farmhouse (from $269 for two people; killiehuntly.scot) is a 17th-century estate nestled in the Scottish Highlands, two and a half hours north of Glasgow and Edinburgh. A Danish couple recently gave the place a Scandi-Scot renovation, painting it in serene grays and adding "hygge" touches like sheepskin throws (there's not a tartan in sight). Located in Cairngorms National Park (the U.K.'s largest), Killiehuntly is next to five mountain peaks, making for first-rate skiing in winter and mountain biking, hiking, and rock climbing the rest of the year (Craggan Outdoors offers guided climbs and zip-lining; cragganoutdoors.co.uk). Your neighbors are mountain hares, ospreys, and the country's only free-roaming reindeer herd. Fish for arctic char and wild brown trout at Loch an t-Seilich, sample single malts at the Glenlivet and Dalwhinnie distilleries, and tour the equally bucolic neighboring Glenfeshie Estate (glenfeshie.scot), seen on The Queen. For dinner, return to Killiehuntly, which doubles as a working farm; meals include fish caught nearby, produce from the garden, and homemade breads and jams.
Maasai Mara National Reserve, Kenya: Millions of wildebeests and Swahili spiced chicken.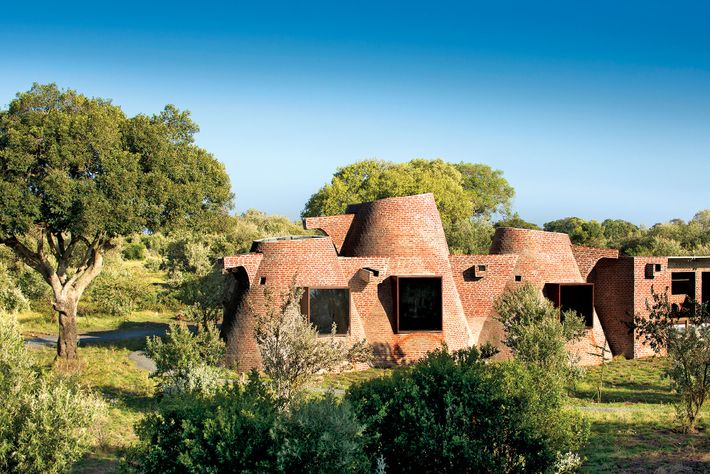 The Angama Mara safari lodge (from $850 per person; angama.com) sits on the three hills where Sydney Pollack shot Out of Africa. That fact, plus sweeping views of the Great Rift Valley below, made this a covetable site for Steve and Nicky Fitzgerald, the husband-and-wife conservation and hospitality team who opened the lodge in 2015. Named for a Swahili phrase meaning "suspended in midair," the property has 30 tented, stilt-raised suites, each with a terrace overlooking the valley, and a communal pavilion with a pool (pictured). Elephants, lions, cheetahs, and giraffes can be seen year-round — tour company Deeper Africa offers customized safaris for your interests (from $5,199 per person for nine days; deeperafrica.com) — but visit between July and October to witness the Great Migration, when millions of wildebeests and zebras cross the Serengeti Plain. At the lodge, cap off a day of game driving with a sunset gin cocktail and a family-style bush barbecue starring Swahili spiced chicken, locally called kuku.
Northeastern Italy: Mineral springs and snowshoeing.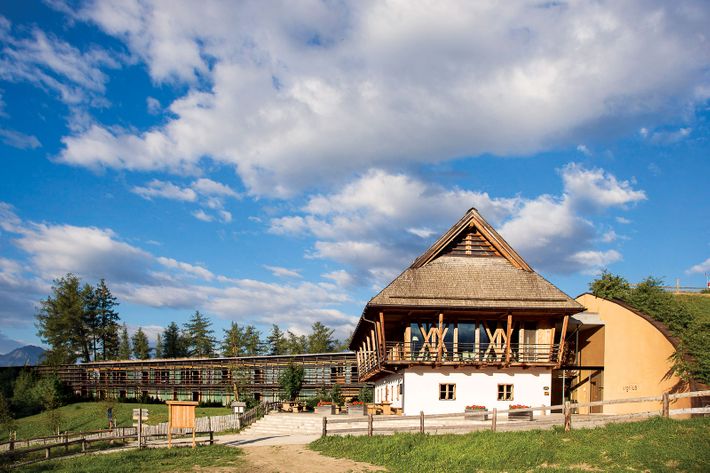 Among the dramatic cliffs and meandering valleys of the Dolomites, the Vigilius Mountain Resort (from $240; vigilius.it) can be reached only by a seven-minute cable car ride that takes guests up the mountains of South Tyrol. The hotel, a modernist masterpiece designed by renowned local architect Matteo Thun and opened in 2003, is built primarily of larch wood, glass, silver quartzite, and rammed clay. The mineral-rich waters from the springs of the Vigiljoch are believed to have healing properties. At the Vigilius resort, the springs feed the indoor pool, where morning water Pilates is held. There are also year-round outdoor activities: Snowshoe, toboggan, or ski in the winter (a small ski resort operates only when there is natural snowfall); during warmer months, try archery or spotting local species such as Eurasian crag martins and red squirrels in the Gruppo di Tessa National Park, an hour north of the resort. For time on the water, drive two hours to visit emerald-green Lake Braies and the Pordoi Pass, a famous Alpine walk between the Sella and Marmolada mountains. Unwind with a frosty South Tyrolean Forst beer back at the hotel's stable-style Restaurant 1500, indulge in a hay bath or fango-mud treatment at the spa, or simply take in the views from the sauna windows.
Dana Biosphere Reserve, Jordan: Ottoman Empire–era villages and desert bike treks.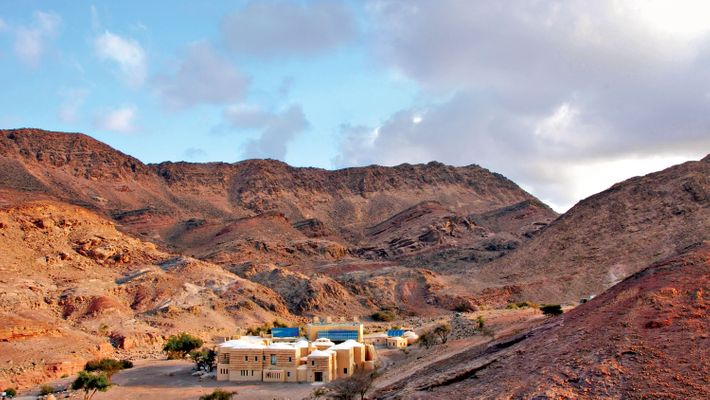 The Feynan Ecolodge (from $183; ecohotels.me/feynan) sits on the southwestern edge of the Dana Biosphere Reserve, a park where bedouin guides take visitors through the Mars-like desert to Ottoman Empire–era villages. The 26-room hotel, designed after the area's ancient roadside caravansaries, runs entirely on solar power, and candles cast a romantic glow over the property at night. The ecolodge also composts, conserves water, and donates some of its revenue to efforts to protect animals such as the Syrian serin, Nubian ibex, Blanford's fox, and lesser kestrel that, along with more than 400 other species, call the reserve home. Feynan sits along the newly completed 400-mile Jordan Trail (jordantrail.org), which starts at the basalt ruins of the Decapolis of Umm Qais and continues to the ruins of Roman cities and Byzantine monasteries in the north. Highlights include the rock-cut architecture of the Rose City of Petra (about two hours from Feynan); Wadi Rum, the unesco-designated granite and sandstone valley commonly known as the Moon Valley; and, at the trail's end point, the Red Sea. It would take 40 days to complete the full trail on foot, but those with limited vacation time can explore it in chunks in any order.
The Amazon Basin: Pink dolphins and plunge pools.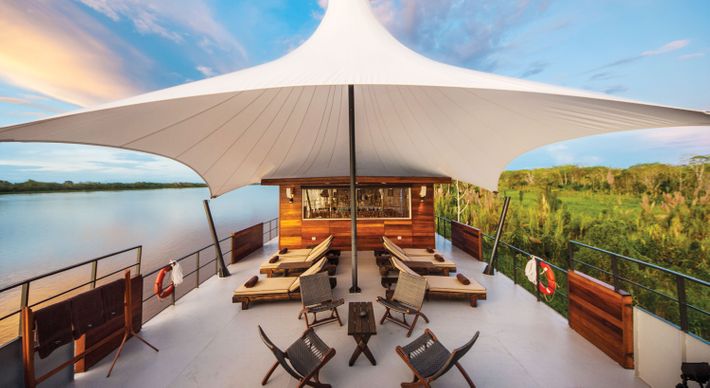 The Amazon Basin is often called the "lungs of the planet" for its resplendent biodiversity, and the ecosystem is best experienced from the river running through it. Luxury cruise line Delfin (from $2,400 for three nights; delfinamazoncruises.com) just added a new, bigger ship with 22 spacious guest rooms (the Owner's Suite even has 180-degree views). Guests can kayak to the shore and hike through the Pacaya Samiria National Reserve to spot monkeys, three-toed sloths, and birds such as dusky-headed parakeets, jabiru storks, and motmots. In the Yanayacu-Pucate stretch of the river, you can swim alongside the resident pink dolphins. On deck, the ship features a plunge pool and a spa offering Yucamani-stone massages for muscles sore from rainforest hiking. For some culinary innovation, boutique cruise line Aqua Expeditions operates a small 16-suite ship in the Peruvian Amazon (from $3,645 for three nights; aquaexpeditions.com) with a dining room helmed by Peruvian chef Pedro Miguel Schiaffino, who also offers cooking classes. Aqua organizes outings to bike through the jungle, fish for piranhas, and visit remote villages.
Conservationist Jean-Michel Cousteau, son of legendary ocean explorer Jacques, will host the company's Amazonian voyages this winter.
Cumberland Island, Georgia: Wild horses and farm-to-table fare.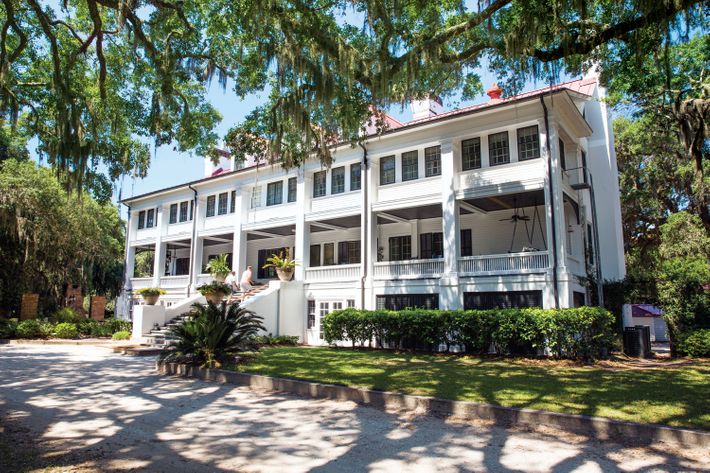 John F. Kennedy Jr. married Carolyn Bessette on slender, 18-mile-long Cumberland Island off the coast of Georgia, and the place has remained exclusive: Only 300 visitors are allowed each day (the only way to get there is by ferry, either from Florida's Fernandina Beach or St. Mary's in Georgia), and the year-round residents are outnumbered by feral horses. The lodging (besides limited camping) is the 16-room Greyfield Inn (from $525, including all meals and transportation; greyfieldinn.com), built in 1901 as a private residence for the Carnegie family, who once owned the island. In the 1970s, the family converted the house into an inn. The island is a national park, with nearly 10,000 acres of untouched wilderness and 50 miles of trails for hiking or biking through maritime forests and wetlands. Try to spot some of the 300-plus bird species, such as piping plovers and wood storks, or kayak or swim off the quiet beaches. Afterward, head back to Greyfield for its food-and-drink program, led by Hugh Acheson alum Whitney Otawka, who plucks most of her produce from an organic garden and gets honey from the two dozen beehives on the property.
Moab, Utah: Canyoneering and sweet-birch baths.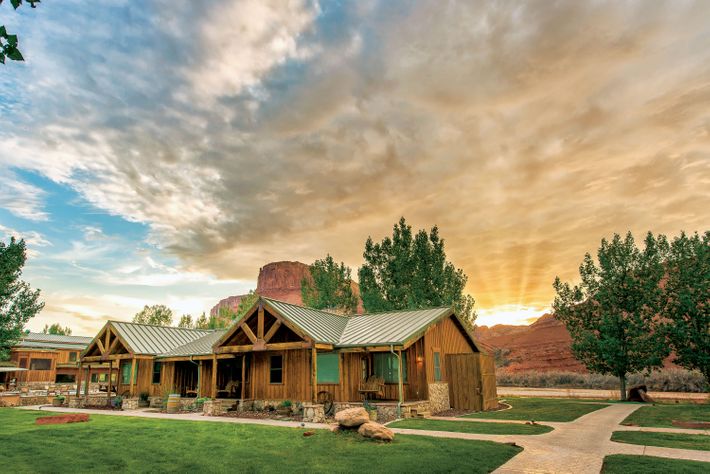 In the midst of Moab's cinematic red-rock mountains sits the Sorrel River Ranch Resort and Spa (from $599; sorrelriver.com), where balcony studios have jetted claw-foot tubs and unfettered views of the Colorado River. Go white-water rafting on the river — Westwater Canyon has a 17-mile stretch of rapids — or pursue two otherworldly hikes. First there's Arches National Park, a spectacle of russet landscape boasting a concentration of sandstone arches (the iconic Delicate Arch, Double Arch, and Balanced Rock are here) and the rock-fin-lined Devil's Garden. The second is Canyonlands National Park, crossed by the Colorado and Green rivers, where you can try canyoneering (a mash-up of hiking, rock climbing, rappelling, and swimming) to explore remote slot canyons. Ride a mountain bike along the 16.6-mile Intrepid Trail System, which skirts Dead Horse Point; or, if you're feeling especially bold, skydive over Cataract Canyon. Back at the ranch, get a magnesium-and-sweet-birch bath with a body wrap and hot-oil scalp massage.
Antarctica: Ocean liners and gentoo penguins.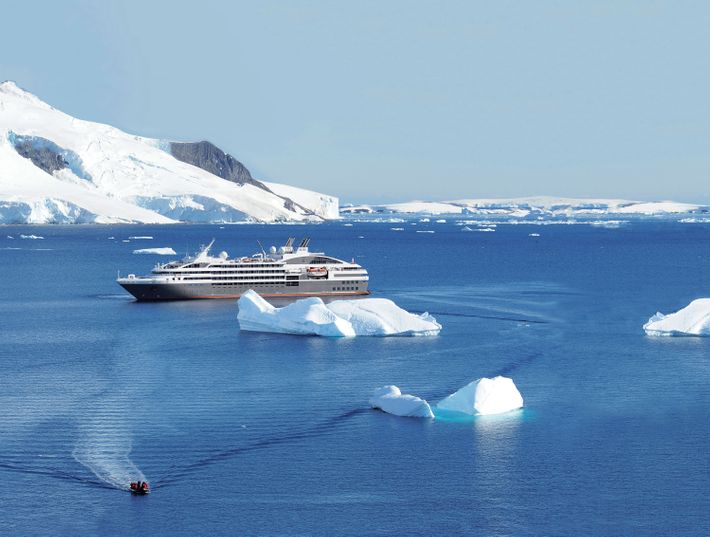 Exploration of the so-called White Continent didn't begin until the 1820s, and the only way to explore it is by boat. Ponant liners (from $19,300 for two people; ponant.com) feature the luxuries of a yacht — 132 spacious cabins, each with a private balcony, and a gourmet restaurant serving duck consommé, sea bream carpaccio, and tarte tatin — plus access to scientific expeditions. Marine biologists take guests to volcanic Deception Island, the ports of Charcot and Lockroy, and Neko Harbor to spot leopard seals and gentoo penguins. If photo souvenirs of wildlife are as important as the firsthand experience, Natural World Safaris (from $6,995, excluding flights; naturalworldsafaris.com) provides vessels that, besides boasting on-deck hot tubs and a gym, employ professional photographers as expedition guides. They'll take pictures of ice fields and minke whales for you.
Reykjavik and Selfoss, Iceland: Mineral massages and fissure diving.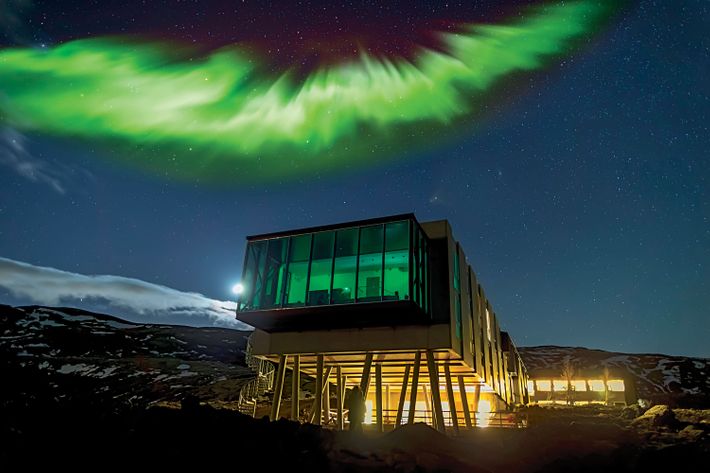 As of this winter, you can sleep at Reykjavik's famed Blue Lagoon. The Retreat at Blue Lagoon (from $1,768; retreat.bluelagoon.com) offers 62 suites with wraparound floor-to-ceiling windows and terraces overlooking the moss-covered lava fields. Soak in the therapeutic geothermal waters and indulge in the signature Blue Lagoon Ritual, which uses the water's main elements (silica, algae, and minerals) in a massage and body treatment. After a few days of soaking, drive less than an hour to Björk's longtime summer getaway of Selfoss. Check in at the Ion Adventure Hotel (from $385; ioniceland.is), where the rooms are all about views of the mountainous lava fields across from Thingvellir National Park. Olafsson Travel (olafssontravel.is) can arrange for a horseback ride along Mount Reykjafjall; a dive in the Silfra fissure, the rift between the Eurasian and North American tectonic plates; and a hike to the top of Vorou Skeggi, an active volcano. Back at Ion, enjoy a menu of traditional Icelandic fare, such as cured lamb from a neighboring farm and locally caught hot-smoked arctic char with cucumber, dill, and rye crumble.
Iguazu Falls, Argentina: River suites and waterfall tours.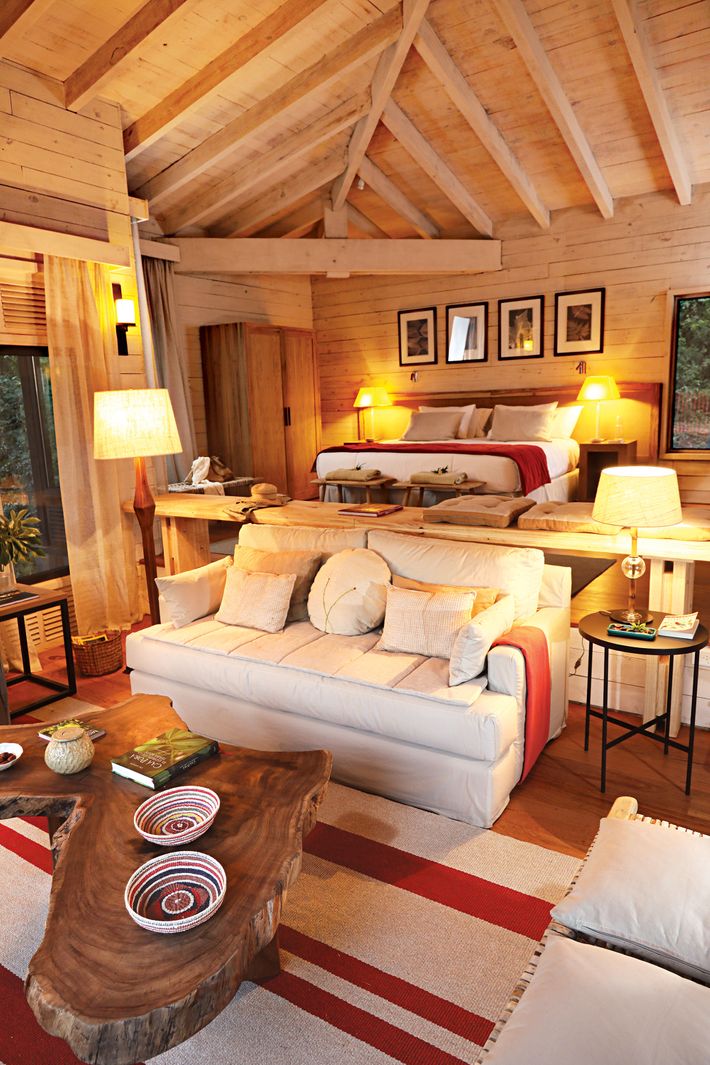 Iguazu is a mash-up of the native Guarani and Tupi words for "big" and "water." The chain of 275 waterfalls that borders the Argentine province of Misiones and the Brazilian state of Paraná is so grand, it allegedly prompted Eleanor Roosevelt to quip "Poor Niagara." Boutique hotel Awasi Iguazu (from $760; awasiguazu.com) will open its doors this December; each of its 14 roomy, stand-alone suites on the Iguazu River — with rooms raised on stilts for minimal environmental impact — gets a private vehicle and a guide who can take you on tours of the falls. Guests can catch views of the famous Garganta del Diablo, or Devil's Throat, where three waterfalls form one behemoth cascade, and then trek into the Atlantic rainforest to see toucans and monkeys. Your guide can also shepherd you south along the Paraná River to visit the ruins of an 18th-century Jesuit mission near Posadas.
*This article appears in the winter 2018 issue of New York Weddings.