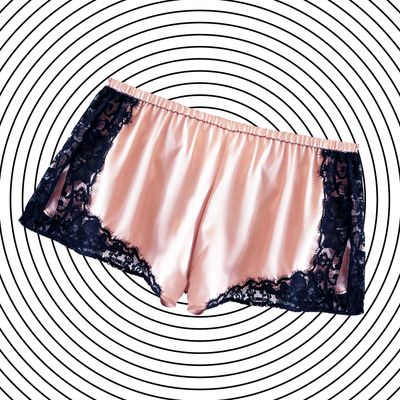 Perfume — easy to buy, encased in a pretty bottles, just the right degree of expensive — is a lazy person's favorite gift to give. But this holiday season you don't want to appear lazy; you want to look thoughtful. To please the biggest fragrance geek, you're going to need to think outside of the box. Below, three gifts that will delight the most discerning scent snob.
Pajamas That Smell Like Rihanna
These silk shorts are equipped with a delicious surprise: fragrance. The lace trim in each pair is infused with By Kilian's "Love, don't by shy" eau de parfum, which is a sexy, smooth orange scent worthy of Rihanna (seriously, she wears this stuff). Keep in mind that nothing lasts forever; after four to five washes the scent will disappear (though you'll still own pretty shorts).
Candles That Double As Tea Cups
A standard candle? Ha! A fragrance snob deserves something more elevated — like these teacups from French perfumer Memo. Each China cup is filled with a candle featuring a key note from Memo's most coveted fragrances, like mint, amber, grapefruit, and tuberose. And after each candle burns through, the cups live out a second life as totally usable teacups.
The World's Fanciest Drawer Liners
M/M Paris is a creative studio that functions at the nexus of art, fashion, and music. The two artists behind the brand, Mathias Augustyniak and Michaël Amzalag, have collaborated with everyone from Kanye West to Björk to Calvin Klein, and their inky prints cost a pretty penny. Your bougie beauty friend will appreciate their scented drawer liners, which were produced in partnership with cult perfumer Byredo. Each of the six papers — which smell like bergamot, lily of the valley, cotton, and amber — is paired with a new M/M Paris drawing. Users can toss a sheet in a suitcase for freshly-scented travel wear, or line a dresser for clothes that simply smell rich.
If you buy something through our links, New York may earn an affiliate commission.