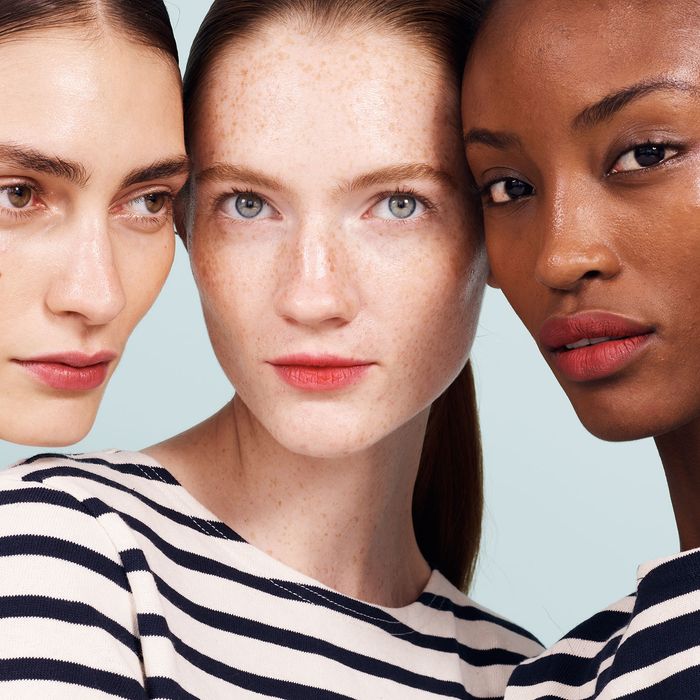 J.Crew Beauty.
Photo: Courtesy of JCrew
J.Crew may have gone through some changes lately, but they still believe in the power of cuffed jeans and a poppy lip stain. Today, the brand launches its new and improved beauty section. Once merely a handful of products, the section will now offer hundreds of products ranging from K-beauty sheet masks from Peach & Lily and Glow Recipe to highlighters from RMS Beauty. The brand's longtime makeup artist Troi Ollivierre, who has been working on the catalogue since it used to be full of khakis, will also sell his own line of lipstick and lipstains.
Below, we've rounded up some of the best items offered. Put them in your shopping cart starting today.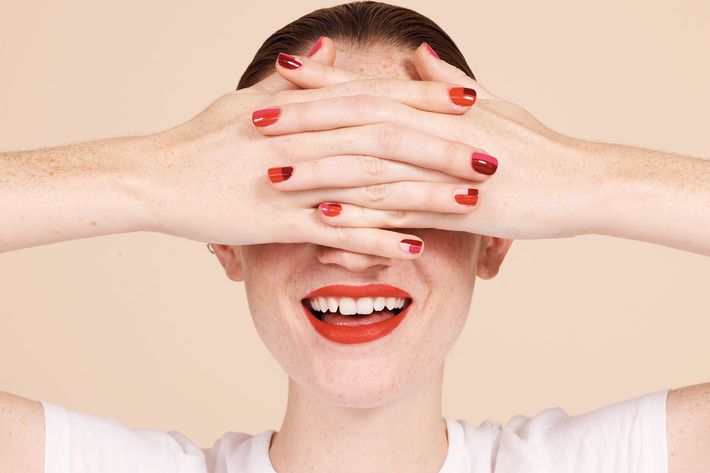 Two Forms of Natural-Looking Shine
Photo: Courtesy of JCrew
Backstage at J.Crew presentations, every model gets a light blending of RMS Beauty's Living Luminizer highlighter for a natural glow. Pat this above your cheekbones and underneath the eyebrow using your fourth finger (it has the right pressure for blending) for that dewy J.Crew skin. Then use the coconut-based lip shine for a wash of pretty color.
Photo: Courtesy of JCrew
Created by J.Crew makeup artist Troi Ollivierre, these lipsticks look just as good in real life as they do in the pages of a catalogue. They're made in Italy, and are somehow lightweight, matte, and super-pigmented all at the same time. Ollivierre suggests tapping the color on using your finger so it looks like a worn-in stain.
Photo: Courtesy of JCrew
This is a great multipurpose lip balm that smells faintly of rose, fills in lip cracks, and soothes flakiness. It also deposits a slight rosy tint that looks good on everyone.
An Otherworldly Face Mask
Photo: Courtesy of JCrew
This sheet mask is made for Instagram. The packaging looks like your dream teen bedroom, and the inside holds a charcoal sheet mask made with olive leaf, honey, and vitamin B to hydrate and smooth your skin.
A Sheet Mask for People Who Hate Sheet Masks
Photo: Courtesy of JCrew
As the founder of a Korean beauty start-up, Peach & Lily's CEO Alicia Yoon has tested a lot of sheet masks. So when it came to formulating her own, she knew she didn't want it to contain any not-so-good ingredients like alcohol, parabens, sulfates, or artificial fragrances. Her masks are particularly great for people with sensitive skin and those who think most sheet masks are too slimy.
Photo: Courtesy of JCrew
These cleansing wipes remove makeup cleanly, without stripping your skin or leaving it feeling sticky or tacky. As a bonus, you can also use them to wipe down desks or airplane seats. Lena Dunham even uses them for her armpits.
Photo: Courtesy of JCrew
They make sheet masks for your lips now, too. This one is made of rose water.
The Perfect Gifting Candle
Photo: Courtesy of JCrew
A scented candle that looks nice and smells nice for under $15. Choose between sweet, spicy, or woodsy soy-based scents — this one, with patchouli and verbena, is woodsy.
A Heavy-Duty Lip Treatment
Photo: Courtesy of JCrew
Makeup artists love this balm for soothing dry supermodel lips (it works on civilian lips too.) The main ingredient, the sheep's wool derivative lanolin, seriously seals in moisture — up to 200 percent. Tuck it into your coat pocket and use it all winter.
If you buy something through our links, New York may earn an affiliate commission.